Historic Rise of Neighborhood Rooftop Bars and Gardens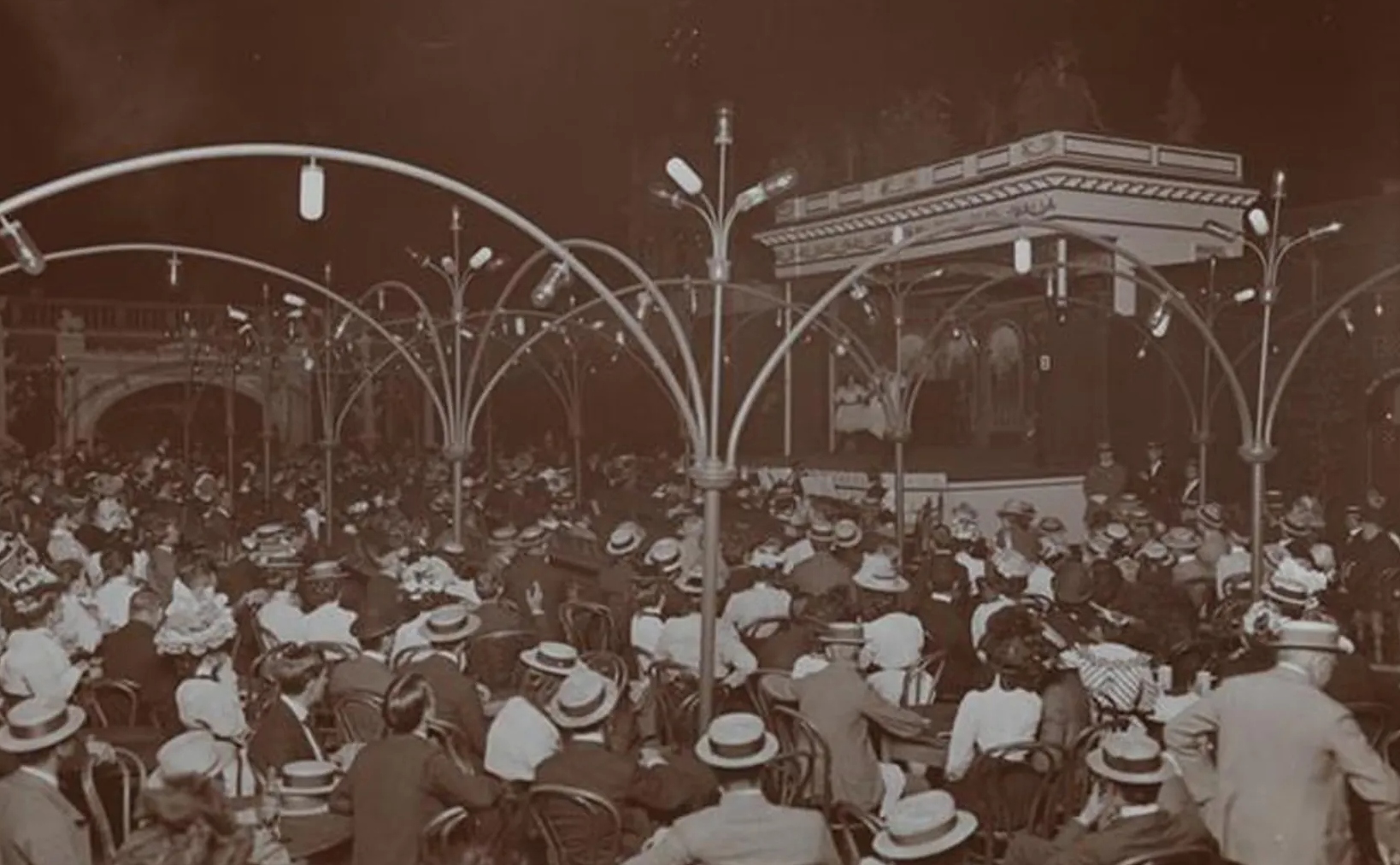 Rooftop bars and gardens are often a favorite summer destination, and in Flatiron and NoMad, there are nearly a dozen. They include 230 FIFTH, The Glass Ceiling, and SERRA by Birreria. This month, the Flatiron NoMad Partnership recalls the history behind the neighborhood launch of the outdoor venues that were once known as "castles in the air."
Introduced in 1463, the concept of a roof garden got its start as a landscape design commissioned by Pope Pius II in Pienza, Italy, reports turfmagazine.com. But prior to the 1880s in U.S. cities, "the only thing that hung out on urban roofs was wet laundry," notes bloomberg.com. "Back then, rooftops were the exclusive domain of industrial equipment and domestic servants. The impulse of most residents was to stay away."
By the 1890s, however, U.S. rooftops became reimagined properties. The term "roof gardens" was purportedly coined in America around 1893, according to the book Roof Gardens: History, Design, and Construction by Theodore Osmundson. "In fact," writes turfmagazine.com, "that's where Madison Square Garden got its name."
Located at Madison Avenue and 26th Street and designed by Stanford White, the sought-after celebrity architect for the wealthy, this second version of Madison Square Garden that debuted in 1890 had a rooftop theater with reportedly "300 tables, multicolored electric lanterns, and the best views in the city, thanks to the Garden's 300-foot tower," reports the New York City history website emphemeralnewyork.com.
"When opened it was the grandest ever seen," notes imbibemagazine.com, the award-winning liquid culture publication. "The lavish space was adorned with neoclassical arches and ornaments and was large enough to accommodate 800 comfortably, or 1,200 in a jam. On opening night, some 5,000 eager guests sought to reach the roof, although only a minority made it; even the band hired to entertain failed to reach the top."
During this emerging real estate boom era in the five boroughs, "Manhattan was land-poor but roof-rich, and rooftop complexes, many modeled after German beer gardens, bloomed from the Battery to the Bronx," according to imbibemagazine.com. "Society columnists began referring to a 'roof garden season.'"
"Rooftop gardens were a Gilded Age phenomenon, mixing vaudeville and vice, pleasure and performance, for well-heeled bon vivants who liked to spend their summers high above the sweltering streets," writes real estate website 6sqft.com. "The roof of Stanford White's Madison Square Garden transported guests to the Italian Renaissance."
6sqft.com also notes, Garden "audiences were so accustomed to high drama in rooftop settings, that when the architect Stanford White was shot at point-blank range on the top of his own Madison Square Garden in 1906, other patrons did not immediately understand that he was hurt, for they assumed it was simply a stunt, put on as part of the evening's entertainment." White died after being shot by former romantic rival and coal and railroad heir, Harry Kendall Thaw, allegedly due to the architect's previous relationship with Thaw's current wife, fashion model and actress, Evelyn Nesbit.
The tragic murder case involving the death of Stanford White, however, did not deter the rage for rooftops. According to bloomberg.com, "Extravagant theater rooftop gardens became a staple of summertime entertainment in major cities across the country, attracting thousands of pleasure-seekers for raucous evenings under the starless urban sky. The experience was even put to music: "The Roof Garden Two-Step" was a popular dance number in 1885."
And when it came to the choice of cocktail at the venues during this period, the Mamie Taylor and Remsen cooler ranked high in popularity, writes imbibemagazine.com. "New York is the ancestral home of the rooftop bar. Go to any of the gardens along Broadway and you will always find someone having one of these drinks." The Mamie Taylor was lime, gin and ginger ale; the Remsen cooler, gin and soda with a spiraling lemon peel.
"Of course, it wasn't just the promise of booze, that sent New Yorkers flocking to early rooftop bars," according to 6sqft.com. "Then as now, the seething city had one thing on its mind: The Daily Graphic observed in 1889, "There is a good deal of flirting going on in this 'castle in the air,' for the surroundings seem conducive to love-making."
Read more: Madison Square Garden
Header & Thumbnail Photo Credit: Museum of the City of New York