Contact Us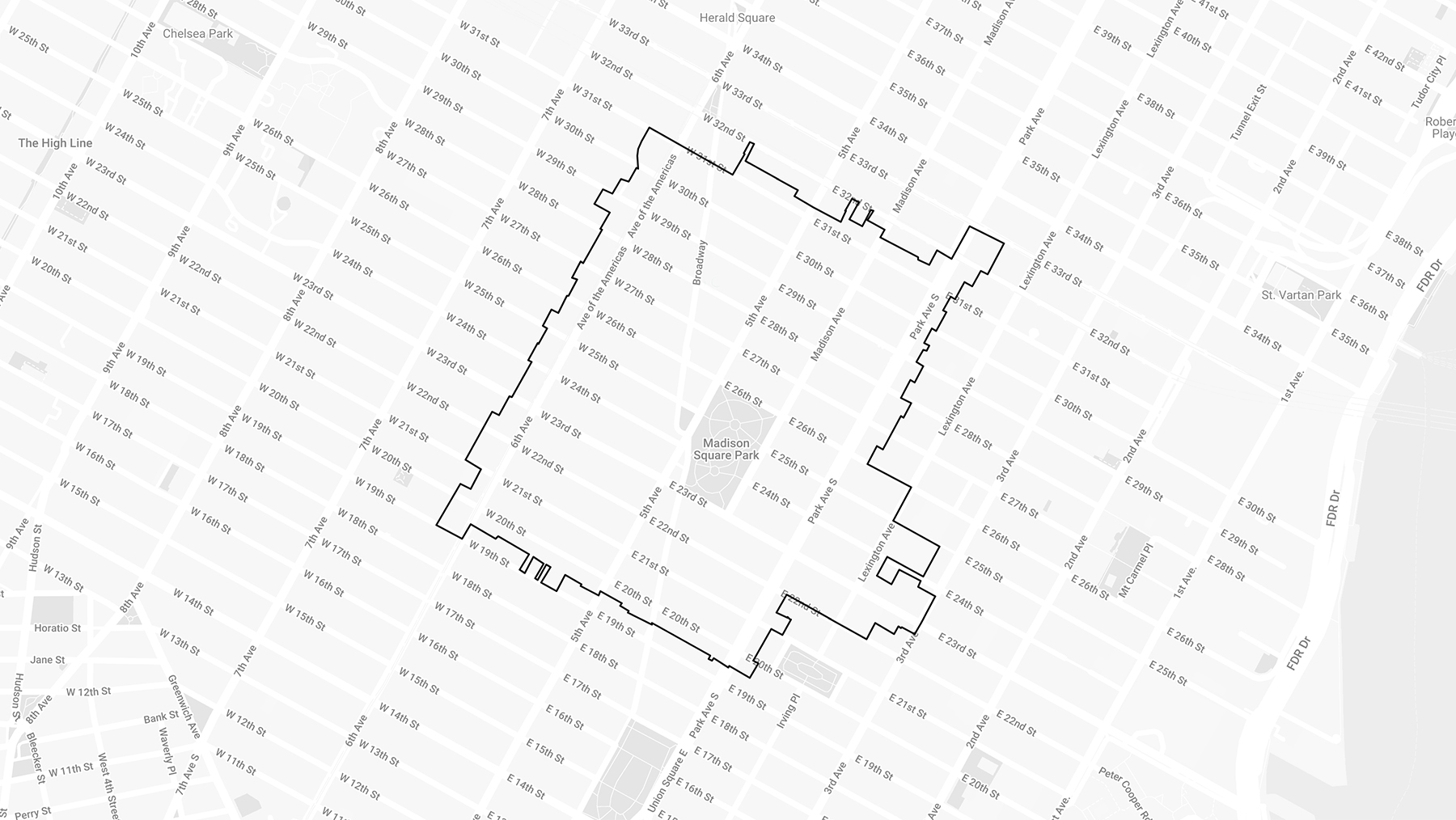 Visit Us
By Subway
We're a public transit hub! You have a lot of options to get to Flatiron & NoMad by subway. Take the F/M to 23rd Street and Sixth Avenue, the R/W to 23rd Street or 28th Street along Broadway, or take the 6 to 23rd Street, 28th Street, or 33rd Street along Park Avenue. You can also take the PATH train to 23rd Street and 33rd Street.
By Bus
Catch the bus in Flatiron & NoMad: M1, M2, M3, M5, M7, M23-SBS, M101, M102 ,and M103.
By Bike
For NYC DOT recommended bike routes to and from the District, download the 2022 Bike Map. To find Citi Bikes in Flatiron and NoMad, click here.
Staff Extension
For press inquiries: contact Zac Roy at 347-361-9072 or via email. 
Kurt Cavanaugh
Vice President of Planning, Streetscape & Capital Projects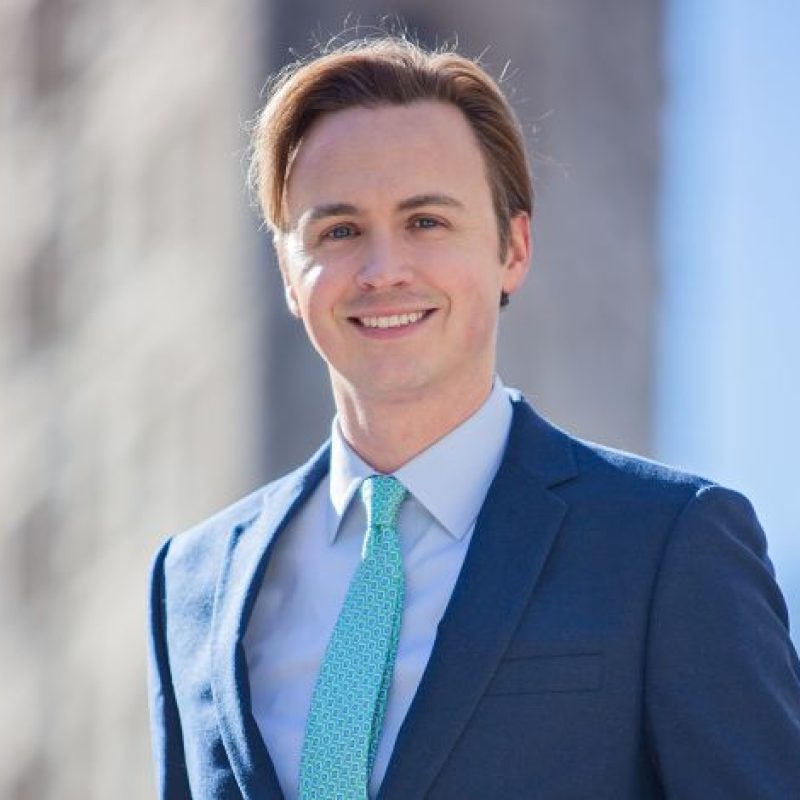 James Mettham
President
James Mettham became the Flatiron NoMad Partnership's President in 2019. He is a downtown management practitioner and leader with a proven track record in economic development, urban planning, and placemaking. James is responsible for strategically guiding the Partnership's multi-year BID expansion process to completion. This effort has nearly doubled the size of the Partnership's service and program footprint. James champions all things Flatiron and NoMad and is committed to making the Partnership the energetic, savvy, and visionary steward that the greater district deserves.
Before joining the Flatiron NoMad Partnership James held multiple leadership positions in local economic development, place management and real estate investments across New York City. At the Downtown Brooklyn Partnership, James's role as Managing Director of Finance & Operations included the day-to-day management of Downtown Brooklyn's local development corporation and three BIDs. Prior to that, he served as Assistant Commissioner for the NYC Department of Small Business Services Neighborhood Development Division where he oversaw the nation's largest network of BIDs and the deployment of multi-million dollars in commercial revitalization grants to neighborhoods across NYC. James holds a Master of Urban Planning from New York University's Robert F. Wagner Graduate School of Public Service, a Bachelor of Arts from the University of Pittsburgh, and is an alumnus of the Coro New York Leadership Program.
Kurt Cavanaugh
Vice President of Planning, Streetscape & Capital Projects
Kurt Cavanaugh joined the Partnership in 2016. As Vice President of Planning, Streetscape & Capital Projects, he manages the daily operations of the Flatiron Public Plazas & seasonal Open Streets including the NoMad Piazza Pop-Up; various public art installations; and everything related to bike and pedestrian safety. Kurt also oversees the district-wide horticulture program and works closely with the Partnership's Field Operations, Marketing, and Economic Development departments on strategic initiatives, advocacy, and planning.
He has a B.S. from Guilford College, an M.S. in Urban Design & Park Management from the University of North Carolina, and 15+ years NYC nonprofit and BID experience. Kurt lives in Greenpoint, Brooklyn, and prefers to commute to Flatiron and NoMad on two wheels.
Scott Kimmins
Vice President of Operations
Scott Kimmins has been leading the Partnership's Operations since its inception in October of 2006. He spent 20 years with the New York Police Department in the 13th Precinct, which serves the Flatiron District. During his final years with the NYPD, he served as a Community Affairs officer, dealing extensively with local community groups and elected officials. As Vice President of Operations, Scott is responsible for the day-to-day management of the Partnership's sanitation, public safety, and homeless outreach programs, and works on a number of quality-of-life initiatives in the district. Scott holds a bachelor's degree in business management from Adelphi University.
Arianne Maliwanag
Marketing & Content Manager
Arianne Maliwanag joined as the Partnership's Marketing & Content Manager in May 2022. Most recently, she managed programming and marketing development at the cultural non-profit organization, The Filipino School of NY & NJ. Prior to that, she worked for 5.5 years at The Children's Place, where she led brand marketing, consumer insights, partnerships and public relations. This also included directly supporting the introduction of two additional brands: Gymboree and Sugar & Jade. In her spare time, she is involved with non-profit, civic engagement and advocacy work. Born and raised in Bergenfield, New Jersey and now a proud Brooklynite, she's excited to continue empowering local communities, while bringing her brand marketing and community engagement experiences to the table.
Melissa Benedek
Marketing & Content Coordinator
Melissa Benedek joined the Partnership as a Content Writer Intern in September 2021 and became a Marketing & Content Coordinator in July 2022. She supports our Marketing efforts through managing our weekly email newsletter, The Latest, writing engaging articles for the website that highlight the vibrancy of the neighborhood and our local businesses, assisting with business outreach to coordinate marketing and content collaborations, and supporting our social channels. Originally from Miami, Florida, Melissa holds a B.A. in Literature from Bard College.
Claudia Rincon
Event & Program Manager
Claudia Rincon became the Partnership's Event & Program Manager in 2022. She most recently led marketing and events at the Myrtle Avenue Partership and made public programming more accessible to all people. She had previously worked with the Brooklyn Bridge Park Conservancy, where she distinguished herself as a team leader in planning and promoting events. Prior to her time with the Brooklyn bridge park Conservancy, Claudia worked with the DUMBO Improvement District in a Marketing and Events position. Now, she brings her knowledge and experience to the Flatiron NoMad Partnership to generate visibility through new events and programming throughout the district.
Mikako Murphy
Senior Planning Associate
Mikako Murphy began as a Program Intern at the Partnership in April 2020 and later became the Planning Associate in August 2022, and then Senior Planning Associate in October 2023. Passionate about pedestrian-oriented design and public space activation, she works to advance streetscape improvements and enhancements such as the Flatiron Public Plazas, NoMad Piazza pop-up, and Open Streets.
Mikako returns to the Partnership with experience in data analysis, community outreach, and policy research after working with the Center for an Urban Future, Undesign the Redline project, and Columbus Amsterdam BID.
Mikako graduated from Barnard College of Columbia University with a B.A. in Urban Studies and a minor in East Asian Studies. A lover of all cities, she spends her free time reading about different global destinations, practicing her hand at film photography, and learning about micro apartment interiors.
Angelos Kontos
Director of Administration & Finance
Angelos Kontos joined the Partnership in October of 2022. As Director of Administration and Finance, Angelos directly supports the President and Vice Presidents to coordinate and enhance the operation and administration of the Partnership's programming and services. Angelos oversees organizational budgeting and financial management, serves as a centralized manager of the BID's contractual agreements, and facilitates strong functional relationships with vendors and government.
Angelos brings eight years of experience building the capacity and impact of New York City's network of community-based development organizations at the NYC Department of Small Business Services, serving most recently as Director of Finance & Operations for the Neighborhood Development Division. In this role, he oversaw the agency's grantmaking operations, which deployed local and federal funding to 60+ organizations annually across multiple programs, advancing place-based commercial revitalization initiatives to promote economic equity across the five boroughs. Angelos holds an M.A. in International Political Economy & Development from Fordham University.