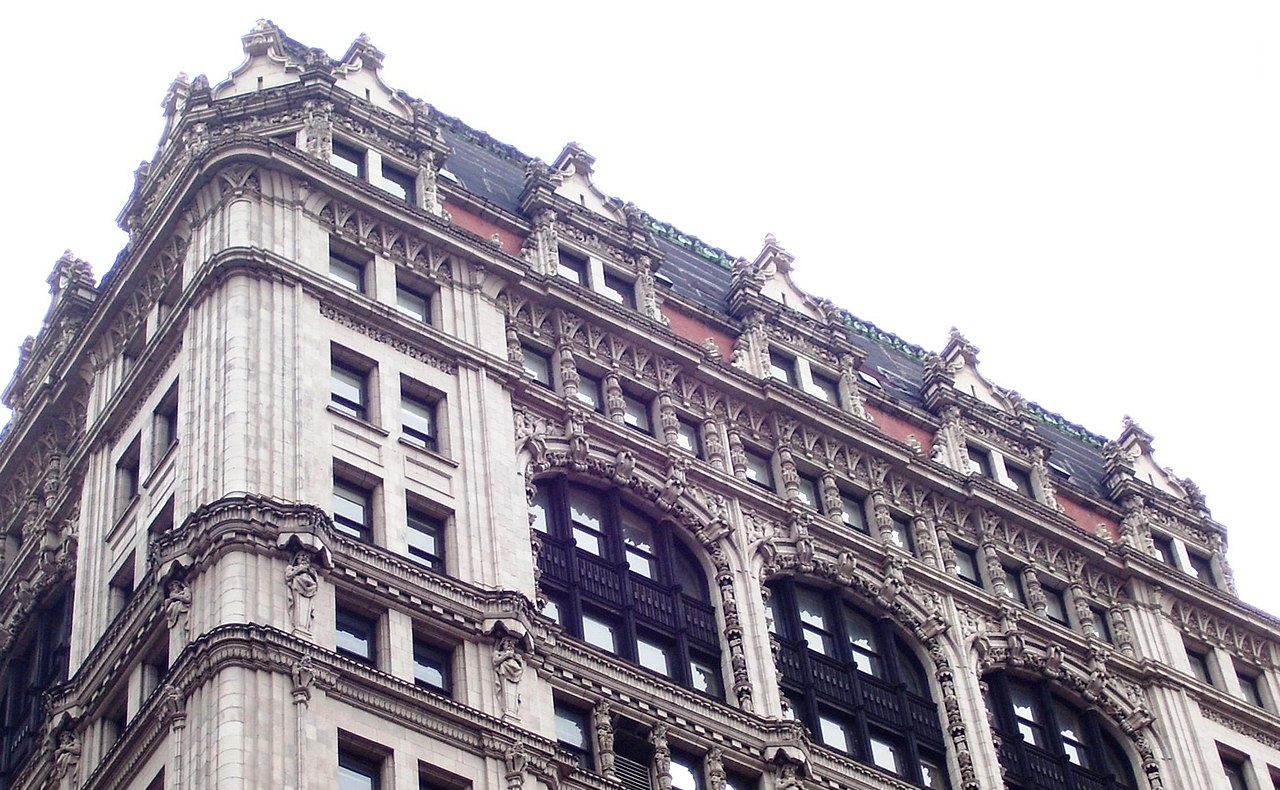 This year marks the Emmet Building's fifth anniversary as a designated New York City landmark. In celebration of this neighborhood milestone, we're highlighting the property's historic arrival in 1912. Located at 95 Madison Avenue and 29th Street, the opulently ornamented 16-story limestone structure was the penthouse residence of prominent Manhattan gynecologist and Americana aficionado Thomas Addis Emmet. The building also featured showrooms for commercial tenants in the area's newly created wholesale industry district.
In 1910, the region between 23rd and 30th Streets, from Lexington to Seventh Avenues, was "dominated by the wholesale industry," wrote the New York City Landmarks Preservation Commission Designation Report in 2018. "New subway lines, bridges, and rail terminals made Midtown more reachable for commuters and visitors. Lower Madison Avenue in particular was positioned to take advantage of these connections because of its location near two subway routes at Park Avenue and Broadway, as well as a crosstown trolley on East 28th and 29th Streets."
The neighborhood was also known as the initial location for Woman's Hospital at 83 Madison Avenue near 29th Street. This rented four-story brownstone facility was considered the first of its kind in the field of U.S. women's healthcare when it opened in 1855, writes icahn.mssm.edu, the website for the Icahn School of Medicine at Mount Sinai. "The response to the Hospital's opening was so great," notes the website, that Thomas Addis Emmet, a physician at the State Emigrant Refuge hospital on New York City's Wards Island, and who was also a grandson and namesake of a former New York State Attorney General, pursued employment as a staff surgeon at the hospital in addition to his plan of establishing a private practice on Madison Avenue.
When Woman's Hospital moved to a larger locale in Midtown Manhattan in 1867, Emmet decided to maintain his presence on Madison Avenue. A townhouse at 89 Madison Avenue became his residence in 1872, and over the next several years, Emmet acquired the properties at 91, 93, and 95 Madison Avenue, and 26 East 29th Street for his decades-long medical practice. Then in 1911, and now in his 80s, Emmet launched a realty company, which demolished his Madison Avenue buildings to make way for a loft-like skyscraper. The construction cost was reportedly an estimated $500,000 and the commissioned architects were acclaimed designers and fellow Columbia University graduates John Stewart Barney and Stockton Beekman Colt.
The pair "embraced the most current aspects of the contemporary New York City skyscraper style, placing a firm emphasis on verticality and marking their building's place within the city skyline with an extraordinarily lavish rooftop decorative program," noted the LPC report. The building "was organized into three parts, with a base, shaft, and capital that demarcated the different functions of the office building. The three-story base contained the street level store and offices of a single firm, with private elevators, staircases, and access to basement storage. The middle shaft section contained identical floors for offices and showrooms, and the top floor with elaborate decoration contained a penthouse residence for Dr. Emmet and his family."
In October 1912, the 16-story steel-framed Emmet Building made its debut at nearly full capacity. Occupants ranged from silk merchants to the New York State Department of Labor. The New York Times would later characterize the skyscraper on April 15, 2010 as a "fortress of delicate Loire Valley detailing, enough doodads for a block's worth of Vanderbilt townhouses." Three years later, on February 22, 2013, the newspaper emphasized how the building's "16 stories are encrusted with terra-cotta decorations, from comical monks to full-length medieval figures, together suggesting an over-the-top Indian temple crossed with a citified chateau."
Emmet's palatial penthouse was reportedly "the first instance of a residence located at the top of a tall commercial building in New York," wrote the LPC report. The suite included "a study, library, dining and breakfast rooms, a conservatory, bedrooms, kitchens, servants' quarters, and a swimming pool. The rooms opened up onto a garden filled with flowering plants, pergolas, fountains and a solarium; balconies off the parlor and library offered expansive views to the north and south across Manhattan." The interior décor featured "custom-built mahogany furniture, displays of Dr. Emmet's personal collection of rare books and paintings, and a wide Italianate entry hall." The Charlottesville, Virginia native's vast stock of memorabilia included prints, manuscripts, and extra-illustrated books related to the American Revolution era.
After Emmet's death at age 90 in 1919, his home was remodeled as office space. "For more than a century," concluded the LPC's 2018 designation report, "the Emmet Building has continued to function as an office building for the changing commercial tenants of Madison Square North, and still retains a high degree of historic integrity. The building's Neo-Renaissance decoration and Neo-Gothic vertical effects are emblematic of the skyscraper style in New York City shortly after the turn of the 20th century" and "represents a significant moment in the evolution of tall office buildings serving the wholesale industry in the Madison Square North neighborhood."
Header & Thumbnail Photo Credit: Wikipedia