American Academy of Dramatic Arts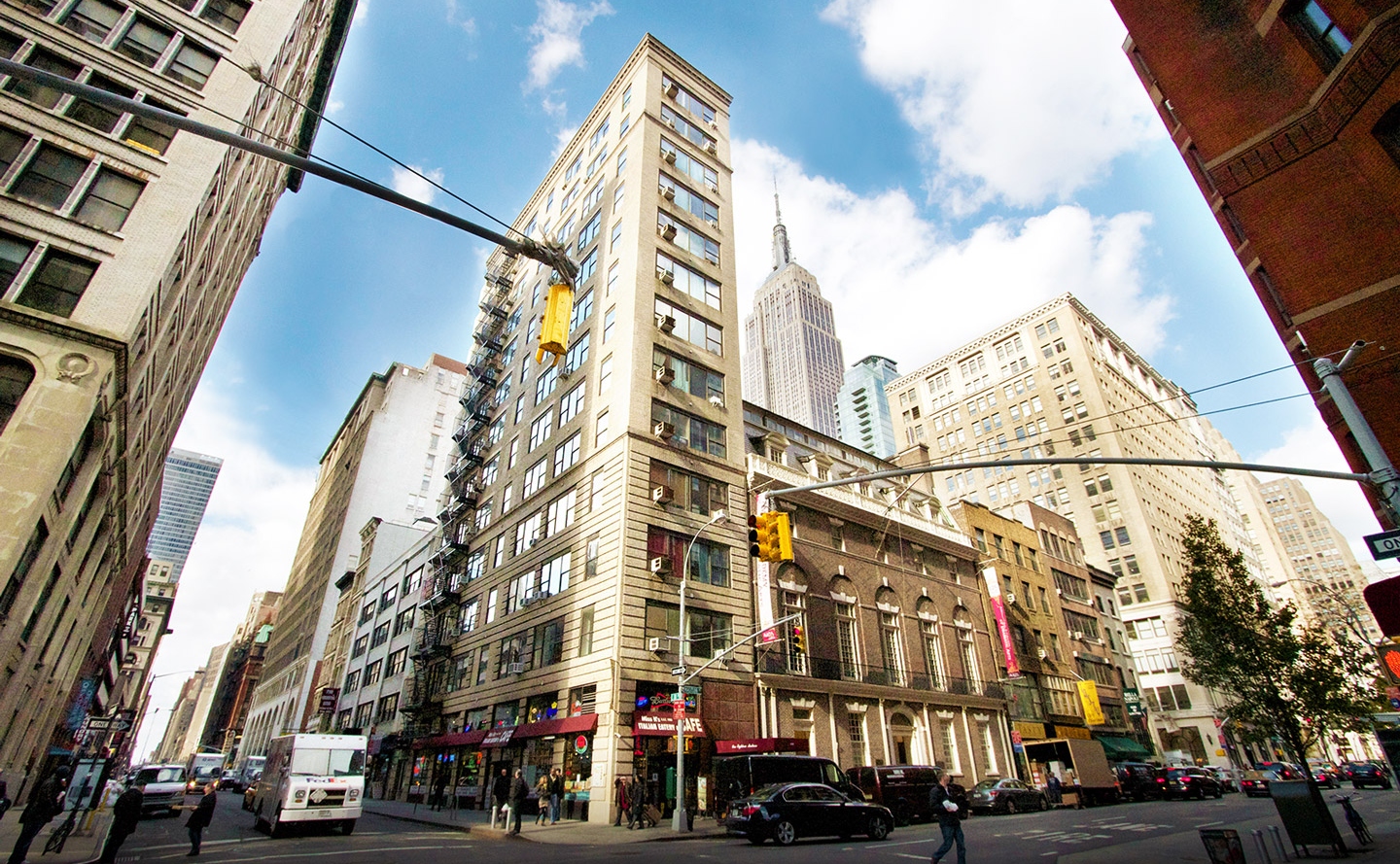 This month we're spotlighting the 1963 launch of the American Academy of Dramatic Arts in the neighborhood. Located at 120 Madison Avenue near 30th Street, the acting school, which also has a Los Angeles campus, was founded nearly 140 years ago. This year marks the Academy's 60th anniversary of its purchase of the acting school's current Manhattan site, which became a designated New York City landmark in 1966. Notable Academy alumni include Edward G. Robinson, Class of 1931, Kirk Douglas, Class of 1941, Lauren Bacall, Class of 1942, Robert Redford, Class of 1959, Dennis Haysbert, Class of 1977, Jennifer Coolidge, Class of 1982, Paul Rudd, Class of 1991, and Jessica Chastain, Class of 1998.
The American Academy of Dramatic Arts was founded in 1884 by Franklin Haven Sargent, a Harvard professor of speech and elocution. The acting school was reportedly the first of its kind in the English-speaking world and made its debut at the Lyceum Theatre, then located on Fourth Avenue, now known as Park Avenue South, between 23rd and 24th Streets. Sargent's "in-depth study of ancient drama and theatre began to reveal something both remarkable and troubling," notes the Academy's website, aada.edu. "During the late 1800s, the art of human expression in American theatre had been reduced to mostly slapstick and exaggerated vaudevillian performance. He wanted to open a school to provide the education necessary to transform the trade of acting into a respected craft." The Academy's first graduating class had 118 students, according to aada.edu, "and the history of acting in America was changed forever."
When the Lyceum Theatre was demolished to make way for the Metropolitan Life Insurance tower in 1902, the Academy sought a new permanent home. After an extensive search, the acting school's trustees approved the purchase of Colony Club's 120 Madison Avenue building in 1963. Americada, the Academy's newsletter wrote in 1963 that the property would have "two 200-seat theatres; workshops; studios for Dance, Movement, and Sound Work; classrooms; offices; other basic facilities." It also noted that "although the purchase was made on favorable terms for the Academy, it will be necessary over the next five years to conduct an intensive fund-raising campaign, on a national scale, to defray the costs of purchase and renovation."
Colony Club was designed by Stanford White, the noted architect at McKim, Mead & White which was the firm behind the blueprint for the second Madison Square Garden at 26th Street and Madison Avenue in 1890. Colony Club's six-story Federal-style structure would feature a grayish red brick and white limestone trim exterior. As the initial owner and tenant in 1907, Colony Club became "the first women's organization in the city to build itself a clubhouse for social and recreational activities," reports History Districts Council's website 6tocelebrate.org.
The building's interior "ground floor had the typical receiving rooms, but the second floor was the main course: a double-height gym in the rear, with a running track on the balcony, and an elegant, French-style assembly room at the front, with a musicians' balcony above," wrote The New York Times on September 28, 2003. "In the basement was a swimming pool, surrounded by white marble walls and floors, with a broad trellised ceiling. Vines were woven into the trellis, through which yellowish artificial light shone through, similar to a garden bathed in soft sunlight. The lighting fixtures were fashioned in greenish-white glass after bunches of grapes."
During the 20th century and the arrival of the Academy at 120 Madison Avenue, the acting school, writes aada.edu, had become "widely known as the "Cradle to the Stars" due to its stunning reputation of influential alumni" who had attended its New York City and Los Angeles campuses. Oscar and Golden Globe-winning actor and director Robert Redford, Class of 1959, appeared in a 1960 promotional print advertisement about the acting school with his quote: "You're only as good as you dare to be bad…the Academy gave me this freedom."
Several years later in 1966, the Landmarks Preservation Commission designated 120 Madison Avenue as a New York City landmark. The LPC's report concluded that the building "has a special character, special historical and aesthetic interest and value as part of the development, heritage and cultural characteristics of New York City…that it was designed in impeccable taste by one of America's most renowned architects, and that its details and unusual brickwork have a graceful delicacy which sets it quite apart from other buildings of the same style in the City."
And for its historic role at 120 Madison Avenue, the Academy believes that "what keeps our training programs at the forefront of acting education is our unique ability to evolve with the current needs of the profession, providing innovation, insight and new methods of instruction to students and teachers from around the globe," writes aada.edu. "Our exemplary faculty and leadership are committed to the same high standards of excellence and vision established by the institution's founders. The Academy proudly and dutifully continues to pass its torch on to the next generation of actors who are certain to enrich our lives for countless years to come."
Header & Thumbnail Credit: American Academy of Dramatic Arts