Flatiron & NoMad Connections to July 4th Celebrations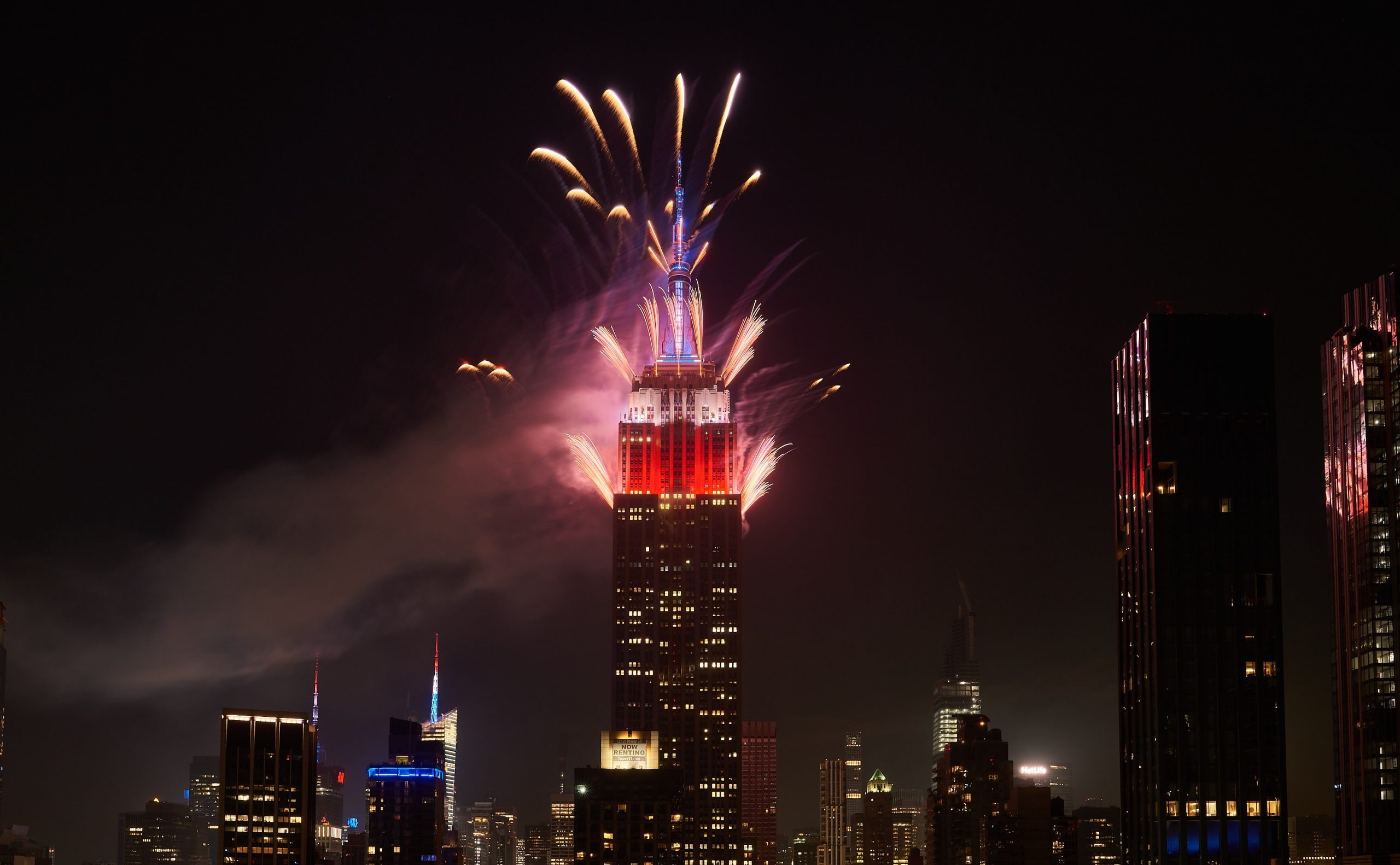 In honor of the Fourth of July, we highlight the past and present neighborhood connections to the U.S. federal holiday. The day celebrates the passage of the Declaration of Independence by the Continental Congress on July 4, 1776.
Synonymous with July 4th celebrations is the viewing of fireworks. One of the best places to watch the pyrotechnic light display in the area is East 23rd Street and FDR Drive. "The first July 4th fireworks show happened in 1976, the year Macy's partnered with the Walt Disney Company to celebrate the nation's Bicentennial," writes 6sqft.com. "The event became an annual tradition." The first-ever Macy's fireworks show, however, actually occurred in 1958, and was not on July 4th, but July 1st over the Hudson River, to celebrate the store's 100th anniversary.
Luxury residential properties such as One Madison at 22 East 23rd Street can also offer upper floor tenants a view of the fireworks extravaganza. For visitors to the area, there's the nearby Empire State Building, where on the 80th and 86th floors of the building's Observatory viewers have "unparalleled panoramic views of New York City and the annual Macy's 4th of July Fireworks," notes esbnyc.com, "for an unmatched Independence Day experience."
More than a century ago, Flatiron native Theodore Roosevelt, who grew up in a brownstone at 28 East 20th Street, between Broadway and Park Avenue South, engaged in a variety of political activities with the public to observe the holiday during his tenure in office as a U.S. President, according to nps.gov. In 1902, he traveled to Schenley Park in Pittsburgh, Pennsylvania and spoke before 200,000 people. Later in 1906, President Roosevelt made the decision to head to his "summer White House" in Oyster Bay, New York to speak from the home's piazza.
Fellow White House occupant President James Madison, the namesake for Madison Square Park, located between Fifth and Madison Avenues and 23rd and 26th Streets, also participated in July 4th ceremonial celebrations. According to nps.gov, President Madison's appearances included the Capital in Washington, D.C. to review a parade before entertaining guests at the White House in 1812, as well as playing host for a reception at the Octagon House in 1815.
Nearly seven decades later, however, the holiday was recognized as "one of the grimmest of July Fourths," writes nps.gov. President James A. Garfield was shot two days earlier by an assassin's bullet in a Washington, D.C. railroad station in 1881. The country became "uncharacteristically subdued on the holiday," notes the website. Following the president's death 79 days later, Chester A. Arthur, who was Garfield's vice president, was administered the oath of office on September 20th at his former rowhouse residence at 123 Lexington Avenue, near 28th Street.
"During the later 20th century, although it remained a national holiday marked by parades, concerts of patriotic music, and fireworks displays, Independence Day declined in importance as a venue for politics," writes britannica.com, however, "it remains a potent symbol of national power and of specifically American qualities—even the freedom to stay at home and barbecue."
Header & Thumbnail Photo Credit: Real Estate Weekly