Brief History of Bicycling in NYC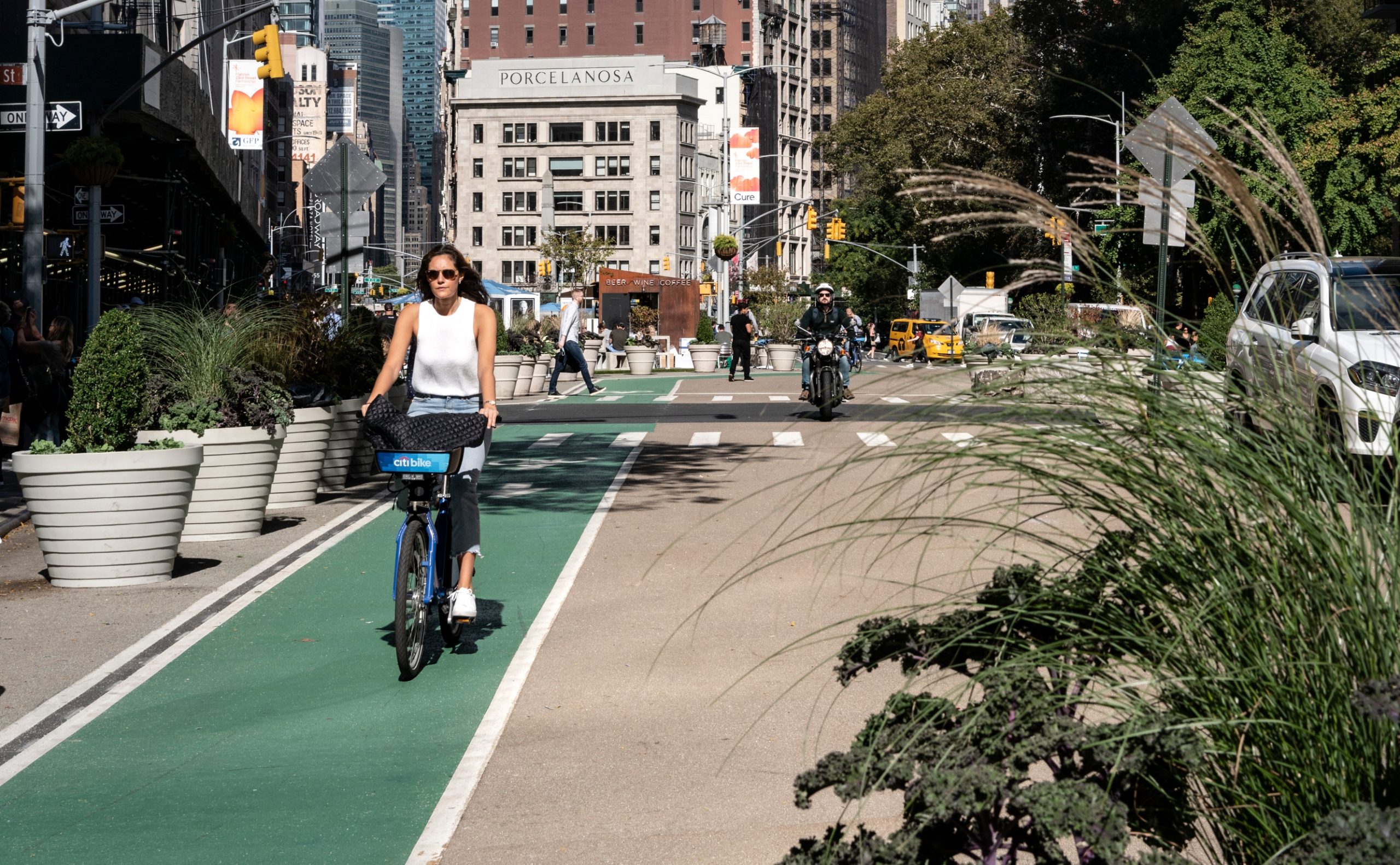 May is National Bike Month, and this Friday (May 19) is Bike to Work Day. In recognition, we're highlighting a brief history of bicycling in New York City and bike network improvements coming soon to Broadway.
New York City's love affair with bicycling began in the 19th century. According to the Smithsonian, by the 1890s, diamond-shaped frames with equal-sized wheels became commonplace and this "safety bicycle" allowed riders to easily gain speed. Roger White, curator at the Smithsonian's National Museum of American History, stated, "The bicycle craze was both a reality and a symbol—a symbol for personal mobility."
In 1896, then New York City Police Commissioner Theodore Roosevelt launched the first-ever group of bicycle-riding officers. This team evolved into a 100-member organization with its own station stated Evan Friss, co-curator of the Museum of the City of New York's 2019 exhibit Cycling in the City: A 200-Year History.
By the early 20th century, "motivated by the dual mission of public safety and public health…officials renewed the commitment to building bicycling facilities in parks during an era of park expansion and new recreational opportunities," states the New York City Department of Parks & Recreation bicycling page. "Bicycling was an integral part of the New Deal work relief projects of the 1930s and 1940s."
In 1956, Bike to Work Day was set into motion by the League of American Bicyclists whose mission is "to create a bicycle-friendly America for Everyone, improving lives and strengthening communities through bicycling." Local NYC nonprofit organization Transportation Alternatives began advocating for bike lanes in the early '70s. Nearly 400 people rode bicycles in Central Park and Fifth Avenue in support of a bike lane network in Manhattan in early April 1973 (New York Times).
Today, following investments in protected bike lanes and bridge access, bicycling in NYC continues to surge in popularity. Nearly ten years after the 2013 launch of Citi Bike, the nation's largest bike share system, Mayor Eric Adams and Department of Transportation Commissioner Ydanis Rodriguez announced upgrades to the local bicycling network as part of Broadway Vision. This project is underway and will result in two-way bike lanes and shared street markings connecting Flatiron and NoMad, via Broadway, to Greeley Square and Herald Square.
Header & Thumbnail Photo Credit: Flatiron NoMad Partnership