Mayor Adams & DOT Commissioner Rodriguez Launch New Phase of Broadway Vision Plan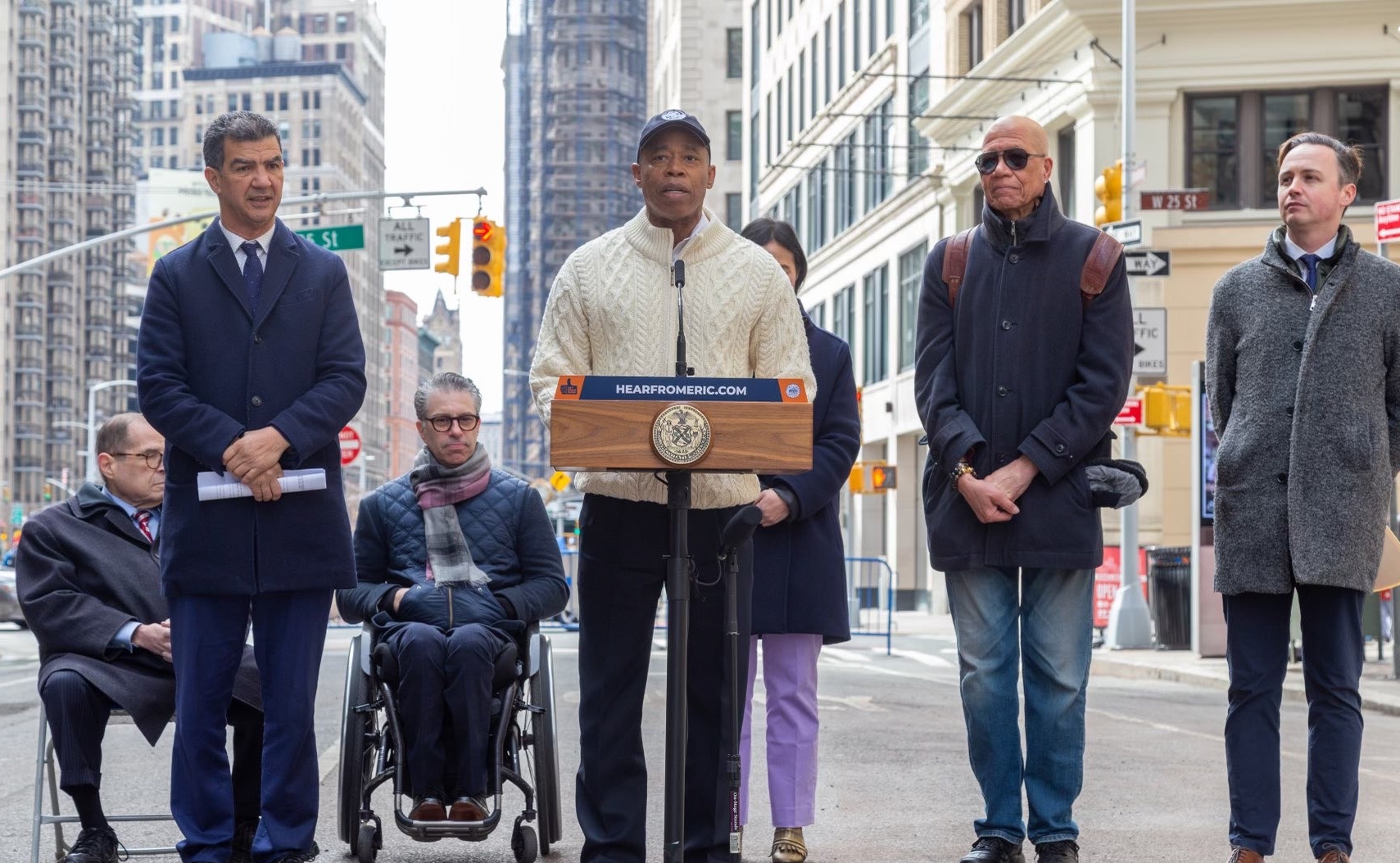 Work Beginning This Week Will Create Two New Plazas, Shared Streets, and Two-Way Bike Lane on Broadway Between West 25th Street and West 32nd Street
Project Delivers on Commitments in Mayor Adams' State of the City Address and "Making New York Work for Everyone" Action Plan
(NEW YORK, N.Y.) – New York City Mayor Eric Adams,  Congressman Jerry Nadler, New York City Department of Transportation (DOT) Commissioner Ydanis Rodriguez, and Flatiron NoMad Partnership President James Mettham, today kicked off construction on a new phase of the administration's "Broadway Vision" plan, which will create new public spaces and make streets safer between Madison Square and Herald Square in Manhattan. This phase of the plan will deliver two new plazas, shared streets, and a two-way bike lane on Broadway from West 25th Street to West 32nd Street. The subsequent phase will deliver permanent capital improvements along Broadway from West 21st Street to West 33rd Street.
The work beginning this week marks a new phase in the Adams administration's comprehensive Broadway Vision plan to create safe, vibrant public spaces along Broadway from Union Square to Columbus Circle. This phase of the project delivers on a portion of the $375 million commitment to create new public spaces from Mayor Adams' State of the City address less than two months ago and follows an initiative in Mayor Adams and New York Governor Kathy Hochul's "New New York" action plan.
"Two years ago, the pandemic devastated Midtown and our business districts, but it gave us the opportunity to reimagine our public spaces," said Mayor Adams. "Beginning this week, our Broadway Vision will come to life with vibrant, new public spaces and safer streets from Madison Square to Herald Square. Midtown is back, and New York City is back."
"We are excited to join Mayor Adams, Commissioner Rodriguez, and Chief Public Realm Officer Liu in launching this new phase of Broadway Vision, as part of our reimagining of the public realm in Flatiron and NoMad to prioritize New Yorkers' well-being and our district's economic and cultural vitality," said James Mettham, President, Flatiron NoMad Partnership. "Building on our successful NoMad Piazza pilot and principles recommended by the 'New New York' panel, these improvements will complete the pedestrian-focused Broadway corridor through our district, enhancing the experiences of residents, commuters, and visitors. In addition, the mayor's commitment to the capital reconstruction of the Flatiron Public Plazas and Worth Square allows us to move forward with our city partners, the Madison Square Park Conservancy, and community members to dramatically upgrade these iconic spaces in the heart of Manhattan."
"Today's announcement is another important step towards reimagining what urban public space can be," said Holly Leicht, Executive Director, Madison Square Park Conservancy. "There's no question that we, as a community and a city, must innovate to make New York a more livable city. This includes more public green spaces like Madison Square Park, as well as safe, open streets with pedestrian- and bike-friendly infrastructure. Thanks to the Adams administration for championing this forward-looking initiative, and we look forward to working together to permanently redefine our neighborhood's streets, sidewalks, and plazas."
View the full Press Release, here.
Read more about our collaborative public realm work with the City, including Broadway Vision, the NoMad Piazza pop-up plaza, and permanent Flatiron Plaza reconstruction, here.
Header & Thumbnail Photo Credit: NYC DOT