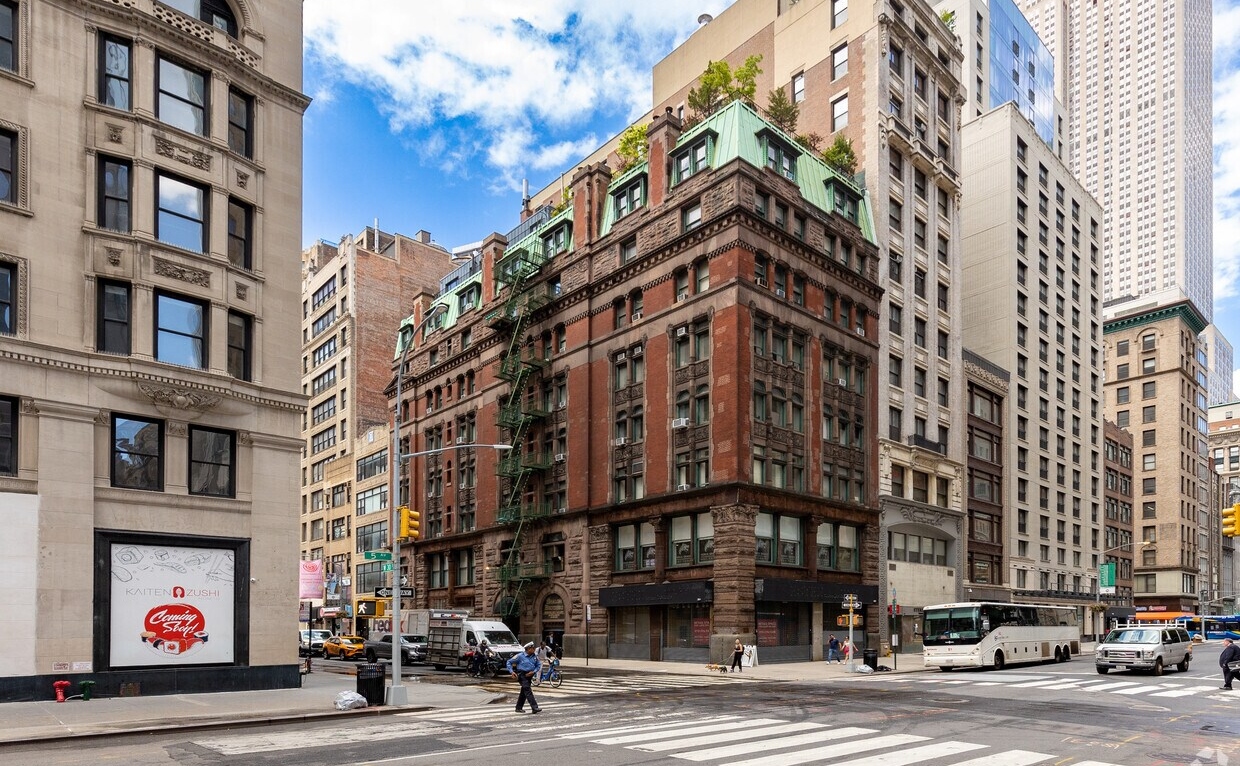 This year marks the Wilbraham hotel's fifth anniversary on the National Register of Historic Places designation list. In honor of this remarkable achievement, we highlight the early development of the Romanesque Revival-style property that made its debut as a bachelor apartment hotel for professional men of means in May 1890. Located at 1 West 30th Street (a.k.a. 282-284 Fifth Avenue), the eight-story structure featured bedrooms, parlors, and a communal top-floor destination dining room for its residents.
The selected architects for the design of the Wilbraham were Scottish natives and brothers David and John Jardine. Their New York City firm, known as D. & J. Jardine, had "achieved prominence for its designs, in a variety of contemporary styles, for religious structures, store and loft buildings, warehouses, office buildings, and apartment houses," wrote the Landmarks Preservation Commission (LPC) in its June 8, 2004 report. The apartment hotel was reportedly once the site of a former townhouse and then purchased for $245,00 as a real estate investment for William Moir, a prominent jeweler who resided in the neighborhood at 6 West 20th Street.
In 1888, construction on the Wilbraham began with the use of materials that included brick and cast iron. Romanesque Revival architectural style was popular in the community during this era, and noted the LPC, this neighborhood hotel would be considered "extraordinarily well-detailed." Real Estate Record & Guide on September 6, 1890, declared the building upon its completion was "the 'crack' apartment house of its kind in New York City…quite an imposing piece of architecture." And The New York Times critiqued on January 3, 1908 that "the structure was one of the first and finest bachelor apartment houses erected on Fifth Avenue" with its verdigris cooper-covered mansard roof and an entrance vestibule and main lobby that featured mosaic tiles and decorative ceilings. When construction was finished two years later, the total estimated cost for the building was $150,000.
According to the LPC, when the Wilbraham officially opened in May 1890, the structure showcased the latest in technological inventions of that period, such as "a manually-operated Otis elevator, steam heating, both gas and electric lighting, and an internal communication system connected with the superintendent. Tenants were also provided the housekeeping services of a hotel." Each tenant's apartment featured a two-room suite with a bathroom, minus a kitchen, however, all meals for occupants were served in the top-floor dining room area. The building also had a two-story storefront that was the New York City home of the notable dining and glassware importing firm of Gilman Collamore & Co. By September 1890, just months after opening its doors, the Wilbraham's reported real estate market value was listed at $500,000.
Wilbraham residents were single men. "With the growth and industrialization of New York City in the 19th century, the work force consisted of very large numbers of unmarried men," according to the U.S. Census data. "The number of bachelors in the city ranged from 125,000 (about 13% of the total population) in 1870, 31 to nearly 45 percent of the male population over the age of 15 in 1890." Reportedly, noted the LPC report, historians cite "a variety of contemporary social factors that contributed to these numbers of single men: the exclusion of women from most occupations; the greater number of male immigrants; postponement of marriage due to low-income level; dissatisfaction with the institution of marriage; and the availability of alternatives, including socializing outside of marriage, the emergence of a gay male community, and the attractions of the heterosexual 'sporting male culture.'"
By 1927, however, the Wilbraham was sold by the John J. Gibbons estate to the 1 West 30th Street Corp. Two years later, residents would now include women, with 15 females and 10 males occupying the premises. And between 1934 and 1935, the Wilbraham also underwent remodeling, which featured the installation of kitchens. Several decades later, on June 8, 2004, the LPC named the Wilbraham a New York City Landmark. Then, on May 4, 2018, the hotel was added to the National Register of Historic Places list, which has more than 95,000 properties that Americans consider as worthy of preservation. The Wilbraham, stated the LPC upon its landmark designation, "has a special character and a special historical and aesthetic interest and value as part of the development, heritage, and cultural characteristics of New York City."
Header & Thumbnail Photo Credit: Apartments.com