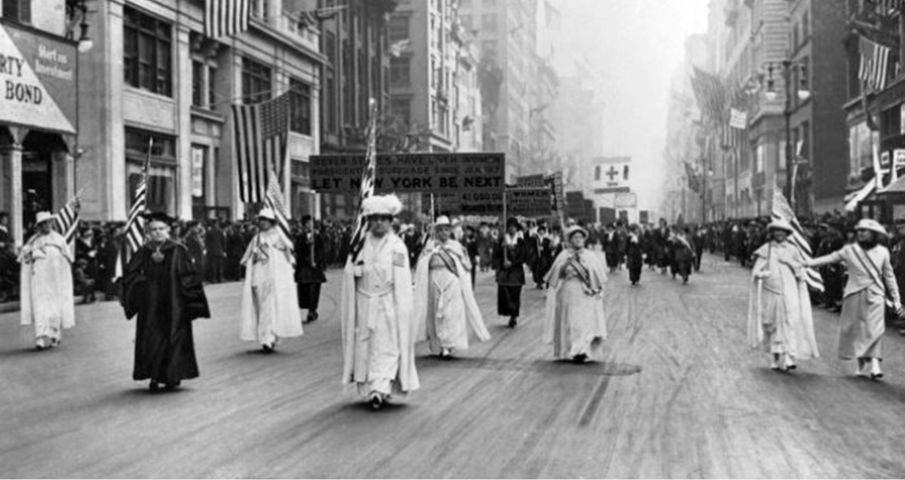 As New Yorkers prepare to cast their ballots on November 7, the Flatiron/23rd Street Partnership honors the role of two monumental marches in the District, which helped spark women's right to vote in New York State and subsequent passage of the U.S. Constitution's 19th Amendment in 1920.
"Through the chill of a windy afternoon, though the sun shone on the mighty host, the great army of women passed, the white costumes of many glittering in the sunlight, defying the cold wind that the onlookers felt to their spines as they stood to see it all," reported the New York Sun the day after the historic October 23, 1915, five-mile of an estimated 25,000 women who had walked uptown on Fifth Avenue.
Suffragists Dr. Anna Howard Shaw and Carrie Chapman Catt, founder of the League of Women Voters, led marchers from Washington Square through a number of neighborhoods, including Flatiron, before the parade's terminus at 59th Street. "Some whose names are to be found all through the Social Register," wrote The Evening World in its late edition on October 23, 1915, "marched side by side with working mothers with babies in their arms."
The New York Tribune summarized the reaction one day later, stating, "there was little applause all along the route for the women marchers. But this was not strange, for it could be seen that the spirit of the parade had made itself felt on the sidewalks. It was no laughing matter, this parade. The women in it did not smile or giggle. They were serious and determined. And this mental characteristic was contagious."
New York City's suffrage movement, however, launched several years earlier in the Flatiron District. On February 16, 1908, a group of 23 women initiated a community march. During that wintry Saturday, the women marched from their nearby Union Square office to a public hearing at the Manhattan Trade School for Girls, then located on East 23rd Street and Lexington Avenue. One march leader proclaimed, "For the long work day, for the taxes we pay, for the laws we obey, we want something to say."
These brave and heroic efforts by the suffragists would soon change the lives of women across New York State as they were granted the right to vote in 1917. Three years later, women gained voting rights across the United States with the passage of the 19th Amendment when it officially became part of the U.S. Constitution on August 18, 1920.
Dr. Anna Shaw and Carrie Chapman Catt, founder of the League of Women Voters, lead an estimated 20,000 supporters in a women's suffrage march up Fifth Avenue in 1915. Image via AP.