Who Was William Jenkins Worth?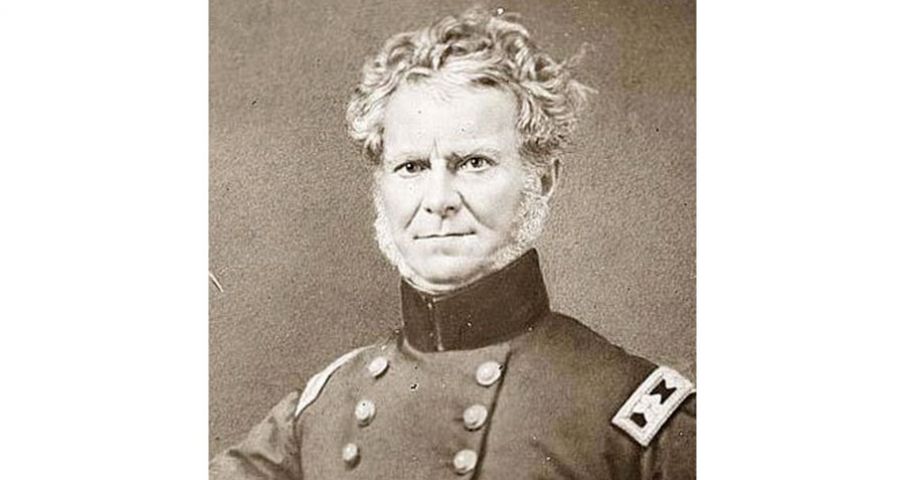 In observance of the anniversary burial of U.S. Army hero William Jenkins Worth in what is now known as the Flatiron District on November 25, 1857, the BID takes a brief look back at the officer's life. Worth's successful commands during a more than three decades-long career included the War of 1812, the Mexican-American War, and the Second Seminole War. A native of Hudson, in upstate New York, Worth was buried at the intersection of Broadway, Fifth Avenue, and 25th Street, following his 1849 death from cholera in Texas, and temporary interment at Brooklyn's Green-Wood Cemetery.
Born in 1794 to Quaker parents, Worth's father, Thomas, was "one of the original proprietors" of the family's hometown region, according to the New York City Department of Parks & Recreation website. Upon the completion of a basic education, Worth had brief stint as a clerk, before pursuing the military as a lifelong profession.
He was initially commissioned as an Army private in 1813, but Worth eventually rose through the ranks to earn a series of decorated titles such as Major General and Colonel. Throughout most of the 1820s, Worth was also a Commandant for Cadets at West Point's U.S. Military Academy, where he was characterized as being "something of a martinet," wrote Spencer Tucker in Almanac of American Military History: Volume 1.
Worth's distinguished battlefield service included commanding New York City's Eighth Infantry Regiment during the Seminole Wars. "For his gallantry in these military engagements he was appointed Brigadier-General by President James Knox Polk," writes the New York City Department of Parks & Recreation website. "Worth urged that the Seminoles be allowed to live in peace, and maintain certain territorial rights." And for his efforts during the Mexican-American War, Worth later became Puebla's Governor, and also headed the Army's Department of Texas before succumbing to cholera at the age of 55.
Upon his death, Worth's remains were relocated to Green-Wood Cemetery while awaiting the completion of a 51-foot high, Quincy granite obelisk structure, inscribed with the officer's famous battles, to be erected over the gravesite. Although Worth did not have a "special connection with New York City, a group of admirers arranged for his remains to be shipped back to New York, where he became one of the few public figures to lie in state at City Hall," wrote The New York Times on February 2, 2003.
Green-Wood Cemetery was also the site where a number of high-profile people during the 19th Century were laid to rest, notes New York City history website, The Bowery Boys. "Worth served under then-general Zachary Taylor at the start of the Mexican-American War," reports the website. "By the time Worth died, Taylor was the President of the United States. Certainly some political favoritism was at play."
Worth's burial procession took place in what is now known as the the Flatiron District on Evacuation Day, the Revolutionary War date when British troops left Manhattan in 1783.  The dedication ceremony featured 6,500 soldiers, and "a relic box was placed in the cornerstone, and Mayor Fernando Wood delivered the principal oration," according to the New York City Department of Parks & Recreation website. The gravesite's location near Madison Square Park, in the quiet, primarily upscale residential section during the mid-19th Century was "considered peaceful," comments The Bowery Boys website. "It would have truly been a sincere honor to be placed here."