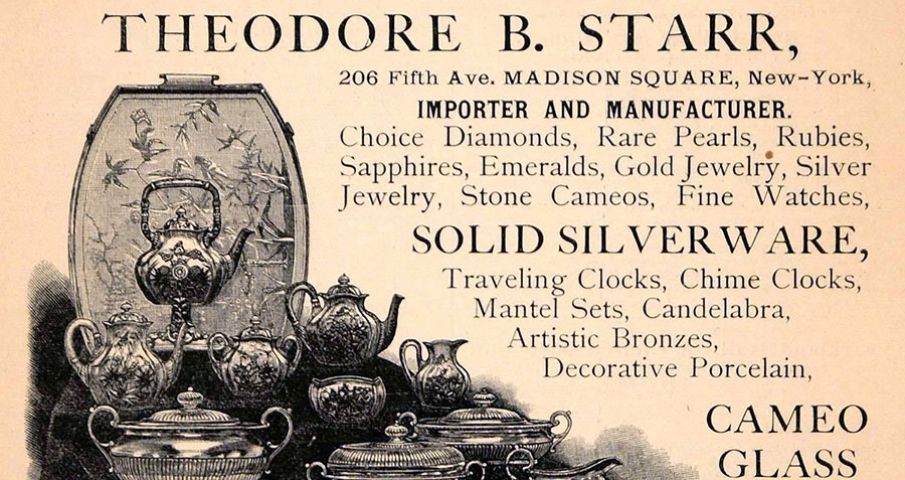 In celebration National Jewel Day (March 13th), the Flatiron/23rd Street Partnership shares some notable highlights about three prominent jewelers who have operated here in the Flatiron District.
From 1868 to 1885, pearl purveyor Jacob Dreicer & Co. was located at 1128 Broadway, between 25th and 26th Streets. "Dreicer's appreciation for the subtle hues of the gem and his sense of design–he often uses them in settings with diamonds and platinum–made the firm's jewels highly sought after," noted the book Gilded New York: Design, Fashion, and Society edited by Donald Albrecht, Jeannine Falino, Susan Gail Johnson, Phyllis Magidson and Thomas Mellins.
Seeking potential customers, Dreicer often dined at nearby elite eatery Delmonico's on Fifth Avenue and 26th Street. "Many of the famous strings and ropes of pearls and collections of jewels owned by persons prominent in modern social and business worlds were assembled by Dreicer & Co.," wrote The New York Times on November 8, 1926. "The collection of these gems entailed a constant search of the world's markets for stones of the highest quality. One 30-inch string of perfectly matched pearls assembled by the firm was of such rarity and beauty as to sell for $1,500,000 which is said to have established a record price for a string of pearls of this length."
A decade after Dreicer's arrival in the area, Theodore B. Starr, an acclaimed silversmith, jeweler, and Dreicer competitor, moved next door to the pearl aficionado. Starr's store, however, shared two entranceways, 206 Fifth Avenue and 1126 Broadway, during its occupation in the neighborhood from 1877 until 1911.
Exclusive designs were often on display at Starr's business, according to The New York Times on April 18, 1893. They included "a tiara containing 300 diamonds and 8 large emeralds, a corsage piece of pearls and diamonds arranged around a large sapphire, a necklace of emeralds and diamonds strung on an invisible gold chain, and a diamond studded hair ornament–a sword with a gold blade."
An array of decorative items were also available for purchase, reported The Times. "The clocks—cathedral clocks with sweet chimes; the bronzes, wonderful in skillful workmanship—showing how hard and unyielding metal can be made to assume the appearance of soft-flowing draperies, and the vases and porcelains, all form a bewildering display."
But by the beginning of the 20th century, Dreicer, Starr, and other commercial enterprises had followed the economic trend of moving north to Midtown. A century later, however, premier jeweler Tiffany & Co. announced, in 2010, the arrival of its corporate offices to the Flatiron District. Tiffany leased a reported 260,000 square feet for their new headquarters at 200 Fifth Avenue, between 23rd and 24th Streets.
In 2017, Tiffany expanded its Flatiron footprint by nearly 17,000 square feet at 53 West 23rd Street. But, if you plan to purchase any of their dazzling diamonds on this National Jewel Day, you'll still need to visit Tiffany's iconic 57th Street and Fifth Avenue flagship store, which has been located in Midtown Manhattan since 1940.
Photo Credit: Daytonian in Manhattan