The Prince George Ballroom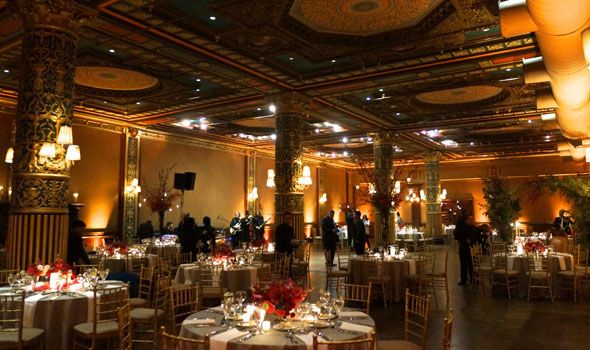 With its intricate woodwork, its plasterwork garlands, cherubs and acanthus leaves, its parquet floors and Renaissance-inspired murals, the Prince George Ballroom was once one of the biggest and grandest indoor spaces in New York City.
The 4,800-square-foot ballroom was the showpiece of the Prince George Hotel, north of Madison Square at 14 East 28th Street, just off Fifth Avenue. Designed in the Beaux Arts style by Howard Greenley, then president of the Architectural League of New York, the hotel opened in 1904 and the ballroom, with its own entrance at 15 East 27th Street, soon became a prime gathering place for the city's elite.
It remained that way for decades, but changing conditions transformed the once-glamorous room into something grim. By the 1970s, a drop in tourism and a surge in crime had taken their toll. A decade later, the Prince George was a shabby welfare hotel — and all too often, a crime scene. The ballroom, once a hub of the city's social life, became a dining hall, a social services office and a basketball court. In 1989, the Prince George was shut by the city.
In 1996, things began to change. The building, vacant for seven years, was purchased by Common Ground, the New York City non-profit organization that provides affordable housing for homeless, disabled, elderly and low-income people. Backed by federal, state and private funds, a mammoth restoration program followed, led by Beyer Blinder Belle, the architectural firm that worked on the renovation of Grand Central Terminal.
In 1999, the Prince George welcomed its first new tenants, and in 2001, the city designated the surrounding area the Madison Square North Historic District, which helped spur a campaign to restore the ballroom. In 2004, Common Ground embarked on a restoration of the Ballroom and the adjacent former Hunt Room. High school interns interested in restoration arts, architectural students and students from the Parsons School of Design provided much of the labor.
In 2005, the project was completed. Many of the Ballroom's rich details were meticulously restored, from the oak herringbone-patterned floor to the green, blue and red medallions on the ceiling. The Hunt Room, a 3,000-square-foot space that had fallen into total disrepair, became an airy, modern entry foyer that is now the World Monuments Fund Gallery, a special exhibition and events space. The Ballroom and the Gallery are both available as event spaces, with the proceeds supporting Common Ground's housing development work.
The Prince George, once a symbol of urban decay but newly restored to its former luster, is now listed on the National Register of Historic Places.
Image via Yitzy Spinner