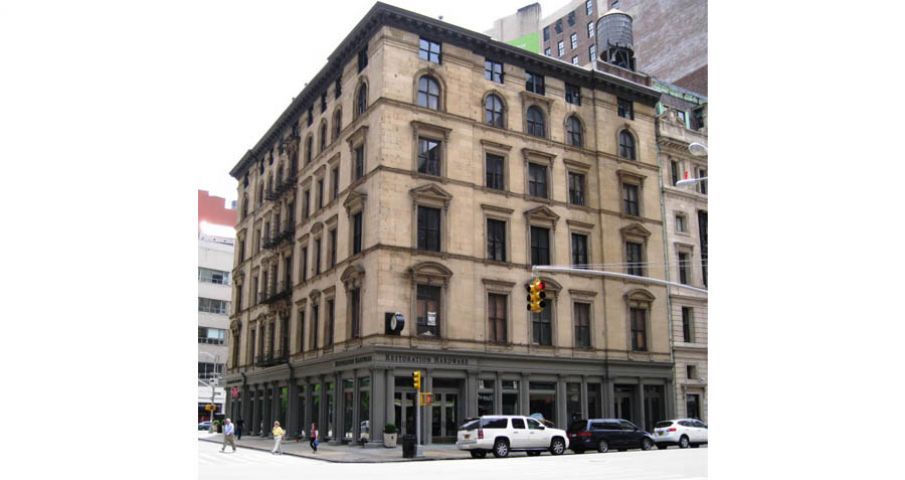 The mid-1800's brought significant real estate growth and distinctive architecture to the Flatiron District. The Mortimer Building at 935-939 Broadway, at the intersection of East 22nd Street, is one such property born of the era's construction boom.
Manhattan real-estate mogul Richard Mortimer commissioned Griffith Thomas, one of the most fashionable architects of the era, to design the original five-story structure. A sixth floor was added in 1912 by the architectural firm Rouse & Goldstone. Thomas constructed the block-long commercial property with Italianate details, including pediments over the structure's windows and fluted cast-iron columns. Upon its completion, it was christened "The Mortimer Building," and it featured ground-floor space for retailers topped by upper-floor offices.
The Mortimer Building's tenants were a microcosm of the district's thriving economy; they included jewelers, dry-goods businesses, the Pach Brothers' celebrated photography studio, and Bryant, Stratton and Packard's New York City Business College. The address also served as the headquarters of the American Institute of Architects, a still-extant organization formed to produce a more widespread professional union of American architects. In reflection on the era, the New York City Landmarks Preservation Commission noted in their 1989 Designation Report Vol.1., "Architecture had become a recognized profession in the United States," with many people seeking formal training and establishing "firms and offices to handle the more complex demands of larger, more specialized buildings."
The Mortimer is distinguished by its status as "one of the earliest buildings in the district constructed solely for commercial use," according to the Designation Report. "Because of its three full facades, handsomely preserved details, its design by a famous architect, and its associations with the early commercial changes on this section of Broadway, this is one of the buildings which adds significantly to the architectural and historical character of the historic district."
More than 150 years later, The Mortimer Building maintains a diverse and upscale tenant roster that includes watch wholesalers, an advertising firm, and the 18,900 square-foot flagship of Restoration Hardware, the global luxury home décor leader that relaunched as RH Modern last fall. "The brand has more or less thrown out their signature steampunk, kind-of-clunky aesthetic for an equally grand but beautifully realized modern re-do," wrote The Observer in October 2015 about the retailer's makeover. "Instead of reworked classics or antique imitations, the new pieces—from lighting to low-level seating—are, well, modern and comfortably luxurious." And a much-welcomed trend in the ever-evolving environment of the Flatiron District!
Image via Daytonian in Manhattan.