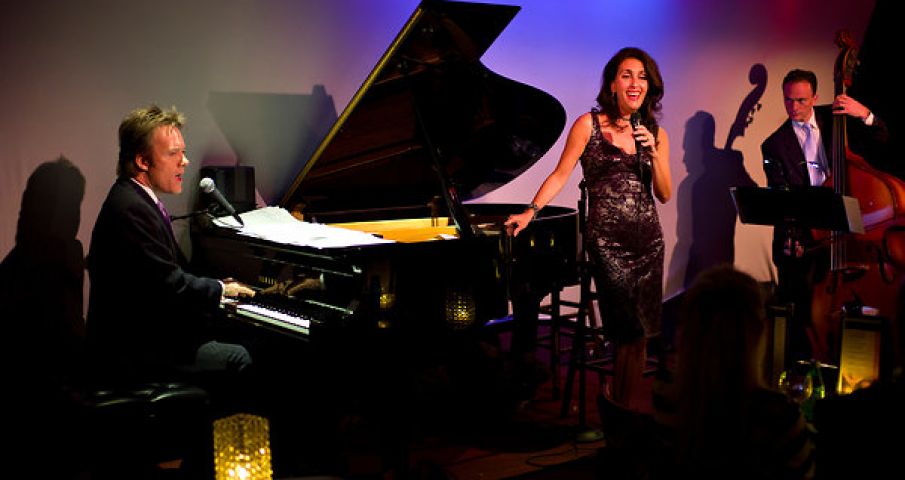 For some people, life may be a cabaret, old chum, but for Chris Mazzilli, life is a cabaret and a comedy club.
Mazzilli operates both the Gotham Comedy Club, just outside the Flatiron district, and the Metropolitan Room, an intimate little boite at 34 West 22nd Street that has been hailed as "the best cabaret in town" by New York magazine and "the best of New York's smaller clubs" by The New York Times.
For 10 years, Mazzilli had run the Gotham Comedy Club at the 22nd Street address. In 2006, though, he decided that the room wasn't big enough for all the laughs, so he moved the comics to 208 West 23rd Street, where he could seat almost three times as many customers. Since he still had some time on his lease at 22nd Street, Mazzilli decided to replace the punchlines with songlines and open a cabaret. But, he said, it would be unlike most others in the city.
"I felt we could use this space for a cabaret that would fill the gap between the really expensive rooms, which can charge anywhere from $50 to $175 as a cover charge, which the average guy can't afford, and the low-end rooms with sub-par lighting and sound," he said. "We had the infrastructure here, and we installed an awesome sound system and really sophisticated lighting. And we do it all at a lower price. Our covers range from $15 to about $32, depending on the performer."
The performers are what the Metropolitan Room is all about. Mazzilli has been able to get some of the top entertainers in the business, big timers such as Billy Stritch, who opened the place in May 2006 with a show that was a tribute to Mel Tormé.
"That night was magical," said Mazzilli.
The room has also headlined such A-list singers as Marilyn Maye, Maureen McGovern, Tom Wopat, KT Sullivan, Amanda McBroom and Julie Wilson. Liz Callaway, who has sung a lot of Sondheim on Broadway, was the attraction on New Year's Eve. Jazz singer Annie Ross, who became an international star as part of the Lambert, Hendricks & Ross trio half a century ago, is a Metropolitan Room regular and will appear there every Tuesday night in January.
Annie Ross is 80, Marilyn Maye is 82 and Julie Wilson is 86, but don't think that Mazzilli — who turns 46 this month — ignores young talent.
"Cabaret singers seem to go on forever," he said, "but one of the best things we do is the Metrostar Talent Challenge."
That's a kind of sing-off that the Metropolitan Room launched three years ago in which emerging talent performs before a panel of guest judges and a live audience on Monday nights during the summer. The winners wind up with a prime-time, week-long engagement at the club and are given the opportunity to work with experienced music directors, stage directors and musicians.
Music has long been part of Mazzilli's life. As a kid who was raised in Queens and on Long Island, he played guitar, piano, trumpet and the tuba. His father, Angelo, who is in the produce business, and his younger brother Steven, who is also his business partner, are musicians. At first, Mazzilli thought he would wind up as a men's wear designer. That's what he studied at the Fashion Institute of Technology.
"But I also liked acting," he said, "so at 20 I took classes, signed with an agent and eventually got some work. I did a couple of 'Law & Order's and from 1990 to 1996, I did stand-up comedy. I stopped because it was a very up-and-down life. That's when we opened Gotham. Since I was a kid, I watched the way my father connected with customers and with the people who worked for him. He's the greatest man I know. He listened. He cared. I took those qualities and implemented them here. I'm very hands-on. My people have been with me a long time, some since we started. That's very rare in this business."
Image via New York Times.