The Launch of Silicon Alley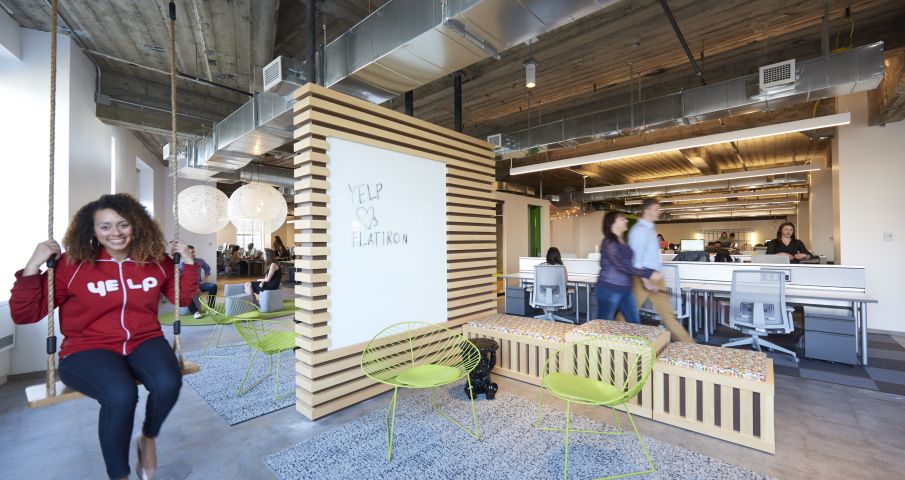 This February the Flatiron Partnership flashes back to the 1990s to honor Silicon Alley, a region that innovative tech startups helped define and mark an era of groundbreaking economic growth in the Flatiron District.
Origin
Silicon Alley's prime location was near the Flatiron Building at the intersection of 23rd Street, Fifth Avenue, and Broadway. This so-called "alley," however, would later expand down Broadway as far south as the Financial District and north to Columbia University in Morningside Heights. According to The New York Times on December 13, 1998, "Silicon Alley is the shorthand term used to describe the new-media and related companies echoing the Silicon Valley label for the concentration of computer-related companies near San Francisco."
The origin of the name Silicon Alley remains up for debate. Some published reports have indicated that the moniker came about through a job advertisement. "Jason Denmark, a recruiter, is often credited with coming up with the name when he was attempting to bring developers from California to New York," according to the website theculturetrip.com. "Mr. Denmark posted a job advert in February 1995 with the title "NYC–silicon ALLEY."
Other sources cite Mark Stahlman, a tech strategist, former investment banker, and a founder of the industry group New York New Media Association, as the person who coined the catchphrase in 1995. "We were media," Stahlman told The Wall Street Journal in an April 29, 2014 interview. "We were marketing. We were changing the world. Silicon Valley was chips, computers, and hardware."
Flatiron: The Early Years of Silicon Alley
The early years in Flatiron's Silicon Alley were marked by rapid expansion as "new media companies that were primarily internet content businesses aligned closely with the advertising and entertainment sectors," according to the book Entrepreneurship in Emerging Regions Around the World.
Says Scott Kerr, President of Silvertone Consulting, a brand strategy company, "The dot-com boom sparked big changes in the city's economy." As the former head of global marketing at Real Media, a digital ad network and ad serving software company at 260 Fifth Avenue, Kerr notes "job gains among internet companies helped reshape whole neighborhoods, as Silicon Alley companies snapped up cheap office space that other businesses traditionally ignored."
And, recalls Kerr, a number of promotional techniques employed by these businesses often seemed "insane." He says that "Real Media used a variety of guerilla marketing tactics to rise above the chaos endemic in the online ad world during the internet's nascent evolution–from blanketing our ad campaign on all the phone booths in Silicon Alley, to mobile billboards driving 24/7 around the neighborhood, to handing out Real Media-branded tchotchkes." Kerr notes that  Real Media grew from a team of five employees to 420 in 25 offices in 17 countries with annual sales reaching nearly $60 million.
Other notable startups included Prodigy, which provided internet access through a dial-up connection, as well as digital marketing company Razorfish, and DoubleClick, an online advertising firm. "DoubleClick was the most successful Silicon Alley company to come out of the first tech boom and had a giant billboard on 22nd Street and Broadway that read: DoubleClick Welcomes You to Silicon Alley," remembers Kerr. And when it came to securing funds for this industry, Flatiron Partners often led the way as the "primary source of venture capital for this new breed of tech companies," reports the website builtinnyc.com.
Tech Industry Growth, Burst, & Comeback
Another key marketing tool that contributed to business growth was online publications. In  1995, @NY, which reportedly became the first-ever digital media outlet to cover the area's tech industry, was launched by journalists Jason Chervokas and Tom Watson. "With 1,300 readers after just fives issues," wrote New York magazine on November 13, 1995, "@NY, a decidedly unsung internet newsletter about all matters multimedia, has already become a virtual town hall for the city's disjointed new-media community."
Additional notable publications included Silicon Alley Reporter, a magazine launched in 1996 by Jason McCabe Calacanis as "16 photocopied pages stapled together and left on tables at downtown coffee houses and area startups," wrote The Wall Street Journal on February 29, 2000. "When some issues were tossed out by annoyed store owners, the Brooklyn native started slipping them between copies of the Village Voice–that way, they would be harder to throw away."
The individuals who were employed in Silicon Alley were often graduates of New York University's Interactive Telecommunications Program, which was headed by Red Burns, deemed the "godmother of Silicon Alley," reported The New York Times on August 26, 2013. Burns was responsible for helping to turn out 3,000 graduates, with many becoming "part of the brain trust of Silicon Alley," noted The Times. Many of the graduates would later find employment at companies such as Google, Apple, and Microsoft as well as small startups.
Many employees also relied on Silicon Alley's social scene that often served as a networking opportunity where "deals were made," according to Entrepreneurship in Emerging Regions Around the World. "At the height of the internet boom, there were as many as a dozen parties every single night of the week. These parties were characterized by lavishness and outrageousness. Large quantities of alcohol, drugs, go-go dancers, strippers, belly dancers and DJs showing porn flicks were not uncommon."
By the century's end, Silicon Alley had created a labor force of 250,000 jobs for the nearly 8,500 companies that had generated annual revenues of $17 billion, noted a 2000 survey conducted by the New York New Media Association. During this period, wrote the publication City Journal, "the Citizens Budget Commission found that New York had more registered domain names—electronic addresses on the internet—than any other city in the country, including San Francisco and Los Angeles, indicating the large volume of Gotham's online activity."
By 2001, however, "a generation of young entrepreneurs who had ridden the "World Wide Web" to overnight fortunes and rock star status saw their paper millions vanish overnight as the Nasdaq index collapsed by 78 percent," reported The New York Times on November 25, 2001. "Dozens of companies went out of business during the burst of the technology bubble, and the economic slowdown following the 9/11 attacks took more," noted The New York Times on March 12, 2006. "Employment in information technology in New York City plummeted to around 35,000 at the end of 2005 from around 50,000 in 2000, according to the New York State Labor Department."
Silicon Alley Reporter also decided to cease publication of its magazine. "You can't have a magazine about unemployed people," Silicon Alley Reporter's Publisher Jason McCabe Calacanis told The New York Times on October 8, 2001.
Flatiron Today
But within a few years, Silicon Valley tech giants such as Google and Facebook would arrive in New York City, thus creating a comeback for the industry in a big way. From 2007 to 2017, the Flatiron District alone has had significant job growth in the technology, advertising, media, and information-related sectors, noted a report issued by the Flatiron Partnership in Q3 2019. Of the 26,145 new jobs created in the neighborhood during this period, nearly half have been within the professional, scientific, and technical services sectors.
Some notable tech companies in the district include SeatGeek, DropBox, Sony, theSkimm, Xandr, Yext, Dailymotion, and Taboola.
Photo: Yelp Offices by Martin Seck