The Hugh O'Neill Building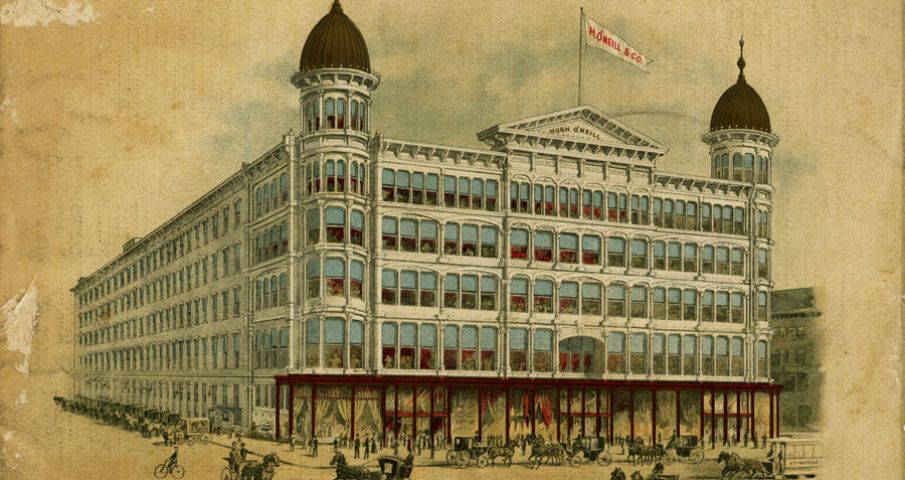 The Hugh O'Neill Building, home to one of the great New York City dry goods emporiums more than a century ago, is a story of domes, disappearance and durability. 
The massive building, designed by architect Mortimer Merritt, takes up the entire block on Sixth Avenue between 20th and 21st Streets — part of the Ladies' Mile Historic District. When it was completed in 1887, it was distinguished by a pair of gold-colored beehive domes atop circular rooms at its north and south corners. A four-story structure that expanded to five in 1895, the building was made of cast iron, but no one alive today can say precisely what the domes were made of. They were removed not long after World War I and no blueprints or other architectural plans were ever found.
When Elad Properties, the current owners, asked permission to build five duplex penthouses atop the roof as part of a conversion to condominiums, the Landmarks Preservation Commission agreed, providing the domes were reinstalled. Working from old photographs, the architectural firm Cetra/Ruddy constructed modern-day versions of fiberglass-reinforced plastic. The 17-foot-high domes, each weighing about two tons and capped by six-foot finials, were installed in late 2006 and the first residents moved in shortly after.
The restored domes aren't the only clues to the O'Neill Building's history. Corinthian columns on the façade are echoed in the cast-iron columns in the lobby as well as throughout the apartments. The windows are unusually large, for at least two reasons. The original store had no electric lights, making sunlight especially welcome. In addition, O'Neill wanted passengers on the Sixth Avenue El, just outside, to be able to see inside the store as their trains went roaring by.
Hugh O'Neill, whose name remains prominent on the triangular pediment in the center of his building, was born in Belfast in 1843 and arrived in New York when he was 14. He and his brother Henry founded the store on its present site in 1867, gradually buying adjoining lots until the present structure was built 20 years later. He was one of New York's great merchants and when he died in 1902, his funeral was attended by other entrepreneurial legends: Benjamin Altman, Isidor and Nathan Straus of Macy's, the Stern brothers, James McCreery, and Henry Siegel and W.H. Cooper.
The O'Neill store closed in 1907. For the next hundred years, the building's former glory faded, as it housed a succession of light industry and warehouse operations — but it eventually managed to survive and to take part in the rebirth of Sixth Avenue and the Ladies' Mile.
Image via The Old Design Shop