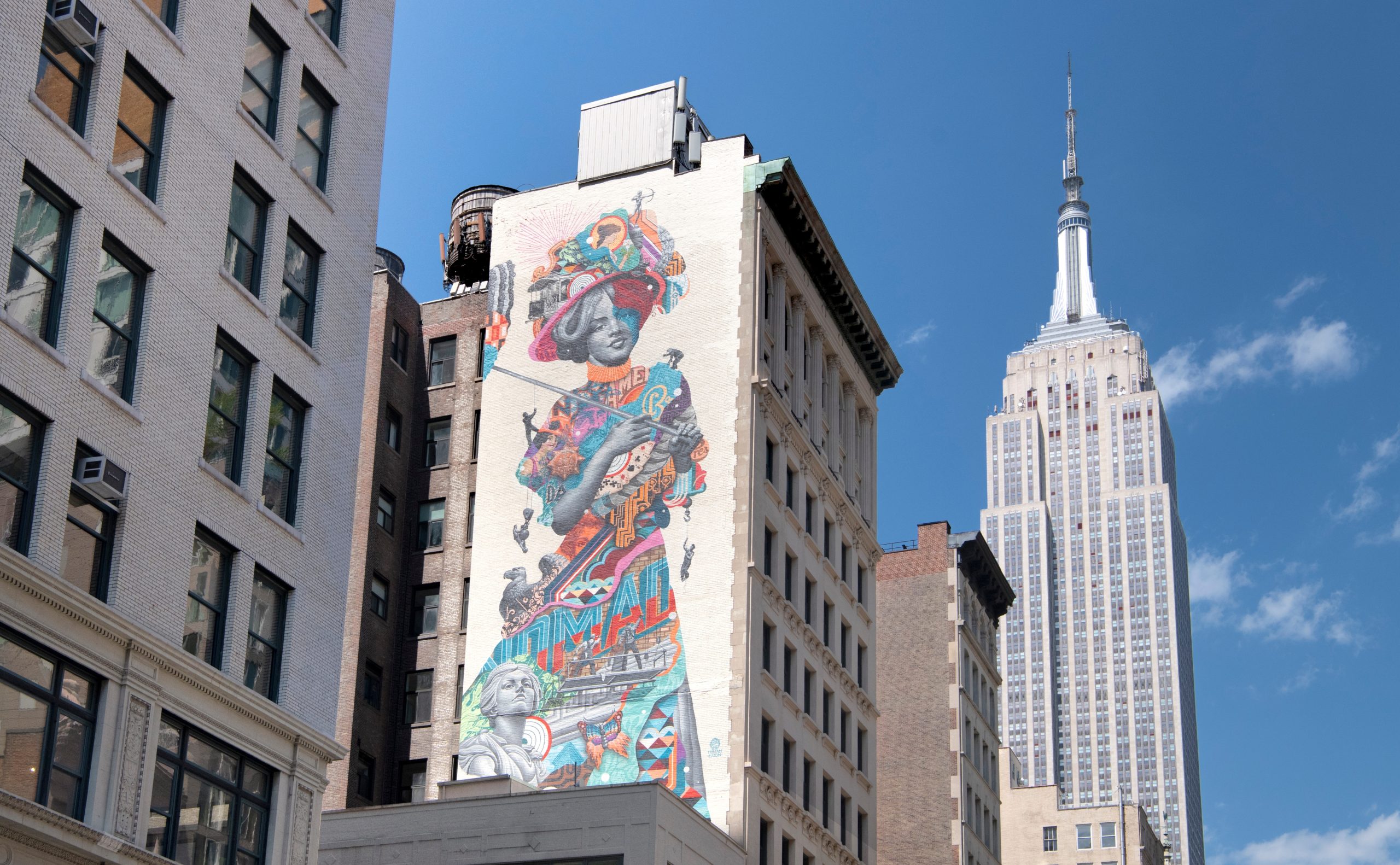 As Women's History Month 2023 comes to a close, we look at the backstory behind the making of The Gilded Lady mural. Created by renowned street artist Tristan Eaton, the image can be found on the south-facing wall of 236 Fifth Avenue and 27th Street. In 2022, the artwork, along with the Flatiron Building, was chosen as part of an artistic symbol to represent our organization's rebranding as the Flatiron NoMad Partnership.
"It was a surprise email out of the blue when the Kaufman Organization invited me to do this project," recalls Tristan Eaton in a 2019 interview with hauteliving.com about the mural. "They told me they really wanted to do something to the building that was unique. Not an advertisement, but something to represent the history of that community." According to the website, the family-owned and operated real estate company reached out to New-York Historical Society historians to aid Eaton with a "dive really deep into all of the news clippings and vintage posters and stories of that age."
The team researched the thriving neighborhood's popularity as an entertainment epicenter during the period known as the Gilded Age in New York City. "Evelyn Nesbit was very much so an actual face of that era, so it was fitting for us to kind of use her to represent that era," said Eaton to hauteliving.com about the actress and model chosen as the mural's main subject. "And, when you read the stories, she does have kind of a tragic story and didn't really get to tell it."
According to pbs.org, "much like Marilyn Monroe later in the century, Evelyn Nesbit was an icon of her age, created and consumed by the public's insatiable appetite for private sin and public scandal. She was America's first bona-fide sex-goddess." In the summer of 1906, Nesbit's ex-lover and alleged abuser, Madison Square Garden architect Stanford White, was murdered by her coal and railroad heir husband Harry Thaw at the venue's rooftop theater. The case was dubbed by the media as the 'trial of the century,' with Thaw being found not guilty by reason of insanity. "I thought it was very fitting to give her a prideful moment later on in the life of the city she lived in and a platform that she deserves," noted Eaton to hauteliving.com. "We felt like she was the right person to invite people in to the history."
There are other era images that appear within the mural positioned on the 11-story Beaux Arts loft building constructed between 1906-1907. They include actress Audrey Munson, known as America's first supermodel, Diana, the nude statue that stood atop Madison Square Garden from 1893 – 1925, and gambling and showgirl references to the 'Tenderloin District,' the nickname for the neighborhood that was then a designated recreational and red-light district.
In 2019, Eaton's 100-foot-tall mural made its debut at 236 Fifth Avenue. "To the average person walking through the streets of New York, these beautiful women who are like the faces of all this history, are an obvious way to pull people in closer," said Eaton to hauteliving.com, and "with public murals, they have to work for someone who is driving by at 30 miles an hour and only seeing it for three seconds. It has to have an impact and resonate for that kind of engagement."
Header & Thumbnail Photo Credit: Flatiron NoMad Partnership