The Commodore Criterion Building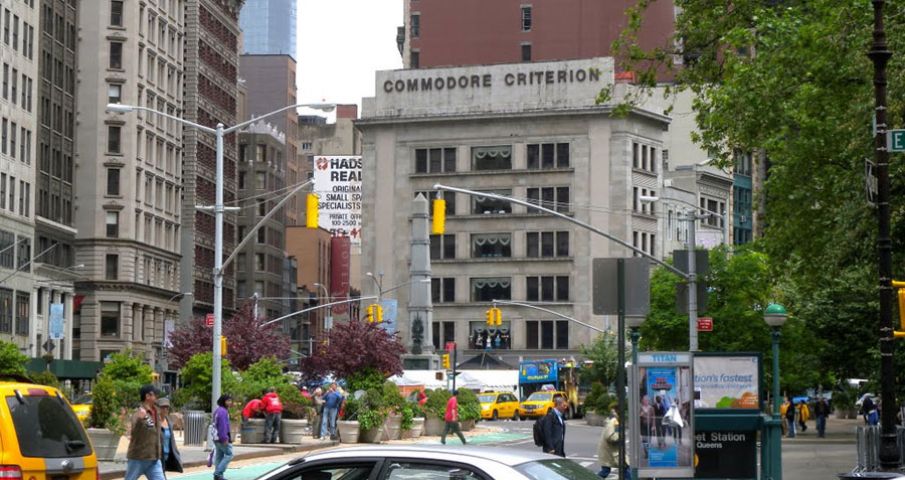 They have been there for decades, a quintet of ceramic Christmas carolers in finery perched atop the 25th Street entrance to 202 Fifth Avenue, mutely making music for passersby. Behind the barred street-level windows, white-bearded Santa's helpers, frozen in time, stand silently amid gaily wrapped gifts, a tree laden with holiday ornaments, and garlands of silver bells that soundlessly jingle.
This is the Commodore Criterion Building, just north of the Worth Monument, an anchor to the 25th Street crossroads of Fifth Avenue and Broadway and a building that has long been identified with Christmas. It houses the showrooms of Commodore Manufacturing Corp. and Criterion Bell & Specialty Co., two Brooklyn-based Christmas-decoration companies that were launched about 60 years ago by Abraham Damast. Damast bought 202 Fifth Avenue in the late 1980s from Frankel Associates, another firm that sold Yuletide ornaments.
The building is in the news these days because Sierra Realty Corp. is offering a net leasing arrangement for the 18,000-square-foot, six-story structure that includes naming rights and the opportunity for roof-level signage that will replace the one that now says "Commodore Criterion Building." When a sub-lessee is ready to move in, Commodore and Criterion will relocate.
Designed in 1918 by architects Ely Jacques Kahn and Albert Buchman, 202 Fifth Avenue was originally called the Thomas Cushman Company Building. Earlier, the site was occupied by Worth House, a small brownstone named for the Worth Monument, which had gone up in 1857 (see Discover Flatiron, August 2007 newsletter). Later, it housed such occupants as the New York Club; Madison Square Bank, which in 1887 leased its upper floors to a brand new magazine called Cosmopolitan; the State League of Republican Clubs; and the Berlitz School of Languages.
The present building went up during World War I and was occupied for many years by the General Outdoor Advertising Company, but just before the start of World War II, it got a new occupant, one that made the building famous. Seventy years ago this month, the A.C. Gilbert Co., which made Erector Sets, chemistry sets, microscopes, telescopes and American Flyer model trains, signed a lease and began renovations for showrooms and exhibit space.
On Sept. 17, 1941 the building was dedicated as the Gilbert Hall of Science. Some 1,500 children attended the opening, setting the tone for years to come. A row of circular windows along the 25th Street side invited a look inside, where a scale-model railroad system choo-chooed its way through an intricate labyrinthine layout and the Mysterious Erector Walking Giant enchanted goggle-eyed crowds. Admission was free. In 1959, Gilbert moved, subletting the first four floors to the Toy Guidance Council. In 1967, six years after founder A.C. Gilbert died, the company, which had been listed on the American Stock Exchange, was acquired by another toy maker.
Alfred Carlton Gilbert, born in Oregon in 1884, was a remarkable man whose obituary in The New York Times described him as a combination "of Frank Merriwell, Theodore Roosevelt, Peter Pan and Horatio Alger heroes." He not only introduced the Erector Set in 1913, but held patents on more than 150 other inventions. At 5-feet-7 and 135 pounds, he was a champion athlete, excelling in track, wrestling and gymnastics. He won Olympic gold in the pole vault in 1908. His skill as a magician helped pay his way through Yale, where he earned a degree in sports medicine. In 1909, he started his first business, the Mysto Manufacturing Co., making and marketing magic sets. He later renamed it the A.C. Gilbert Co., which became the world's leading producer of "learning toys" that incorporated principles of science and engineering. And then, during World War I, he became famously known as "the man who saved Christmas."
In 1918, in his capacity as president of the Toy Manufacturers Association, Gilbert went to Washington to talk to the Council of National Defense, then considering whether to focus all factory production on the war effort. Pleading that the children who played with his toys are "your future architects, your future engineers," Gilbert invited his hosts to get down on the floor and try out the new Erector Sets and other items he'd wisely brought along. Three hours later, the Council agreed to confine Christmas giving to useful articles — except for young children. In 2003, the incident became the basis of a TV movie, "The Man Who Saved Christmas." The actor who portrayed Gilbert was "Seinfeld" alum Jason Alexander. The movie was described as "somewhat fictional."
Image via Adan Elmquist