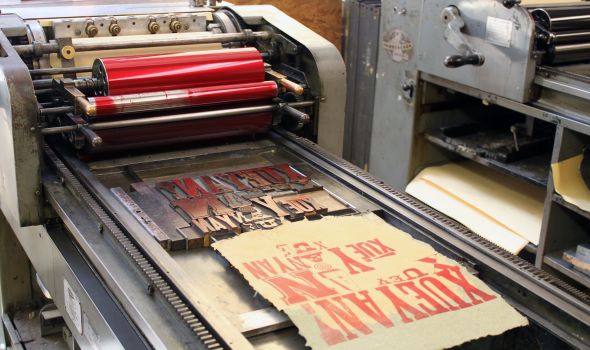 As the first-ever nonprofit in the country dedicated to cultivating the book as an art object and preserving traditional bookmaking techniques, the Center for Books Arts has been a bestseller since 1974. "The book is a malleable object that can be engaged in an extraordinary amount of ways," says Anne Muntges, Education and Studio Manager, at the Center's 28 West 27th Street loft in the Flatiron District. "From formats like pop-up to adding electronics to pages or even using nontraditional materials like fabric for pages, there are many ways to play with the book."
A variety of Center activities are open to the public Monday through Saturday from 10 a.m. to 6 p.m. "We offer workshops weekly that teach our core curriculum, where we highlight techniques of bookbinding and letterpress printing, and weekend classes focus on special projects like making cards or special bindings," notes Muntges. "Our instructors are extraordinary artists who, in addition to their teaching, have vibrant practices with works in major collections across the world. We also have rotating exhibitions in our gallery space, which is surrounded by an active artist workspace, so there is always something happening here."
The 5,000 square-foot facility features equipment such as a complete letterpress print shop with six Vandercook proof presses, a 19th century Washington hand press, a composing room with cabinets of foundry type, a Charles Brand etching press, and a 36-inch guillotine paper cutter. In addition, there are two binderies that include nipping presses, standing presses, two board shears, and a three-ton Kensol hot stamping machine. Printmaking artist books and a fine arts collection of artist books and prints are a number of the reference materials available at the Center's on-site library.
Business began on a much smaller scale for the Center when it debuted as a Greenwich Village storefront at 15 Bleecker Street. A decade later in 1984, it relocated to nearby 626 Broadway, before moving to the Flatiron District in 1999. Since then, the Center has occupied the third floor of a 12-story office property constructed between 1908 and 1909 by the architectural firm of Neville & Bagge. The August 28, 1909 edition of the Real Estate Record and Builders Guide indicated that one of the building's initial owners was S&H Green Stamps, a business co-founded by a gentleman named Thomas A. Sperry.
Now, more than a century later, the Flatiron community and its properties still appeal to many. "We love the vibrancy of this neighborhood and look forward to being a part of it for years to come," declares Muntges. "We are close to the Chelsea art district. We like being a link between that space and serving the art scene in Flatiron. It is also great to be in close proximity to places like Rizzoli Bookstore, the National Museum of Mathematics, and colleges like the New School and the Fashion Institute of Technology." And, adds Muntges, the Center plans to offer free bookmaking sessions on the Flatiron Plaza this summer. "If you see our table," she says, "stop by, make a book, and find out what's going on at the Center!"
To learn more about workshops at the Center for Book Arts, click here. To see their schedule of exhibitions, click here.
Images via the Center for Book Arts.