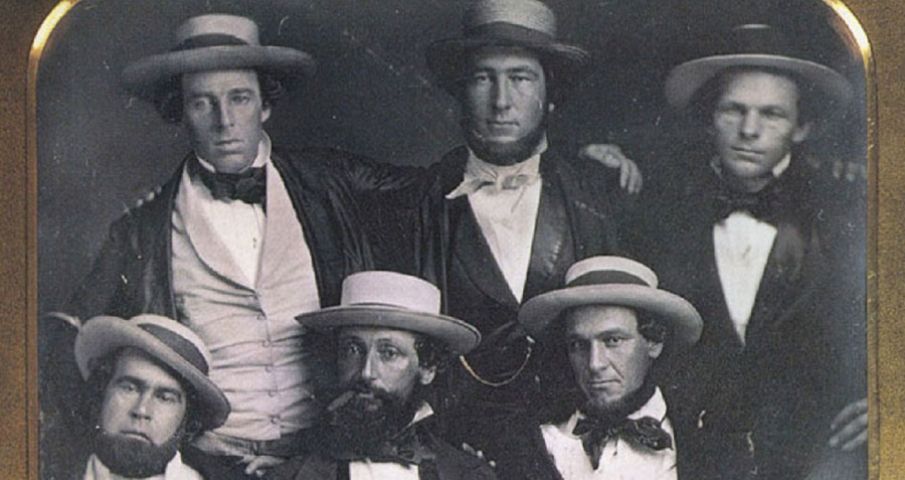 The origins of baseball are shrouded in mist, with some historians citing even ancient civilizations as the true birthplace, but this much seems clear: the modern game owes much to a native New Yorker named Alexander Joy Cartwright Jr. who played it within the Flatiron district, on a field just north of the area that became Madison Square Park, and whose refinements shaped it into the version we know today.
Cartwright, cited in 1953 by the U.S. Congress as the founder of the modern game, was born in 1820. He was a bank clerk who became a bookseller when the bank folded. A strapping young fellow, Cartwright was also a volunteer fireman at the Knickerbocker Engine Co. No. 12, at Pearl and Cherry Streets. On late summer afternoons, he and his firehouse buddies would gather in a park at 27th Street and Fourth Avenue (now Park Avenue South) when the area was known as the Parade Ground, where they would play a rude version of baseball.
Cartwright formed a team and called it the Knickerbockers – no relation to the basketball team whose home is Madison Square Garden. The Knickerbocker Base Ball Club, the first organized team in baseball history, played against other New York squads, but urbanization forced Cartwright to seek new venues. In 1845, baseball moved across the Hudson to an old cricket grounds in Hoboken, N.J., known as Elysian Fields. There, on Sept. 23, Cartwright composed a list of rules. They included foul lines; three strikes to an out; three outs to an inning; and a square infield with bases at each corner, approximately 90 feet apart. In addition, baserunners could be called out either by being tagged or forced, rather than being hit by a thrown ball.
On June 19, 1846, what is regarded as the first officially recorded baseball game went into the books. Cartwright was the umpire and he enforced a fine of six cents against any player who used foul language. The Knickerbockers met the New York Nine and lost, 23-1. On March 1, 1849, Cartwright did something two of New York's major league baseball teams would do more than a century later. He left for California in search of gold.
Image via 19th Century Baseball