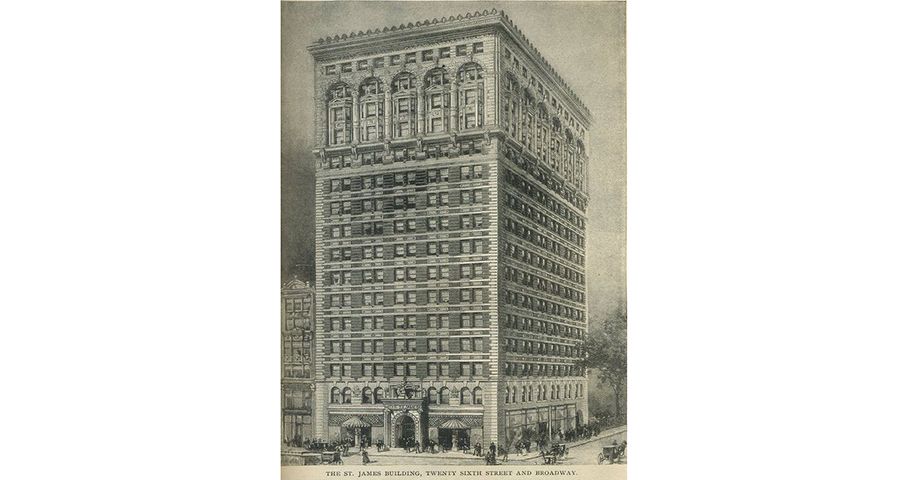 In July, Rizzoli Bookstore opened after much anticipation on the ground floor of the St. James Building between 25th and 26th Streets. Rizzoli's opening was followed by La Pecora Bianca's inaugural dinner service on August 3rd, and soon INDAY, an Indian fast-casual concept, will complete the transformation of the ground floor retail at 1133 Broadway. With these new beginnings at the St. James Building, the Flatiron/23rd Street Partnership takes a look back at the history of 1133 Broadway, and its surrounding area.
The Broadway corridor once encompassed sites such as the world's first kinetoscope (an early motion picture device) parlor, at Broadway and 27th Street in 1874; the construction boom of high-profile hotels and theaters during the mid-1800's; and the rise of New York's earliest office skyscrapers at the beginning of the 20th century. The St. James Building figures among these pioneer/initial skyscrapers and is today owned and operated by Kew Management.
Constructed for the St. James Building Company of Philadelphia between 1896 and 1897, the 16-story plus penthouse property was designed by architect Bruce Price. A native of Maryland, the Princeton-educated Price was best known for creating "hotels, office buildings, churches, educational buildings, and residences," wrote the Madison Square North Historic Designation Report: New York City Landmarks Preservation Commission in June 2001.
"Price relocated his large and flourishing practice to the building, where the firm stayed through 1907," noted the Report about the location that would become a hub for noted architects such as "Daniel H. Burnham (1908), Aymar Embury (1907-11), J. August Lienau and the firm Lienau & Nash (1902-06), Henry C. Pelton (1898-1907), and John Russell Pope (1901-07)." According to the Report, the building was home to the "famous cigar store, the Havana Tobacco Company, [which] occupied the first floor in the early 20th century. Other tenants included merchants of woolen goods, hosiery, glass and china, as well as dolls and masonic articles."
Prior to the construction of the St. James Building, the fashionable St. James Hotel occupied the 1133 Broadway since the mid-19th century. The hotel was the "resort of the better class of sporting men, especially those interested in the turf," reported the King's Handbook of New York in 1893. However with a new century on the horizon, and the increasing shift of hotels and residential homes to Midtown and beyond, the area grew into a predominantly commercial business locale.
More than a century later, a vibrant real estate tradition on Broadway continues with a cross section of businesses that include The NoMad Hotel at 1170 Broadway and 28th Street; 10 Madison Square West condominiums; and now new neighbors, Rizzoli Bookstore, La Pecora Bianca and INDAY in street level retail spaces at the St. James Building.
Image from "The Tall Buildings of New York." Munsey's Magazine. March 1898: 833-848. via Collecting Old Magazines.