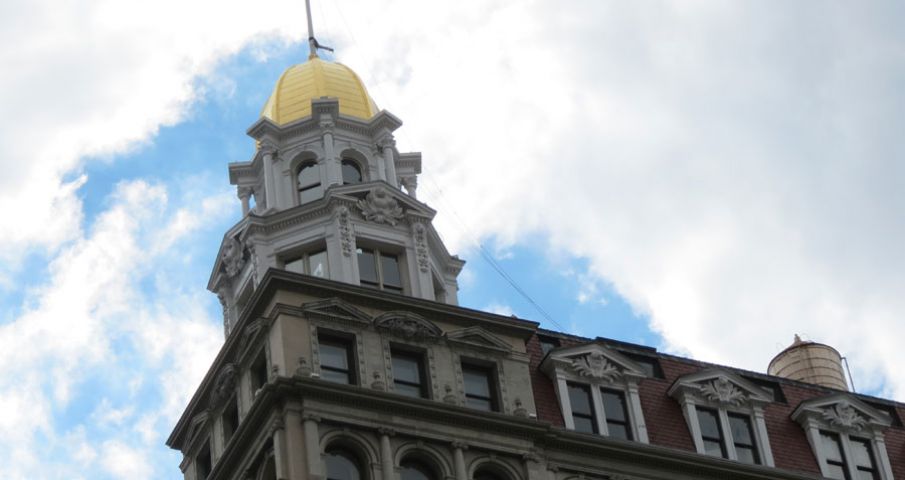 The building at 170 Fifth Avenue, at the southwest corner of 22nd Street, could easily be overlooked by the casual passerby. It is merely a sliver, only 29 feet wide, but from the top of its golden dome to the bay-windowed fine jewelry store at street level, 13 stories below, it dazzles.
Once known at the Sohmer Building because it originally housed the showroom and offices of Sohmer & Co., inventors of the modern baby grand piano, the Neo-Classical structure was designed in 1897 by architect Robert Maynicke. His firm, Maynicke & Franke, created many of the buildings within the Flatiron BID, including the massive International Toy Center at 23rd Street and Fifth Avenue.
The Sohmer Building's most striking feature is its two-story octagonal cupola topped with a ribbed gold dome and flagpole. The flagpole, now aluminum, replaced the original 50-foot wooden mast that once flew the Sohmer banner. The dome, clearly visible in Edward Steichen's iconic 1905 photograph of the Flatiron Building one block to the north, donned a mantle of gold in 1990, when it underwent a gilding. Five years later, because of improper preparation of the surface, it had to be regilded. Some 2,700 sheets of 23.5-caret gold, each the size of an index card, were applied by hand. Today, the dome glistens around the clock, reflecting sunlight by day and illuminated by a ring of lights at its base after dark.
In 2000, after a century of housing commercial tenants, the building was converted to residential condominiums, except for a retail space at street level. The cupola became a 4,936-square-foot duplex with a 360-degree view afforded by one set of eight 8-foot-high clerestory windows above eight more windows, each 10 feet high. The conversion, however, was not the first time the cupola was someone's home. In 1908, Richard Welling, who was a buddy of Theodore Roosevelt's and a founder of the City Club, lived there. But he had pull. His family owned the building.