September 20, 2016 – 50th Anniversary of Flatiron Building Landmarking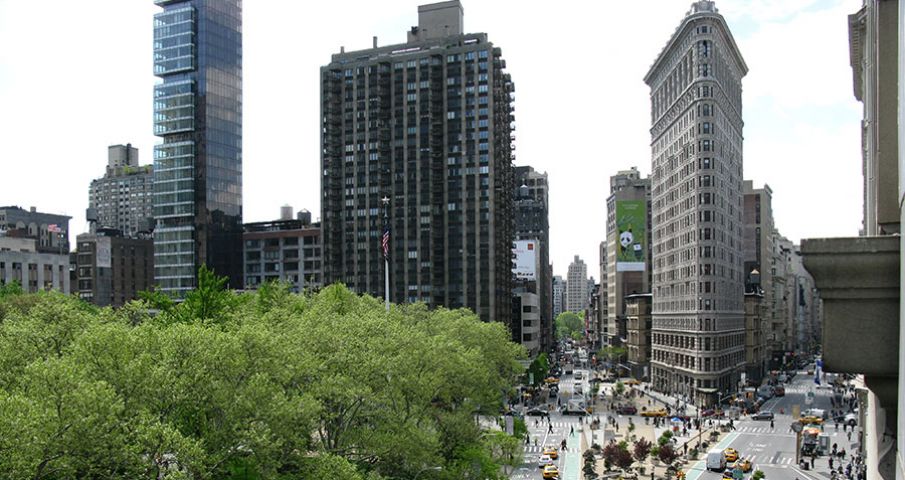 Built in 1902 and initially called the Fuller Building, because of financial support by construction company owner and architect George A. Fuller, it was the building's similar appearance to a traditional laundry flat iron that launched its name change to what we know it by today – the Flatiron Building. At the time, initial reviews of its architecture and design were mixed. "None more remarkable," declared The New-York Tribune; a "monstrosity" said The New York Times. However, it would be ongoing public sentiment for the Beaux Arts building throughout decades that led the then newly created Landmarks Preservation Commission (LPC) to convene a public hearing in 1966 to determine the property's architectural relevance.
"As seen from the north, it has been compared, by many writers, to a great ship sailing up the Avenue," wrote LPC in the March 8, 1966 hearing report. "Whether seen at night, reflected in the glistening pavement during a thundershower, or fighting for its life in a blizzard, it has a quality of directional motion with its prow-like mass towering above the beholder. It is a building whose walls are covered with ornament, not one square inch remaining flush and plain."
During the Commission's hearing, just three witnesses spoke in favor of landmarking, with no testimony in opposition. In addition, a letter presented by the building's then owner, Flatiron Associates, headed by real estate developer Harry Helmsley, also expressed agreement for the designation.
On September 20, 1966, the Commission officially granted the Flatiron Building with New York City landmark status by stating, "On the basis of a careful consideration of the history, the architecture, and other features of this building, the Flatiron Building has a special character, special historical and aesthetic interest and value as part of the development, heritage and cultural characteristics of New York City." The Commission also noted, "At some time in the future this building may be in jeopardy. Our designation will be especially helpful in alerting New York City's elected representatives in Washington the importance of saving this building."
LPC is nation's largest municipal preservation agency and was created in 1965 due to the increasing demise of distinctive New York City properties. Today, the Flatiron Building is one of 1,364 individual landmarks in New York City. As an example of LPC's forward thinking for the preservation of the building, it was not until 1979 that it was added to the National Register of Historic Places, and in 1989, it was designated a National Historic Landmark.