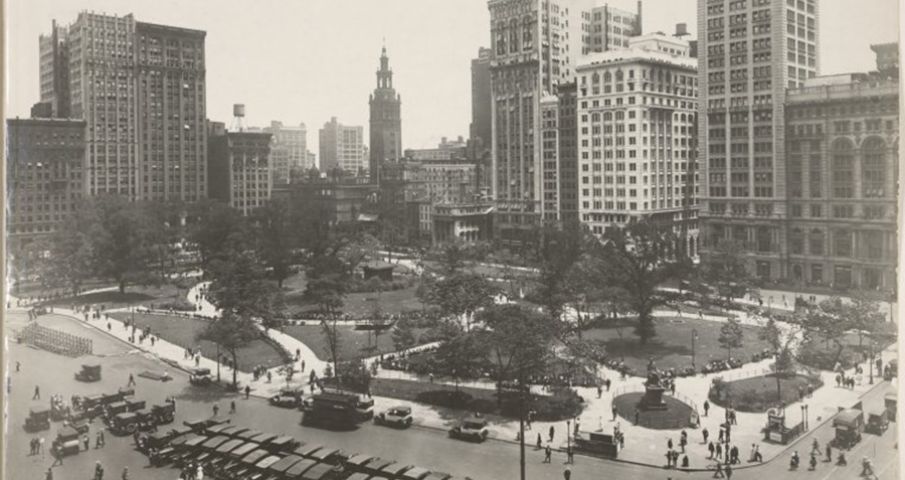 The summer of 1901 was a scorcher. For eight consecutive days, from June 26 to July 3, the temperature in Manhattan hit at least 99 degrees, the longest such stretch in the city's annals. The big heat not only made history, it precipitated one of New York's oddest "riots" and it happened in the heart of the Flatiron district.
An enterprising fellow named Oscar F. Spate had paid the city $500 for a five-year contract to install green wicker rocking chairs in several New York parks, including Madison Square Park. In return, Spate could charge the overheated a nickel for the privilege of parking themselves in one of his rockers. This did not exactly thrill most people, for whom the parks in those days of no air-conditioning offered one of the few opportunities to catch a breeze or find some shade beneath leafy boughs.
There was instant opposition from newspaper editorials, area merchants and just about everyone else. On July 6, one of Spate's men was forced to flee into the Fifth Avenue Hotel at 23rd Street, chased there by a crowd after smacking a teenage heckler. Two days later, reported The New York Times, trouble again broke out in Madison Square Park when "a number of young urchins . . . jeered at the chair attendants and hooted anyone who dared to give a nickel for the use of the private chairs." Spate's coin-collectors started to get physical with the kids, but adults in the area sprang to the boys' defense, fighting with the attendants. Soon, "a small riot was in progress." Extra police were called and instructed not to bother nonpayers unless there was a breach of the peace. Before order was restored, a crowd around the Worth Monument numbered 1,500. On July 10, Spate's permit was revoked.
Interestingly, Mayor Robert A. Van Wyck – New York's first mayor after consolidation of the city in 1898 and the man for whom the Van Wyck Expressway was named – was furious when he learned there were only 11,000 free benches in all Manhattan parks. "There ought to be 50,000," he thundered to the Board of Estimate. He had little time to carry out that mission. Four months after the "rocking chair riot," Van Wyck, a scandal-ridden Tammany Hall politician whose campaign slogan was "To Hell With Reform," was defeated in his bid for reelection.
Image via 6sqft.