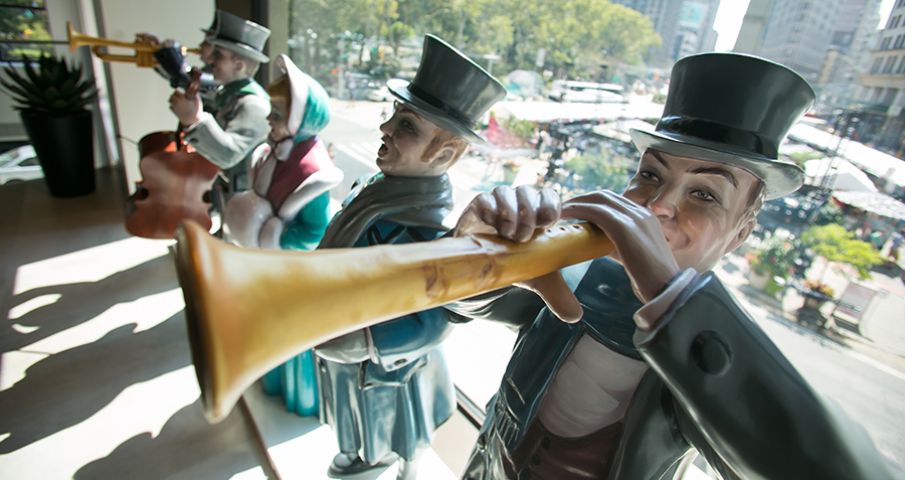 Dressed in classic holiday garb, a quintet of ceramic Christmas carolers have welcomed watchers of their decorative display for nearly three decades atop the southern entranceway of the former Commodore Criterion building, now named Porcelanosa. At the 25th Street, six-story structure, between Broadway and Fifth Avenue, the collective carolers, ranging from two to three feet tall, have "alternately charmed," according to Metropolis Magazine in 2015, "and perplexed pedestrians" during their previous year-round showcase at the property in the heart of the Flatiron District.
The building once was the headquarters for holiday ornament makers Commodore Manufacturing Corp. and Criterion Bell & Speciality Co. Years after the businesses exited to Brooklyn while leaving their holiday window décor in place, Spain-based Porcelanosa, a leading global designer of tile, bath, and kitchen products, purchased the 15,000 square foot property for a reported $40 million in 2012 as retail space for their U.S. flagship store.
"When the Commodore Criterion building closed, the carolers remained in the building where they aged and sustained many damages from the weather," recalls Manuel Prior, Director of Sales at Porcelanosa.
"When we purchased the building and began renovations, the carolers were shipped to Valencia, Spain, and underwent restorative repairs to the damages that they received throughout the years. They were also given a fresh coat of paint, which revived each of the characters. They are showcased in the Porcelanosa building during the holidays and then kept in safe storage during the other months of the year."
During their absence, however, the figurines and their significance have not been forgotten. "The legacy of the carolers is a symbol of the history of the building, and history is something that is highly valued by Porcelanosa," explains Prior. "The legacy and history of the carolers shows us to always remember where we came from."
Moving to a new location, however, such as the historic and vibrant community of the Flatiron District appears to be the perfect place for Porcelanosa. "Not only has Flatiron become a home for many companies in design, it is also the heart of the world's leading shopping district and a major hub in NYC," notes Prior. "Porcelanosa values history, with the company itself started in 1973 in a small town in Spain, and now situated right on Fifth Avenue, we feel that it fits right in with the people, culture, and history of the Flatiron District."
Image via Porcelanosa.