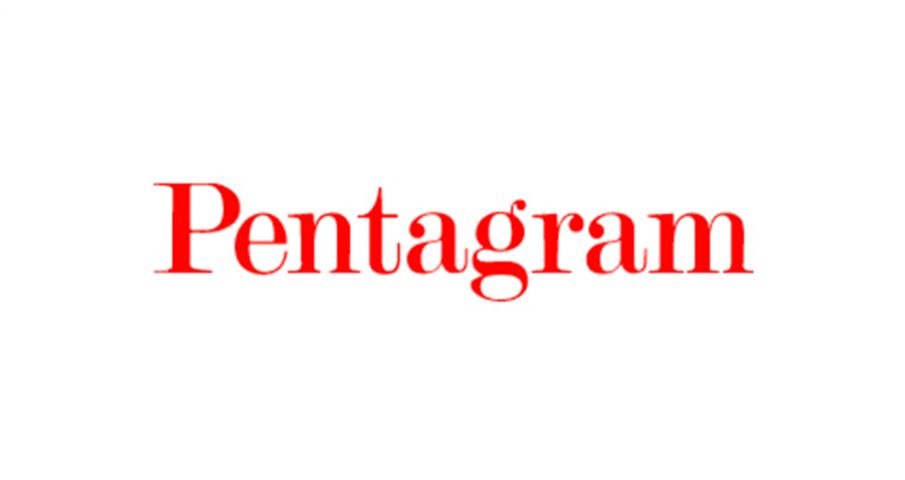 The occupants of the five-story building at 204 Fifth Avenue, once the site of a succession of banks, no longer deal primarily in dollars and cents. For Pentagram Design, which has owned the building for 15 years and which generates graphics, architecture, interiors and product design for a worldwide array of prestigious clients, the preferred currency is creativity.
Pentagram — so named because it was founded by five men in London in 1972 — services accounts that range from private individuals to public institutions. In addition to the New York and London offices, it has branches in Berlin and in Austin, Tex., and 200 employees worldwide. It has produced about 1,000 logos, including the Flatiron Partnership's distinctive "intersection" symbol. It has designed the interiors of airplanes for Virgin Atlantic and the exteriors for United Airlines. Its clients are as diverse as the Cathedral of St. John the Divine and the Jewish Museum, the Metropolitan Opera and Jazz at Lincoln Center, "The Daily Show With Jon Stewart" and The New York Times.
And it has called the Flatiron district home since 1979.
That's when Colin Forbes — one of the five founding partners — came to New York to establish a foothold in the United States.
"The London office was near Paddington Station, which was kind of gritty," said Michael Bierut, one of the firm's 16 current partners and a member of the New York office since 1990. "Forbes liked that quality. In the late '70s, this area was a lot grittier than it is now. It was sort of a no-man's land, dead after 5 o'clock. We were one of the first design firms here. Then it was strictly commercial. Now it's more mixed use. In this neighborhood, you bump into people you know from the business. AIGA [the oldest and largest association for design professionals in the U.S.] is right down the street. Within a three-minute walk, you have restaurants from Eisenberg's to Eleven Madison. In other parts of town, you can't make a 'discovery' unless it's a food cart with a shorter line."
Pentagram's first New York office was at 212 Fifth Avenue, at 26th Street. It started with part of one floor, but kept expanding. In 1995, it moved down the street and acquired its present home, 204 Fifth Avenue, completed in 1913 as a branch of the Lincoln Trust Company. The interior has wide open spaces, virtually no walls and many levels.
"The lack of walls means there's room to bounce ideas around," said Bierut. "We have conference rooms, but no private offices. In the old place, the partners sat together, and the partners' teams had their own areas. But the teams weren't near the partners. Here, because of the multi-level arrangement, the partners are together on one level, with their teams directly above and below them. It's like an ant farm."
Pentagram's table of organization is as unconventional as its layout. It is privately owned by the 16 partners, each of them a working designer. Of the seven partners in New York, not one is originally from this city. Bierut, who is 53, was brought up in a suburb of Cleveland and is a summa cum laude graduate of the University of Cincinnati, where he studied graphic design.
"To me," he said, "Cincinnati was exotic."
Bierut has won a bushel of design awards and his work is represented in the permanent collections of museums in New York, Hamburg and Montreal as well as the Library of Congress. He is an author, an industry leader and a member of the Art Directors Club Hall of Fame. He is also a great booster of New York City.
"If you want to be really good at something, if you want to work with the best people at doing what they do, you have to come to New York," he said. "Even though the Internet has obliterated time and space to a degree, being somewhere physically is important, and this is the place to be. I commute from upstate. Every morning, I come into Grand Central and then I take the bus down Fifth Avenue and look at what's all around me, and I love it."