NYC's First Y.M.C.A Building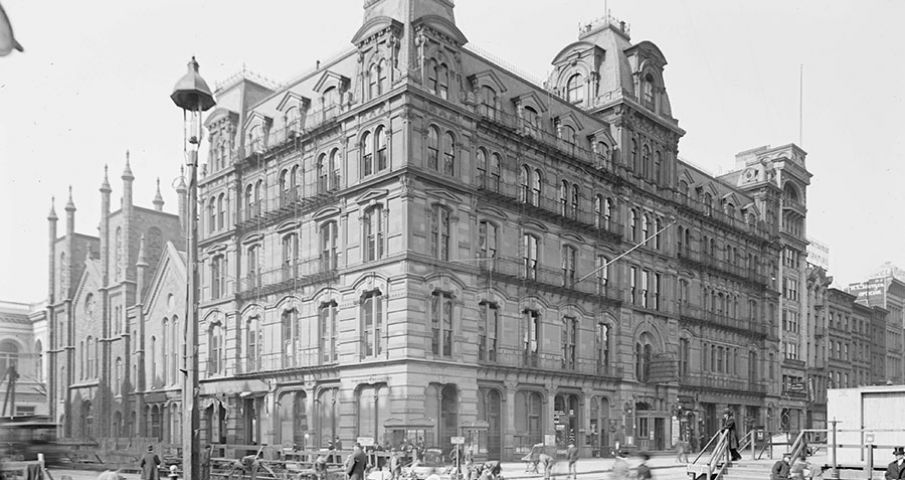 This year marks the 150th anniversary of the Y.M.C.A.'s opening of its first building in New York City at 52 East 23rd Street and Fourth Avenue. In honor of the sesquicentennial celebration, the Flatiron/23rd Partnership takes a look back at the property that once served as the organization's main headquarters beginning in 1869.
Founded in July 1852, the mission of the New York City chapter of the Young Men's Christian Association (Y.M.C.A.) was "to harbor young men who were moving in droves to cities to make their fortunes," according to the nonprofit's website.
During their first decade, the Y.M.C.A.'s initial offices moved to various locations throughout Manhattan, which included Lower Broadway, Waverly Place, and 22nd Street and Fifth Avenue, before the organization decided to build and own a new property on East 23rd Street.
The Y.M.C.A. paid a reported $142,000 for the site, according to the Real Estate Record and Builders' Guide on April 13, 1901. James Renwick, Jr. was the architect and also a designer of notable neighborhood real estate such as Booth's Theater at 23rd Street and Sixth Avenue and the Free Academy, later known as The City College of New York at 23rd Street and Lexington Avenue, and now the location of Baruch College.
In December 1869, Renwick's Y.M.C.A. building was dedicated and viewed as a property that "physically and programmatically combined religion, leisure, and commerce in an unprecedented way," wrote Paula Lupkin in her book Manhood Factories: YMCA Architecture and the Making of Modern Urban Culture. 
"Behind an elegant Second Empire façade," noted Lupkin, "complex paths of access and circulation connected public and private spaces on five floors, including ground-level stores, club rooms, a library, a gymnasium, classrooms, a large lecture hall, an art gallery, and artists' studios." The facility also featured an organ that cost an estimated $10,000.
"The library is valuable and varied," wrote King's Handbook of New York City edited by Moses King. "It has 43 early-printed Bibles which antedate 1700, including the Koburger Bible of 1477, Luther's Bible of 1541, the Bishop's Bible of 1568, and one in French of the eighteenth century, bound in marvelous covers of mosaic leather." And, noted King's Handbook, "all reputable persons, male or female" could visit the library.
The Y.M.C.A.'s studios were often used by aspiring artists. Up-and-coming painters who either lived or worked there included Edwin Austin Abbey, Robert Swain Gifford, and William Sartain. And interior designer Louis Comfort Tiffany, best known for the creation of stained glass lamps, was also a regular resident and a son of Charles Lewis Tiffany, founder of Tiffany & Co., whose corporate headquarters now occupy 200 Fifth Avenue, between 23rd and 24th Street, in Flatiron.
By 1901, however, the Y.M.C.A. sold its East 23rd Street and Fourth Avenue property to the Central Realty Bond and Trust Co. for $800,000. Shortly thereafter, fire destroyed much of the building and the property was demolished in 1903 to make way for the 11-story Mercantile Building.
The Y.M.C.A, which was also known as the McBurney Branch, named after former executive director Robert Ross McBurney, relocated to 213 West 23rd Street, between Seventh and Eighth Avenues, in 1904. And decades later, the property gained global pop culture status for its reported inspiration and appearance in the 1978 Village People music video, "Y.M.C.A."
But after close to a century at West 23rd Street, the building was sold in 2002 and two years later converted into condominiums. Currently, the McBurney Branch is located at 125 West 14th Street, between Sixth and Seventh Avenues, and offers, notes its website, family-friendly "community-focused health and wellness programs, classes, and facilities."
Photo Credit: New-York Historical Society, Robert L. Bracklow Photograph Collection