Metropolitan Life Clock Tower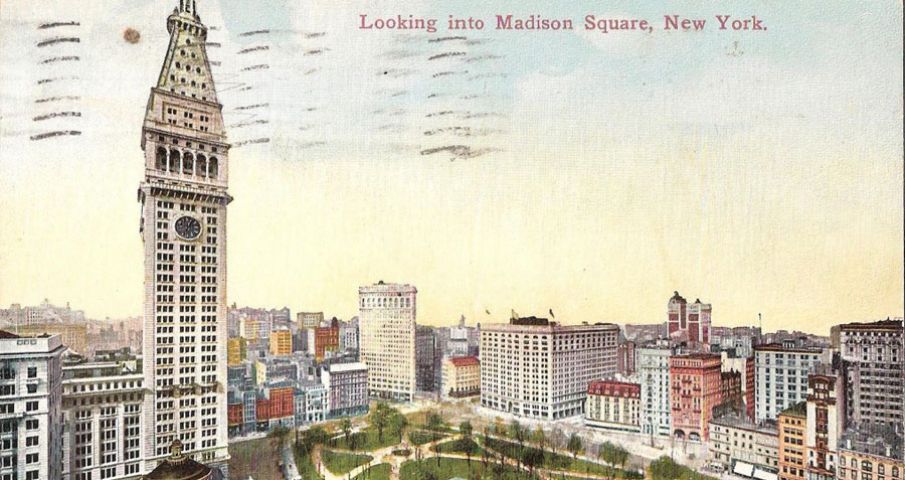 The Metropolitan Life Insurance Co.'s Clock Tower has been gazing down upon Madison Square Park since 1909, a 700-foot column that once was the world's highest timepiece as well as its tallest building. It held that title for four years, and even though it was eclipsed by the Woolworth Building in 1913, and later by many other skyscrapers, The Metropolitan Life Insurance Co.'s Clock Tower to this day is special among spires.
The 41-story structure, at 5 Madison Avenue between East 23rd and East 24th Streets, was designed by Napoleon LeBrun, an architect who was inspired by the Campanile di San Marco in Venice. (Oddly, the Clock Tower is actually older than its counterpart in Venice. The original Campanile was built in 1812, but unexpectedly collapsed in 1902. The exact replica that replaced it was completed in 1912 — three years after the Clock Tower sounded its first chimes.)
The clock itself is one of the largest four-dial timepieces in the world. Each of the four clock faces on the tower measures 26.5 feet in diameter. Each minute hand weighs half a ton. The tower's original marble facing was replaced by limestone as part of a renovation in 1964.
In 2007, the Clock Tower got a new owner, only the third since it went up. It was originally built as an addition to the 11-story full-block office building that served as Met Life's headquarters and that is now occupied almost entirely by Credit Suisse.
In 2005, the property was acquired from Met Life by S.L. Green, New York's largest office landlord, for $918 million. Subsequently, Green brought in RFR Holdings and hotelier Ian Schrager as partners. In spring 2007, Africa Israel Investments Ltd. agreed to purchase the tower portion of the property for $200 million. The deal was Africa Israel's third acquisition of a New York landmark within three months, the others being its purchase of the New York Times Building on West 43rd Street and the Apthorp Apartments, an iconic residential property on the Upper West Side.
Image via Kew Management