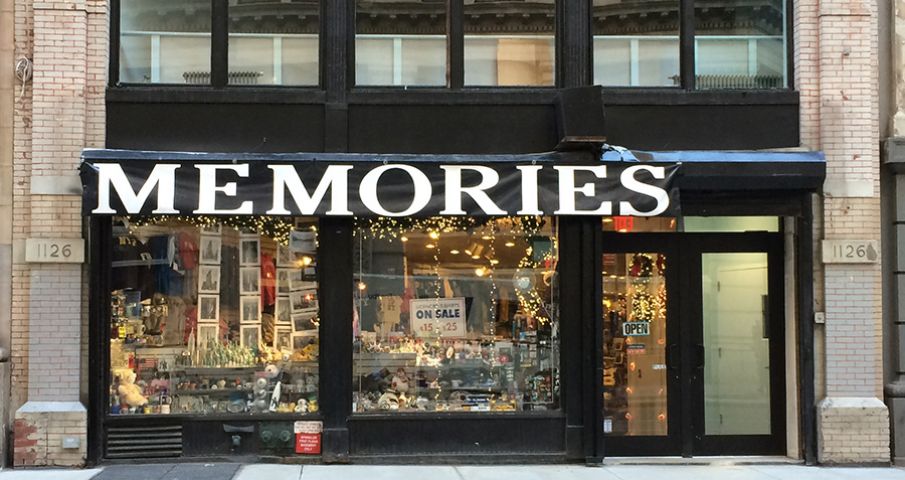 A troop of giant apes clings to a regiment of Empire State Buildings. A flotilla of Flatiron Buildings huddles in a circle, like slices of pizza waiting to be shared. A phalanx of Lady Liberties lifts its lamps to all comers.
Welcome to Memories of New York, an emporium whose 3,000 square feet of selling space is chock-full of tchotchkes, all of which pay tribute to this city. Located at 206 Fifth Avenue, facing Madison Square Park and extending through to Broadway, it is packed with piggy banks and playing cards, snow globes and soup bowls, key chains and calendars, magnets and mugs, notepads and neckties and a ton of T-shirts, anklets, hoodies and baseball caps. There is even a woman's spike-heel slipper known as "the 'Sex and the City' shoe." A selection of holiday-tree decorations evoking the Rockettes and the Radio City Christmas Spectacular is displayed on one side of the entrance while a fleet of miniature yellow cabs awaits miniature passengers on the other.
All of it is presided over by Alper Tutus, born in Turkey in 1948 and a New Yorker since the 1980s, when he arrived here from Istanbul. This is Tutus's 25th anniversary as the owner of Memories of New York and he shows no signs of slowing down. A dark-eyed man with an intense gaze and a courtly manner, he is fluent in English, Italian and Turkish, gets by in a few other European tongues, and delivers a steady stream of multilingual chit-chat with his customers, the vast majority of whom are from other countries.
"Caio, caio," he calls to an Italian family as they head out with a sack filled with souvenirs. A few minutes later, he bids a couple from Switzerland "auf wiedersehen," and then it's "au revoir" and "hasta luego" to other customers and, finally, "bye, bye" to two teenagers from Queens.
Before landing in America, Tutus says, he owned a wholesale electronics business in Turkey. Initially, he recalls, his trip here was going to be relatively short, involving a little buying and a little selling. He set up an import-export operation, first in midtown, then at the South Street Seaport.
"It didn't work out," he says, "but I found a retail space at the World Trade Center, first for small leather goods, and then I got the idea to make it a souvenir shop. I opened Memories of New York in 1986 and was there for around 10 years, but except for the summers, tourist business was slow."
Tutus says he considered opening a second store, but when he found his current location, he decided to move his whole operation to Flatiron. At first, only half his current space was available. The Broadway side of the store was occupied by Fuji, but in 2000 Fuji's lease expired and Tutus expanded. He also has the full basement, comprising another 3,000 square feet. It is used not only for storage, but it's where he began putting together a Memories of New York Newsletter, a free potpourri of information about the town's tourist attractions.
The first edition appeared last September and a second, themed to the holidays and the 25th anniversary, was issued in December. Available at the store in hard copy, they are also accessible for downloading on the store's website.
"I love New York," says Tutus, echoing the slogan that appears on much of the merchandise he carries. "I love it more than anyplace else. When you get involved here, you're really involved."
Coming from a man who arrived in town intending to make it a short visit and who's still here more than 25 years later — and counting — that's not hard to believe.