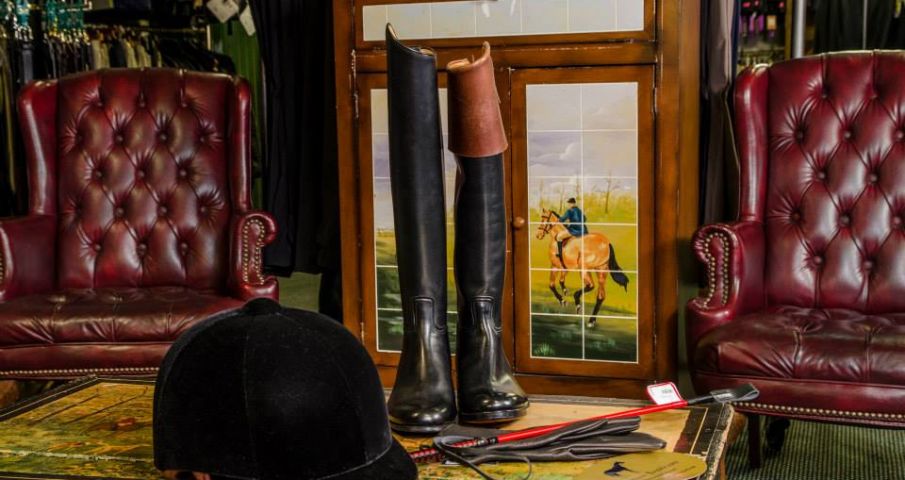 Ever since the streets of New York echoed with the slapping syncopation of hooves on cobblestones, the Flatiron district has had a powerful association with horses. For much of the 20th century, it was, as one writer put it, an "equine epicenter."
In 1875, the New York Coaching Club took up the reins in the heart of Madison Square. The club's members, all affluent horsemen, had stables on 27th Street, staged picturesque parades and influenced the evolution of four-in-hand driving. Show horses romped through the original Madison Square Garden, and about a furlong away, the Jockey Club ruled the world of thoroughbred racing.
The very same year the Coaching Club was born, a Prussian immigrant named Herman Kauffmann set up shop in lower Manhattan, supplying harnesses for the nags that pulled police carts and fire wagons. Almost 50 years later, in 1923, H. Kauffman & Sons Saddlery Co. opened at 139 East 24th Street and became one of the largest retailers of riding equipment in the country. It remained there until 1991, when Baruch College acquired the property.
In 1907, Russian-born Mayer Miller opened a harness shop on East 24th Street, then a hub of horse auctions as well as a market for equestrian equipment. In 1939, Miller's moved into 123 East 24th (now the site of the Algonquin Theater). It filled five floors and became a huge catalog business, with dozens of salesmen, and factories in England and India. Times change, however, and Miller's eventually downsized to 117 East 24th, a few doors away. Not long ago, it sold its name and is now an online mail-order business with no retail outlet in New York. For a time, it seemed as though the Flatiron's relationship with riders might be nearing the finish line.
Enter the Tsang family.
In 2002, June Tsang, a long-time Miller's customer, and her husband, Ben, a cardiologist, purchased the 6,500-square-foot store from Miller's as an investment and called it Copperfield's. It was renamed Manhattan Saddlery in 2006 and for a while, just "muddled through," according to their son Nick, then a student at Harvard. In 2007, when Nick graduated, his father said, "Why don't you buy the business from me and see what you can do with it?"
It was a challenge young Tsang, now 25, found hard to resist. He instituted more efficient buying and inventory procedures, spruced up customer service, focused more on foreign clients — who now account for half the volume — and hired designers who had worked on the Broadway revival of "Equus" to create window displays. With the help of a "really good staff" led by general manager Mike Santiago, who's been selling riding equipment for 28 years, Tsang spurred a major turnaround.
Today, Manhattan Saddlery, which calls itself the only tack shop in New York, has a main floor studded with the proper boots, clothing and equipment for disciplines from dressage to show jumping to fox hunts. The basement is a horse haberdashery, devoted to everything equine: saddles and stirrups, bridles and bits, curry combs and hoof picks. Manhattan Saddlery also operates an extensive online catalog.
"I'm a preservationist at heart, and I like to think of the store as a tangible link with the past," said Tsang. "Horses in the city are a pretty storied legacy. They are all part of the things that made New York what it is."
And, in some cases, what it continues to be.
Image via Manhattan Saddlery.