Making of the Manhattan Cocktail Myth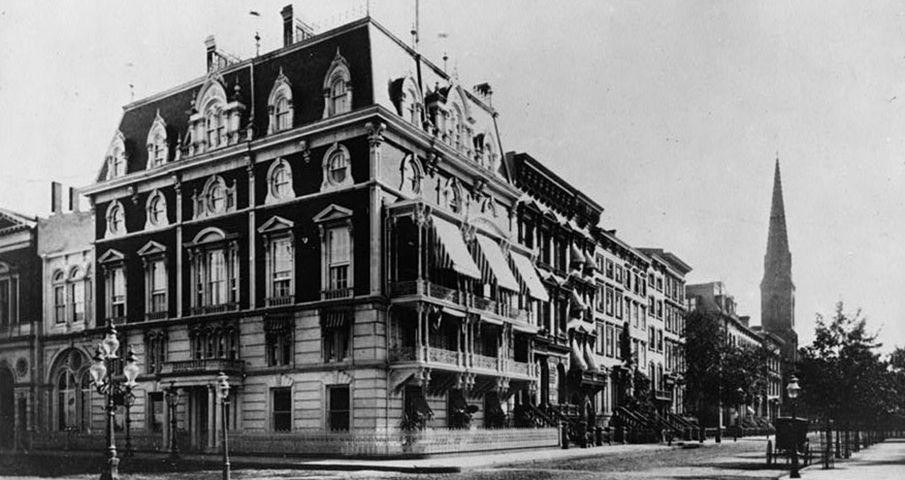 The opulence of New York's Gilded Age was on prominent display among many of the Flatiron District's wealthiest residents during the late 19th and early 20th Century. Whether exhibited through the architecture of their Mansard-roofed mansions or Beaux-Arts brownstones, Flatiron's fortunate perpetuated tall tales about the region's rich history, including the story behind the creation of the iconic cocktail known as the Manhattan.
The details about the drink's origin have become a bit inebriated over the years. According to The New York Times Practical Guide to Practically Everything, edited by Amy D. Bernstein and Peter W. Bernstein, "The Manhattan was created in 1874, using rye whiskey, at the Manhattan Club at the behest of Jennie Jerome, a socialite better known in later years as the mother of Winston Churchill. The occasion was an elaborate party celebrating the election of Samuel J. Tilden as governor."
The Manhattan Club was housed in the area's fashionable Jerome Mansion. The property, at the time located at East 26th Street and Madison Avenue, was owned by one of the city's wealthiest residents, and Jennie Jerome's father, financier Leonard Jerome.
In contrast, Troy Patterson, in his 2016 Bloomberg.com article titled 'The Manhattan Cocktail: A Complete Guide to Its Myth and Mythology' states, "The fact that Jennie Jerome was, according to her biographer, not in the U.S. that year seems the least of the barriers to her authorship of the drink." Patterson also cites that "the drink's name connects it to the Manhattan Club, a social organization for rich Democrats where Tilden indeed celebrated 'jollifications' after his 1874 gubernatorial victory. But, there is no evidence that Manhattans were served."
Others in the Flatiron District have also sought credit for the cocktail's invention, including the bar where it was served in the lavish Hoffman House, at 25th Street and Fifth Avenue. But, concluded Patterson, it was Leonard Jerome who earned the noteworthy cheer in Manhattan cocktail folklore as the designated "chief among its spiritual fathers."
Over a century has passed and no one has been able to determine the entire truth surrounding the Manhattan's origin. Shared stories told over many generations only leave behind a present-day myth that remains inconclusive. But, there is one thing we can all agree – the core ingredients that make a classic Manhattan.
2 ounces of rye whiskey
1/2 ounce of sweet vermouth
2-3 dashes of Angostura Bitters
Maraschino cherry as garnish
Jerome Mansion, image via Library of Congress.