Madison Square Theatre's Tech Evolution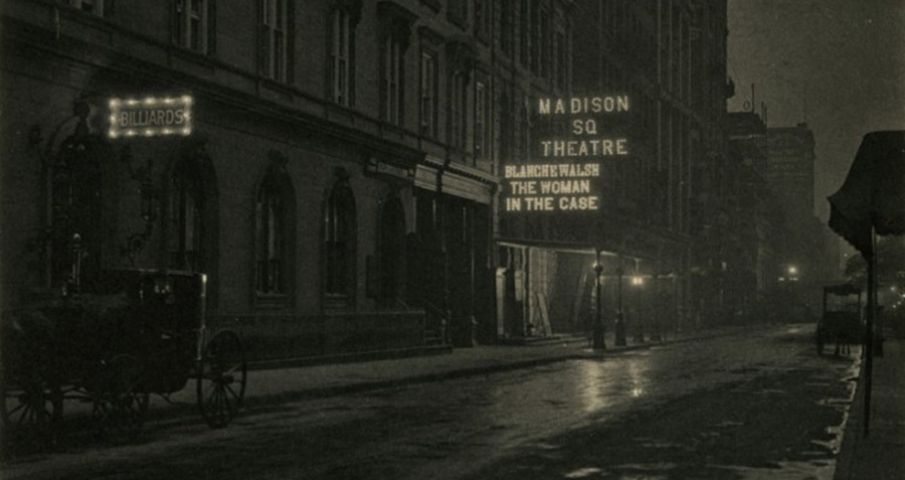 Flatiron flourished as New York City's theater district during the late 19th century. One such neighborhood playhouse, the Madison Square Theatre at 4 West 24th Street near Broadway, received rave reviews as an innovative stagecraft leader under the management of actor-playwright-inventor and Buffalo native Steele MacKaye.
Madison Square Theatre owners, the Rev. Dr. George Mallory and his brother, Marshall, chose MacKaye to operate their property beginning in 1879. Rev. Mallory was also editor of the weekly publication The Churchman. "He took a keen and helpful interest in developing the scheme for the presentation of pure and wholesome plays," reported The New York Times in Mallory's March 3, 1897 obituary. "The primary object and consistent policy of the Madison Square Theatre was to elevate the moral tone of the American stage."
The Mallorys immediately began to remodel the three story building upon MacKaye's accepting the job. "That structure was erected with elaborate care and unstinted cost," wrote The Times. "There was an uncommonly deep excavation down through the thick strata of rock in order to allow sufficient space for the operation of Mr. MacKaye's movable double stage, which was the chief novelty of the new theater." Upon the 650-seat venue's completion in 1880, MacKaye held an invitation-only preview for industry insiders to showcase some of his creations.
MacKaye's double stage invention would limit the time between acts. "Undoubtedly the most unique," noted The New York Times on February 1, 1880. "This devise is designed to facilitate rapid changes of scenery, and is so arranged that one entire set can be substituted for another in an interval from one to two minutes. The stages are elevated and lowered by means of a crank, to which are attached heavy counter-weights."
In his book Pictorial Illusionism: The Theatre of Steele MacKaye, author  J.A. Sokalski quotes MacKaye, who indicated that "the chief advantages of my new stage invention are—to enable us to sort and distribute our scenery upon three floors, instead of huddling it upon one…to produce scenic effects impossible upon any other stage."
Air quality inside the theater was also a paramount concern to MacKaye. For comfort to both actors and audience, MacKaye designed a reported $10,000 ventilation system. "Sitting atop the theater's roof, a 50-foot-high intake shaft, topped by a three-foot-wide rotary fan, drew in outside air and passed it through a gigantic bag-shaped cheesecloth filter," wrote Salvatore Basile in his book Cool: How Air Conditioning Changed Everything.
"Once the air entered into the ventilation plant," noted Basile, "another fan in the basement forced it through a chamber containing racks of ice then propelled it through a branchwork of smaller pipes totaling more than a mile in length, enabling it to diffuse softly throughout the auditorium. MacKaye swore that the airflow even helped to carry the actors' voices from the stage."
This overwhelming confidence expressed by MacKaye may have also played a part in the success of the new and improved Madison Square Theatre's first production, Hazel Kirke. Starring former child actress Effie Ellsler in the title role, the comedy drama was written and produced by MacKaye and made its debut on February 4, 1880. It would go on to have a then record-breaking box office run of nearly 500 performances.
The profitable partnership, however, between between MacKaye and Madison Square Theatre would be short-lived following creative differences with the Mallorys. MacKaye moved on, continuing to engage in a number of ventures that included writing 30 productions and creating patents for more than 100 inventions such as folding theater chairs.
Shortly thereafter, New York City's entertainment district began to shift north to Midtown Manhattan. It became apparent that the final curtain call at the Madison Square Theatre was imminent. Demolition of the theater took place in 1908 and the property was replaced the following year with the Fifth Avenue Building, whose official address is 200 Fifth Avenue. The new 14-story structure, according to the 1989 edition of the Ladies' Mile Historic District Designation Report Vol 1. issued by the New York City Landmarks Preservation Commission, would serve as a 20th century "catalyst for the commercial redevelopment of the area."
Photo: Madison Square Theatre, 4 West 24th Street, circa 1905
Photo Credit: Charles Gilbert Hine