Madison Square Garden Marathon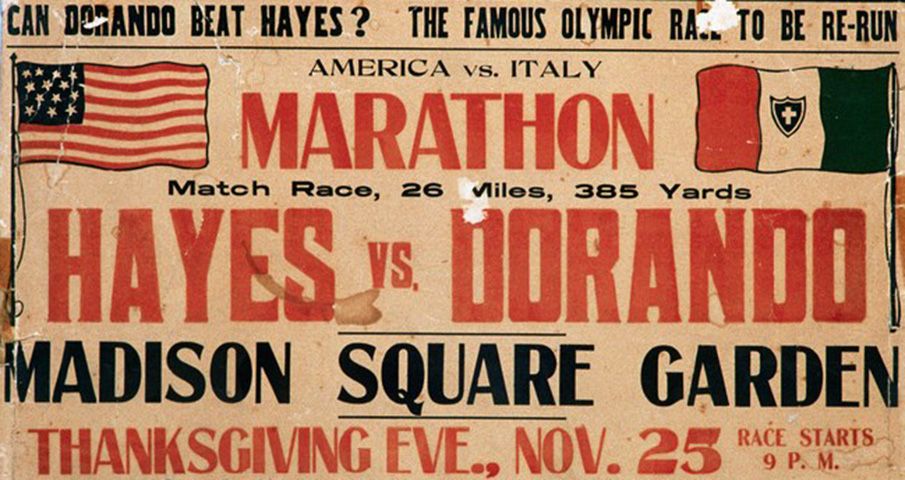 This Sunday, over 50,000 athletes will participate in the 47th running of the New York City Marathon, the world's largest.
In honor of this weekend's race, the Flatiron/23rd Street Partnership looks back at two marathon distance races in 1908 and 1909 at the former Madison Square Garden on 26th Street and Madison Avenue that helped spark interest in the 26.2-mile race in New York City.
On Thanksgiving evening, November 25, 1908, Dorando Pietri, a confectioner from Carpi, Italy, and Johnny Hayes, an Irish-American who worked at Bloomingdale's department store and trained on the store's rooftop cinder track, raced at the Garden. Earlier that year, the pair had competed in the London Olympics and garnered global attention. The rematch was later described as "the most spectacular foot race that New York has ever witnessed" by The New York Times.
"The old Garden was huge," reported The New Yorker on October 27, 2015 in its feature about the sellout event's interior. "Its Moorish minaret was the second-highest tower in the city, and its auditorium was the largest in the world. Even so, running 26.2 miles inside was a stretch. The organizers constructed a track measuring a tenth of a mile; the race was two hundred and sixty-two laps."
The New York Times coverage mentioned that "flags waved and partisans cheered until the big amphitheater trembled with sound, and through it all the rival runners plodded around the ten-laps-to-the-mile track, and inhaled the dust and tobacco smoke with which the hall reeked." A riot was "narrowly averted," according to The New York Times, when Pietri won by 43 seconds, in 2:44:20.
A few weeks later, before a crowd of more than 5,000, Matthew Maloney of Brooklyn's Trinity Athletic Club won a much-anticipated marathon the evening of January 8, 1909. His win, in 2:54:45, established an amateur record for indoor long-distance running.
"Maloney ran the entire race with excellent judgment," The New York Times published the next day, "and was in excellent trim when Referee James E. Sullivan handed him the big silver cup." 31 competitors began the race, with 22 finishing the entire distance. Maloney's closest opponents included James F. Crowley, who came in second place, and third place went to Sidney H. Hatch.
"A marked feature of the race as indicating the good training condition of the contestants was the fact that not a man collapsed and, although many took a slow pace toward the finish, none of those who stuck to the task were "done up" in any way at the finish," concluded The New York Times about the history-making race in the Flatiron District. "The fact that so many were able to stay in the running was in itself the marked feature of the race."