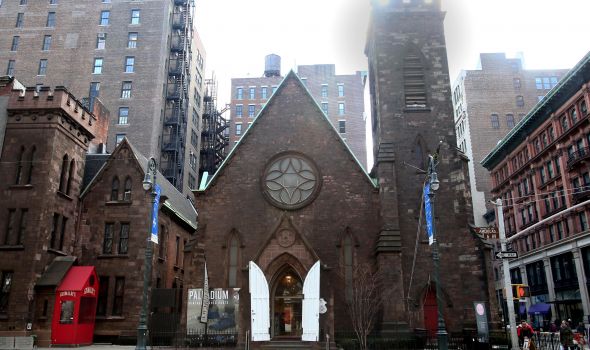 Limelight Marketplace has given new meaning to the words "mass merchandising."
An urban shopping mall that is housed in a historic former church (as well as a once-notorious nightclub), Limelight still retains many of the touches that go with Gothic Revival architecture: crenellated towers, a soaring vaulted ceiling, lancet windows and stained glass. Those elements now co-exist with tiled floors, chandeliers just inside the entrances, track lighting on the arched ceiling and four vendor-occupied "sky boxes" cantilevered over what was once the nave of the church.
The three-story brownstone building on the corner of Sixth Avenue and 20th Street predates the Civil War, but Limelight Marketplace has been there for only six months. It opened in May with 35 tenants and is now "approaching 50," according to Edward T. Hilla, Vice President of Marketing and Events. That includes vendors in kiosks in addition to those in booths that range from 100 to almost 2,000 square feet, Hilla said. In the 15,000-square-foot interior, Limelight's tenants offer an eclectic array of merchandise: jewelry and accessories and leather goods . . . furniture, fragrances and footwear . . . cosmetics, cookies and caviar. And they include a number of well-known brands, names such as Kangol, Petrossian, Baci Gelato, Caswell Massey, Jon Wye, Hunter Boots and LeSportsac.
More are coming. Grimaldi's, whose lone New York outlet is currently in Brooklyn and whose pizza is almost as well-known as the long lines of people waiting to bite into it, should be making pies at Limelight in time for the holidays, said Hilla. Other food areas currently within the building include Jezalin's, which sells charcuterie, cheeses, salads and wraps and will soon have an area for craft beer; a Sweet Room with cupcakes and pastries; a tea counter; a gelato station. In a courtyard, the Limelight Grill has been operating in warm weather. In the works: Cross Bar, a "pub-like" restaurant with working fireplaces on the first floor, and Cana Wine Bar, with a bar area on the second floor and a lounge on the third.
All of it is far removed from the building's original incarnation as the Episcopal Church of the Holy Communion, constructed when the area was an out-of-the-way residential district surrounded by fields. Begun in 1844 and completed two years later, it was designed by Richard Upjohn, an Englishman who came to the United States when he was 27 and began building churches. Although not nearly as well known as another Upjohn project, Trinity Church on Wall Street, the Church of the Holy Communion counted among its parishioners such bigwigs as John Jacob Astor, Jay Gould and Cornelius Vanderbilt. It was the first asymmetrical Gothic Revival church in the U.S., the first to have free pews and it hosted the first convention of black Episcopal clergymen. In 1966, it was designated a landmark by the New York City Landmarks Preservation Commission, but not long after, its fortunes declined.
By the mid-1970s, its parish had dwindled and the neighborhood — once part of the bustling Ladies Mile, a magnificent runway of renowned retailers — was far from fashionable. The church merged with Calvary Church on Park Avenue South and St. George's on Stuyvesant Square and was deconsecrated. The building was sold to Odyssey House, a drug-rehab facility, then sold again to Peter Gatien, who reopened it in 1983 as the Limelight, a nightclub so infamous for its wild parties, blatant drug-dealing and frequent police raids that it was eventually padlocked by the authorities for good in 2001. For a while, other clubs tried operating there, but by 2007, the building was silent.
Now, with the revival of the area as a retail and residential neighborhood, it is alive again — not to the sounds of sermons or sirens, but to music even more heavenly to its tenants — the ka-ching! of cash registers.
Image via Page Six