Ladies' Mile Marks 25 Years as Historic District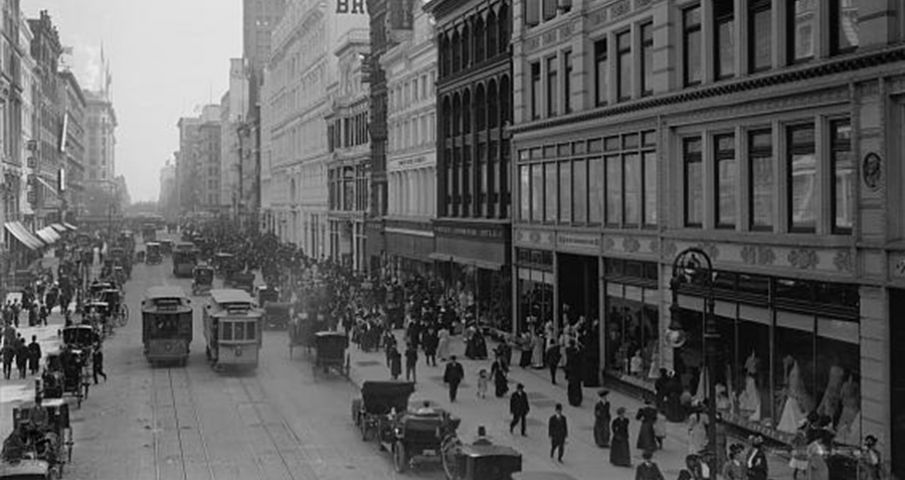 Known as the go-to shopping mecca mostly for women during the mid-19th and early 20th centuries, Ladies' Mile featured the finest in high fashion and goods in Flatiron and beyond. The area spanned 28 blocks, between 15th and 24th Streets, from Sixth Avenue to Park Avenue South.
Ladies' Mile emerged when retailers relocated from Lower Manhattan. By 1880, with the installation of the Sixth Avenue elevated train, or El, commerce thrived in Flatiron's Madison Square community and surrounding areas. Many wealthier patrons also arrived by private carriages that would reportedly "line the curb in quadruple lines."
Blocks of Broadway featured noteworthy businesses such as Lord & Taylor and Arnold Constable. Sixth Avenue had become the major hub for department stores that included R.H. Macy, B. Altman, and Siegel-Cooper, which reportedly had 190,000 visitors a day and employed 8,000 clerks and 1,000 drivers and packers.
However, shortly after the turn of the 20th century, retailers shifted to the city's next big site, Midtown Manhattan. It would be several decades before advocacy groups would commence a campaign to preserve Ladies' Mile as a historic district. Support came from a number of sources, which included the Historic Districts Council and walking tours to educate the public about the neighborhood's rich history. The promotion paid off in June 1986 when the Landmark Preservation Commission held open hearings for the designation of Ladies' Mile as landmark property.
Three years later, on May 2, 1989, Ladies' Mile was officially declared a historic district. The New York Times reported the next day that "the commission's unanimous vote ended a campaign waged by civic organizations and preservation advocates to insure that the structures from the gilded age between the Civil War and World War I would not be lost to modernity."
Anthony C. Wood, president of the Historic District Councils, told The New York Times, "The nice thing about landmark designation is that it solidifies in people's minds the notion of Ladies' Mile as a destination point, as something worthy of going to see for its own value. This is not only a celebration of the past, it enriches the future."
Photo via New York Preservation Archive Project