Institute of Culinary Education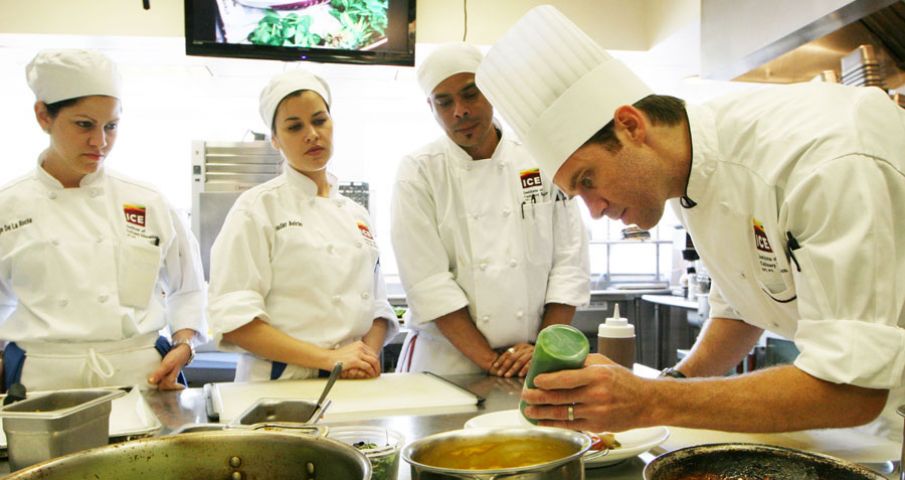 "Does it always smell this good?" asked the visitor of the woman at the reception desk as the aroma of freshly baked lemon tarts scented the air.
"Oh yes," replied the receptionist. "We're quite close to the bread and pastry classes."
The setting was 50 West 23rd Street, home of the Institute of Culinary Education (ICE), one of the nation's premier cooking schools, a facility described by Rick Smilow, its president and principal owner, as "a 42,000-square-foot campus."
ICE had its genesis in 1975 as the legendary Peter Kump's New York Cooking School on East 92nd Street. It was acquired by Smilow after Kump's death in 1995, moved to 23rd Street that year, changed its name and went through a couple of expansions. Today, it occupies five floors, employs a staff of about 100 – including 20 who do nothing but maintain its ovens, refrigerators, mixers, salamander broilers, grills and other professional-level equipment – and schools almost 24,000 students a year in its 12 kitchens.
The Institute has three primary divisions. Its Career program produces graduates who wind up in some of the country's most prestigious restaurants, bakeries and catering businesses. With separate six- to 11-month programs in Culinary Arts, Pastry & Baking, and Culinary Management, that division draws some 700 students annually. Since more than half of them work, many in entry-level positions in the food industry, ICE offers morning, afternoon and evening classes and is open seven days a week to accommodate unconventional job schedules.
ICE's Recreation program, as the name implies, is geared for amateurs. It attracts 23,000 people who sign up for the more than 1,500 "hands on" cooking, baking and wine courses each year. Classes range from one to five sessions each and subjects cover everything from "Easy Dishes for Summer Entertaining" and "Knife Skills" to such esoterica as "Medieval Persian Cooking" and "Beer Drinking for Couples."
The school also has a Corporate and Private Cooking Parties division, which combines cooking lessons with a sit-down, full-service meal for anywhere from 15 to 70 people. Corporations host parties either to entertain clients or encourage team-building; private affairs generally are for personal celebrations such as birthdays or anniversaries.
Through the years, ICE has amassed a full menu of honors, the latest of which is the International Association of Culinary Professionals' 2008 Award of Excellence.
"It's the closest thing we have to an Oscar in our industry," said Smilow, whose only professional association with food prior to his acquisition of ICE was a management stint with Nabisco. Now that he's run the school for 13 years, can he cook?
"I'm a respectable and developing cook," he said. Slight pause. "But I'm not as good as my wife."
Image via NYPost