History of Learning at 127 East 22nd Street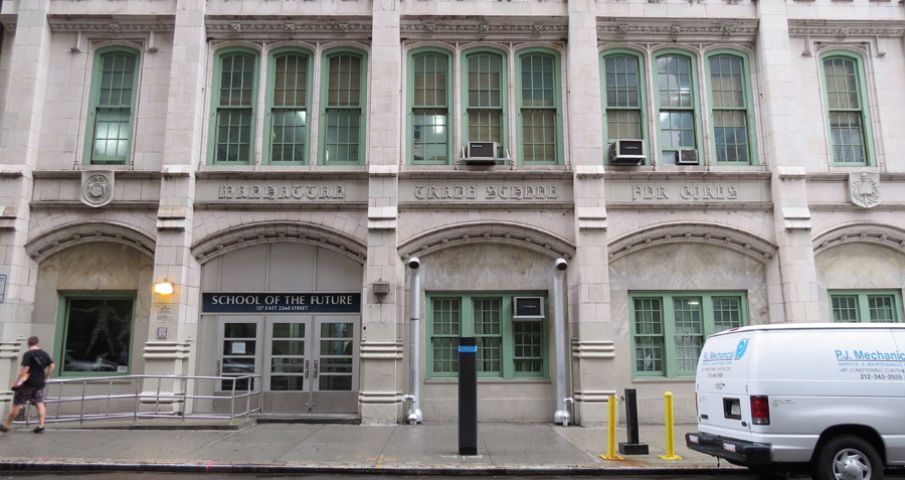 To celebrate this year's back-to-school season, the BID takes a look at the Flatiron property where three innovative institutions of learning — Manhattan Trade School for Girls, Mabel Dean Bacon Vocational High School, and School of the Future (SOF) — got their start at 127 East 22nd Street and Lexington Avenue. 
Established in 1902, the Manhattan Trade School for Girls was the first of its kind in New York City. "The immediate purpose of the school was to train the youngest and poorest wage-earners to be self-supporting, as quickly as possible," wrote Director of Manhattan Trade School for Girls Mary Schenck Woolman in The Making of a Trade School (1909) about the year-round, tuition-free vocational school for young women who were primarily between the ages of 14 and 17.
Support for the school was funded by philanthropists, through events such as polo matches and garden parties, for an educational curriculum that included the craft of dressmaking and use of the foot and electric power sewing machine. This type of instruction offered graduates a way to "someday allow them to leave the tenements behind," according to The New York Times in an October 9, 2007 review about the trade school's restored 1911 fund-raising film.
The first location for the school was a private home at 233 West 14th Street. On its first day, there were 20 students enrolled; within a few months, the school reached its 100 student capacity; and by September 1905, 169 students were enrolled. In 1906, it was forced to move to an office building at 209-213 East 23rd Street in order to accommodate the skyrocketing number of students, now 500 girls attending the school. Soon thereafter, a much larger space was in demand. And by 1915, the school, now under the jurisdiction of the City's Board of Education, relocated to a new site under construction at 127 East 22nd Street and Lexington Avenue.
Made of brick, limestone, and terra cotta, the building's costs were approximately $500,000, which included furnishings and equipment, reported the Real Estate Record and Builders' Guide on May 12, 1917. The designer of the 10-story Gothic style fire-proof structure was Charles B.J. Snyder, a Stillwater, New York native and noted architect of more than 300 New York public schools. He was also the City's Superintendent of School Buildings. By 1918, Snyder's Manhattan Trade School for Girls, equipped with a rooftop for recreation and classrooms for now more than 1,000 students, opened the doors at its third and final destination.
For the next couples of decades, the School went through a series of brief name changes before its designation as Mabel Dean Bacon Vocational High School, where subject courses would now focus on practical nursing and cosmetology among others. With the changing times, however, the City's vocational schools had often received a reputation as "dumping grounds for less capable students lock-stepped into a trade while they were still too young," wrote The New York Times on May 8, 1973.
The publication also cited the criticism of such schools as "expensive, incompetent and obsolete, sometimes teaching skills for jobs that longer exist." But according to the numbers, noted the paper, the schools proved to be operating at "120 per cent capacity, with far more applicants than they can accept." Two decades later, however, it would be budget cuts and changing priorities that would force Mabel Dean Bacon Vocational High School to close and be replaced by School of the Future in 1992.
Today, the School of the Future serves grades 6-12. The 700-plus student body, which is made up of boys and girls, who each receives a 21st century global curriculum of "rigorous academics geared toward college expectations," according to SOF's website. "The vision of our school is to help each student determine and reach their individual potential in math, science, humanities and the arts as well as social areas."