Henry Maillard, Confectioner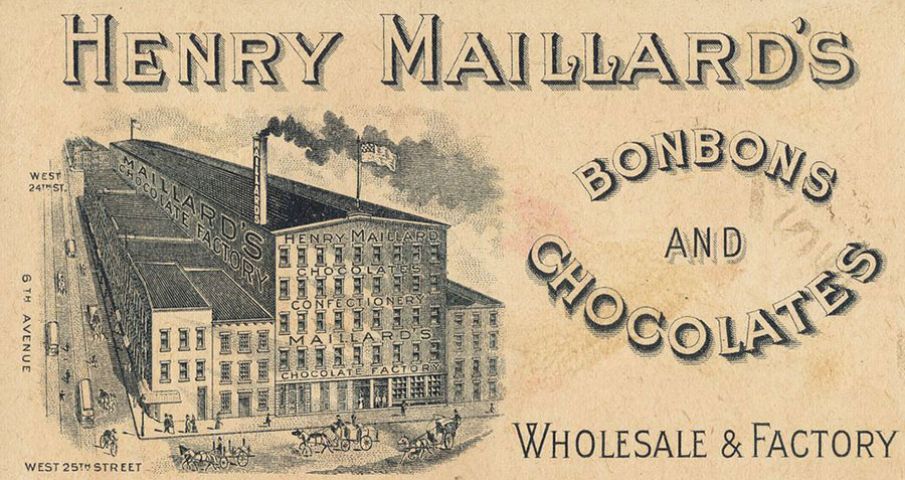 In honor of Valentine's Day, the Flatiron/23rd Street Partnership takes a look back at the 19th century neighborhood chocolate retail store, restaurant, cooking school, and factory created by celebrated French confectioner Henry Maillard, who also became a leading manufacturer of chocolate in the United States.
When Henry Maillard migrated from France to New York City in 1848, he established a factory and catering business in Lower Manhattan shortly thereafter. He then began to receive raves as "confectioner par excellence in America," according to King's Handbook of New York edited by Moses King. Much of Maillard's success in his new homeland was attributed to his elaborate catering at high-profile events.
One such occasion was a White House renovation unveiling party hosted by President Abraham Lincoln's wife, First Lady Mary Todd Lincoln, in 1862. "The gala boasted as its centerpiece a Maillard-made confectionery steamship flying the Stars and Stripes, along with sugar models of Fort Sumter and the Goddess of Liberty," noted The Oxford Companion to Sugar and Sweets edited by Darra Goldstein.
During this period, Maillard also initiated plans to open a store and restaurant. His factory had already relocated to 24th and 25th Streets just west of Sixth Avenue in Chelsea in the 1870s. Later, around the turn of the century, Maillard's ground floor restaurant and store at 1097 Broadway (at 24th Street inside the Fifth Avenue Hotel) received recognition as a designated go-to destination. The site "quickly became a sparkling jewel in Manhattan's crown," noted William Grimes in his book Appetite City: A Culinary History of New York.
"Confectionary and pastry of the oddest and most ingenious shapes and varying in size from tiny candies to monumental decorative pieces several feet high in length, are the skillful products of this establishment," reported King's Handbook of New York. "Especially popular on Valentine's Day for young suitors of means was the $500 box of chocolates containing one special morsel embedded with a diamond ring," wrote author and Flatiron/23rd Street Partnership walking tour guide Miriam Berman in her book Madison Square: The Park and Its Celebrated Landmarks.
In circa 1900 photographs, Maillard's retail store and restaurant featured "an Edwardian fantasy of mirrored walls, crystal chandeliers, mahogany display cases, and a cherub-painted ceiling," noted The Oxford Companion to Sugar and Sweets. "Surrounding the staff are tables of beautiful baskets and boxes of chocolates, as well as candy novelties like a life-size bust of a woman that could be mistaken for a customer. Chairs and tables along one wall reinforced Maillard's claim that this was 'An Ideal Luncheon Restaurant for Ladies.'"
Women, however, weren't Maillard's only patrons. New York City Mayor Smith Ely Jr., who held office for just one year (1877-1878) and lived in the community for more than two decades, was a steady customer. Ely told The Medico-Legal Journal in a 1908 article about longevity in life that "it was my regular habit on my way home from clubs and entertainments, to stop at Maillard's and have a meringue glacé, followed by a cup of hot chocolate with whipped cream."
Chocolate products for Maillard's restaurant and other retailers were manufactured at the confectioner's five-story factory at 114-118 West 25th Street. Reportedly the largest of its kind in New York City, the property extended an entire block and had a second entranceway at 113-117 West 24th Street.
"Four hundred people are employed at all times, and in the busy season this number is increased," wrote King's Handbook of New York. "Six traveling salesmen are engaged in making the products of the factory known to people in other cities; and in this work they have valuable assistance at the hands of the women of New York and their provincial friends."
The 25th Street building also served as the headquarters for Maillard's New-York Chocolate School. According to King's Handbook of New York, "Here free lessons are given on Monday, Wednesday, and Friday afternoons, from October to June, in the art of making a cup of chocolate or cocoa, so that these delicious and nutritive beverages may be served in their perfection."
Following Maillaird's death in 1900, and the 1908 demolition of the Fifth Avenue Hotel, the retailer moved to 35th Street and Fifth Avenue. "There is but little question that Maillard is responsible for Americans being candy loving people," reported Confectioners' and Bakers' Gazette in their obituary about the chocolatier. "Maillard's chocolate, both to drink and to eat, gave us our first taste for a confection, which has since become one of the rivals of the staff of life."
Photo Credit: Boston Public Library