Free Academy Debuts as First No-Cost College
As public school students make their long-awaited return to classrooms in 2021, the Flatiron Partnership honors this historic occasion with a look back at another noteworthy milestone in New York City education. In 1847, the Free Academy was established as the first tuition-free college for young men pursuing careers. The building was located on the southeast corner of 23rd Street and Lexington Avenue and would exist in the community for nearly eight decades.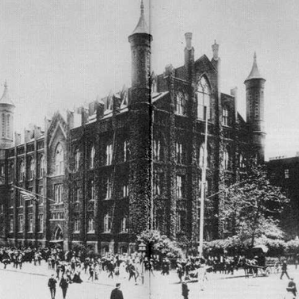 The Academy's launch was based on a growing trend toward "universal education" due to the U.S. population's expansion, wrote Selma C. Berrol in Getting Down to Business: Baruch College in the City of New York, 1847-1987. Townsend Harris, who was then head of the city's Board of Education, proposed the idea of a "free education at college level for all young men who had graduated from the 'common schools' of the city," writes cuny.edu. With a voter-approved statewide referendum on June 7, 1847, "the people of New York had set up a democratic institution of higher learning through the free and full use of the democratic process."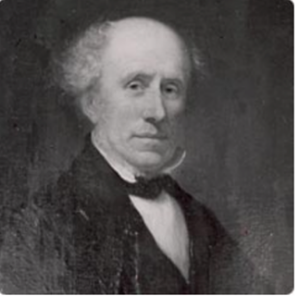 Commissioned as the Academy's architect was Manhattanite James Renwick, Jr., who later gained global fame as designer of St. Patrick's Cathedral. Construction of the Academy commenced in November 1847. The four-story structure featured "walls of red brick with sandstone trim and a gabled roof with graceful Gothic towers at each of the four corners," noted a 1981 Landmarks Preservation Commission report. "The building had a chapel which could seat 1,300 persons, a spacious library with large work tables, and gas illumination. Individual desks and stools of cherry wood were in the classrooms and drinking fountains on each floor." Construction cost was a reported $68,000, which was $2,000 under its allocated budget.
On January 15, 1849, the Academy officially opened its doors to 202 students who were "lads in buckram that flocked to the new Gothic structure," wrote Mario Emilio Cosenza in The Establishment of the College of the City of New York as the Free Academy in 1847.  "Admission to the Free Academy," wrote Berrol, "began with recommendations by grammar school principals and an oral examination in spelling, reading, writing, grammar, geography, arithmetic, and the history of the United States." Berrol's book also indicated that students admitted during the first few years were "the sons of artisans and factory workers, and they, together with the handful whose fathers were laborers of various kinds, were the least likely to graduate. The sons of professionals and merchants were the most likely to earn a degree."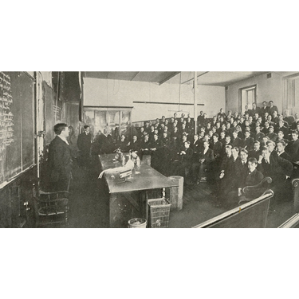 The five-year curriculum ranged from the study of Latin to integral calculus. Most students from the first graduation class in 1853 pursued law as a profession. "When the number of lawyer alumni are combined with those who became clergymen, doctors, architects, and teachers, it is clear that most of the early Free Academy graduates entered the professions," according to Berrol. "All of the remaining members of the class that finished the course in 1853 entered the city's business life as merchants, bookkeepers, or insurance brokers."
In 1866, however, the Academy would be renamed the City College of New York and relocate its expanding student population, which would become a more diverse one in decades, to a larger campus in Harlem in 1907. "It was beginning to appear that the graduates of the Free Academy were under a handicap because of the name of their school," writes cuny.edu. "Not that the quality of education was less than that offered by academies and colleges in other parts of the country, but the word 'academy' was beginning to be old-fashioned in relation to higher education and the term 'free' had connotations of charity."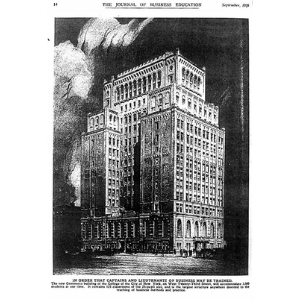 The Academy building was demolished in January 1928 and replaced with a reported $1.2 million, 16-story structure to be occupied by the City College School of Business and Civic Administration, which had been established in 1919. In 1953, the school's name became the Baruch School of Business and Public Administration in honor of 1889 City College graduate and financier Bernard Baruch, and in 1968, designated as Baruch College. The business school was renamed in 1998 as the Zicklin School of Business after 1957 graduate and major gift contributor Larry Zicklin. Noted New York Governor Franklin D. Roosevelt in 1929 about the impact of a business education, "There is no doubt in my mind that business education is not only a growing need but that it has become a definite part of the educational system of the country."