FortyOneMadison: The New York Merchandise Mart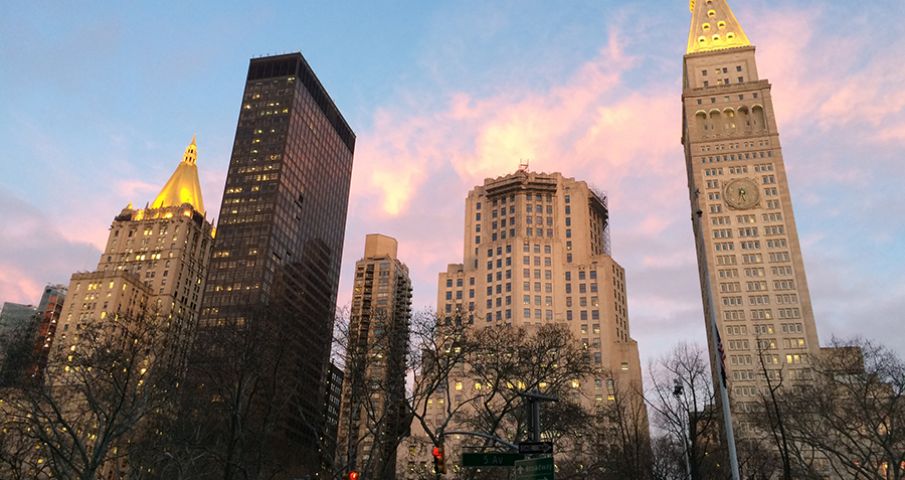 For Laurie Burns, it's great to be at the top. "I'm a tabletop girl," she says with a smile in her 39th floor office that features a palatial view from its 26th Street location at 41 Madison Avenue. "I love the fact that this is the center of this industry." Burns' business is leasing the 100 showrooms to global manufacturers of tabletop, gift and houseware items in the building known as the New York Merchandise Mart. "The shows are great because this is where all the trends start," explains Burns, who serves as senior vice president and director of the property and is also a Flatiron BID board member. The 42-story tower with its black glass and brown aluminum façade covers 500,000 square feet and is owned by the Rudin Management Company, one of New York City's premiere real estate enterprises. "I love that it's a Rudin building and one of the safest in the city," notes Burns. "Many of our tenants are from abroad and this is the location of their U.S. business to meet their customers. When they get here, we hope to give them a great experience."
The bi-annual exhibits for retail store buyers attract approximately 10,000 individuals to the Flatiron area, for which Burns describes as "the coolest, hottest and what retailers want" from luxury to middle-priced brands. In addition, celebrities and fashion designers continue to play an important role in the industry. From bridal registry gifts to restaurant cutlery to the "green" trend in packaging, stylish collections with high-profile names such as Martha Stewart, Donna Karan and Vera Wang occupy the initial 24 floors of the building, which was the site last week of the twice annual tabletop presentations, with a significant turn out by retailers based on encouraging economic growth in sales and the prospect of better business.
This same location also proved to be a profitable investment for one man and his family more than 150 years ago. On the southeast corner of Madison Avenue at 32 East 26th Street, the Jerome Mansion was built in 1859 and named after lawyer and financier Leonard Walter Jerome, a Pompey Hill, New York native dubbed the "King of Wall Street," due in part to his vast fortune made in the stock market. Jerome was also an avid yachtsman, once a New York Times co-owner and later known as British Prime Minister Sir Winston Churchill's maternal grandfather when Jennie, one of Jerome's three daughters, married Parliament member Lord Randolph Churchill in 1874.
It was during a stay in France nearly two decades earlier that Jerome and his wife Clarissa, also known as Clara, were captivated by the "the gay social swirl of fancy-dress balls and dinner parties held at splendid palaces, grand Parisian mansions, or noble chateaux in the French countryside," according to author Wayne Craven's book, Gilded Mansions. Jerome reportedly then told Clara, "I'll build you a palace yet!" And Jerome did upon the purchase of land that faced Madison Square Park and his subsequent commission of London-born architect Thomas R. Jackson to design the Jerome's palatial $200,000 dream home.
Known as one of New York City's first and finest "private palaces," the mansion stood six stories with a slate-shingle mansard roof. The home's interior French décor included stained glass windows for the thoroughbred horse stables; a ballroom with two fountains, one spouting champagne, another cologne; a dining room to accommodate 70 guests; and a 600-seat auditorium for private concerts. Other noted furnishings in Gilded Mansions about the home include the "pieces of walnut, ebony, tulip wood, and rosewood ornately carved or inlaid with pearl, chandeliers that threw rainbows of crystal from the center of the ceilings and bronze statues supported gas jets, while cast-iron mirrors, fountains, and balconies were inserted into unused corners."
But in less than a decade, a series of financial setbacks forced the Jeromes to leave and lease their mansion. The Union League Club became the first tenant in 1868 at $18,000 per year. But by 1883, the League was replaced by the University Club, which would use the building as their main headquarters until 1899 when the Manhattan Club became the prime occupant and meeting place for politicians such as Franklin Delano Roosevelt, Alfred E. Smith and James Walker during the next several decades.
By 1965, the property's distinguished legacy earned it landmark status from the Landmarks Preservation Commission. And at a public hearing about the mansion, a representative of the Municipal Art Society remarked that the building "reminds New Yorkers of the elegance of the court of Napoleon III and of the Empress Eugenie" and "represented one of the finest manifestations of that carefree architecture, which transcended the miles of timid brick and correct but gloomy brownstones with a new gayety."
That same year, however, the Manhattan Club, facing a fiscal deficit, sought to sell the building for $600,000. Without any bidders and despite efforts to save it from demolition, the Jerome Mansion was torn down in 1967 to make way for the New York Merchandise Mart. Designed by award-winning architect Emery Roth & Sons, the building, with its 41 Madison Avenue address, opened in 1974 as "New York's first total market center." Recalls Burns, who has been coming to the shows since 1984, "The building opened at a time when you didn't want to come to this area, the neighborhood has since evolved and it's now residential and commercial. People like to live here, work here, come here."
And for tabletop expert Burns, a visit to the former Jerome Mansion, where her office building now stands, would have been priceless. "Being in the business, I would have loved to sold items for what was then the largest dining room in New York City," she reveals, "and to have eaten in that dining room!"