Flatiron's Lincoln Connection – William Henry Seward Statue Statue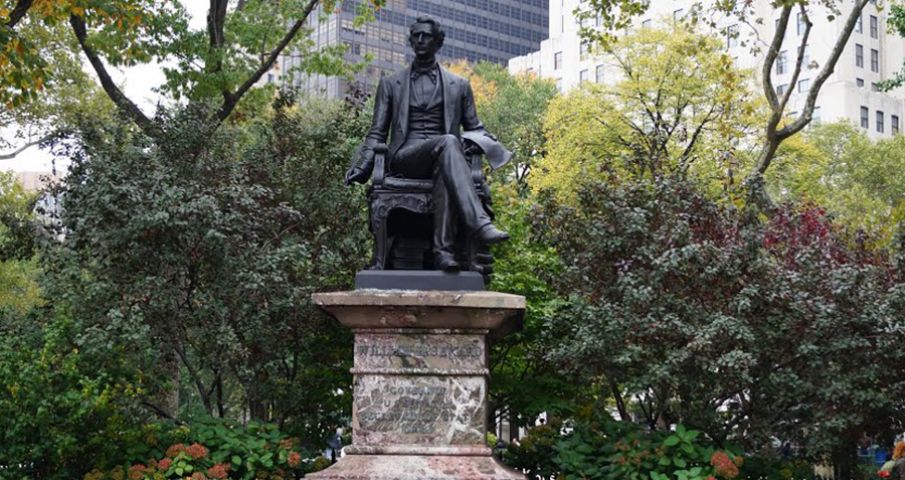 Not only is February the month in which we celebrate some of our nation's most revered Presidents, it's also the month for honoring noteworthy films at the Academy Awards.  Thus, Discover Flatiron for February is doubly relevant! 
No doubt you've passed the William Henry Seward statue on the southwest corner of Madison Square Park countless times, but do you know about Seward's place in American history? Or on the big screen in Steven Spielberg's Oscar-nominated Lincoln as the President's Secretary of State played by David Strathairn? Yes, that's Seward!
A Florida, New York native, veteran politician, and abolitionist, Seward almost won the Republican Party's first presidential nomination in 1860, but the less politically experienced Lincoln got the nod. The President, however, would select Seward, a former U.S. Senator  (1849-1861) and ex-Governor of the Empire State (1839-1842), as his Secretary of State (1861-1869) and who later gained notoriety for brokering 'Seward's Folly,' the reported $7 million purchase of Alaska from the Russians in 1867.
The statesmen would continue to share a linked legacy when Lincoln sculptor Randolph Rogers was also commissioned to create a Seward statue for Madison Square Park in the Flatiron District. With contributions made by noteworthy donors such as President Ulysses S. Grant and Commodore Cornelius Vanderbilt, the $25,000, nearly 18-foot high statue made of bronze, New England granite and Italian marble and bearing the brass letters inscription: "William H. Seward, Governor, U.S. Senator, Secretary of State of U.S." was unveiled and presented as a gift to the city on September 27, 1876. The New York Times reported that it "represents Mr. Seward in a sitting posture, and apparently in a thoughtful mood."
For a number of years, however, there were persistent stories that the statue was a composite of Rogers' 1871 creation of the late president for Philadelphia's Fairmount Park. Even a New York Times letter from a reader noted in 1904, "It was a great saving of time and labor to decapitate the Lincoln model and place the Seward head on it. I know whereof I speak." But such rumors have reportedly been put to rest. According to the City of New York Parks & Recreation's website, "While the two works do bear striking similarities, the size of Seward's body appears too large, and though the proportion of the head to body seem at odds, the works are by no means identical."
Constituents considered Seward not only a political progressive, but also one who liked to lavish in its social scene. "He was a famous host, gathering diplomats, soldiers, politicians, actors and their wives around his Washington table for fine food and wine," wrote biographer Walter Stahr in Seward: Lincoln's Indispensable Man about the Union College, Phi Beta Kappa honors graduate and married father of five, who also had "hair [that] was unruly, his clothes untidy, and his manner casual."
And it would be Seward's achievements and his favorite son status that reportedly earned him the honor as the first New York statesman to receive a statue, four years after his death in 1872 at the age of 71 and when he supposedly spoke his last words, "Love one another." In 1865, a coordinated attack by Confederate conspirators on the evening of April 14th, Seward survived a murder attempt in his bedroom, while theatergoer Lincoln, at age 56, became the first American president to be assassinated.
Photo via Thomas G.