Flatiron Formation at NYC's Veterans Day Parade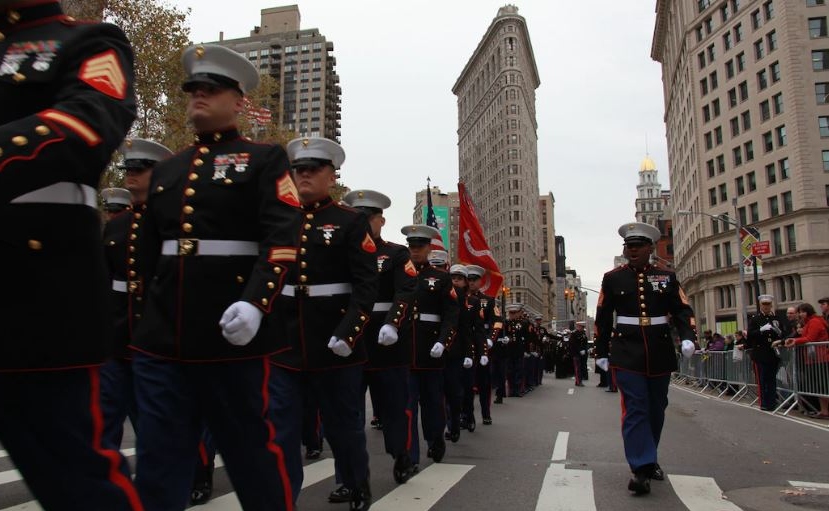 In observance of Veterans Day on November 11th, the Flatiron NoMad Partnership looks at the neighborhood's historic role in the annual New York City Veterans Day Parade that honors the U.S. military. The parade was launched in 1919 as a homecoming tribute for troops in celebration of the end of World War I on the 11th hour of the 11th day of the 11th month in 1918. Since then, the in-person parade is reportedly the nation's largest Veterans Day event that brings in more than 25,000 participants and nearly a half million spectators each year.
The city's first victory parade was held on September 10, 1919 and led by World War I General John J. Pershing, Commander of the American Expeditionary Forces. "Pershing introduced the first tank battalion used in battle by the American armed forces and made effective use of detailed operational orders that enabled his combat commanders to interpret his intentions on the field," writes the Library of Congress at loc.gov. He also gave African-American soldiers in the then, racially segregated regiments, an "opportunity to advance in command by placing them under the leadership of the French who were able to honor them as they deserved."
Pershing arrived for the parade two days prior to the event and then rode in a motorcade that passed under the Victory Arch located at 24th Street and Fifth Avenue near Madison Square Park, according to archives.nyc, the New York City Department of Records & Information Services website. Designed by Thomas Hastings, the arch was built in 1918 to "honor the city's war dead," wrote The New York Times on September 4, 1994, and "modeled after the Arch of Constantine in Rome, with relief panels commemorating important battles, war service organizations, and industrial might–like munitions makers." Upon its completion, the arch measured 125 feet long, 40 feet wide, and 100 feet high and cost a reported $80,000.
On parade day, Pershing led the procession on horseback followed by 25,000 soldiers who wore trench helmets and combat equipment down Manhattan's Fifth Avenue, from 107th Street to Washington Square. "Perhaps the most solemn incident of the parade was the passage of its leading figure and the little cavalcade behind him through the Victory Arch, at salute in memory of the dead," according to The New York Times on September 11, 1919. "The General's colors were dipped, and the band which followed not far behind passed through with muffled drums."
More than a century later, the community continues to play its part in the parade, which is now held on November 11th and preserves the significance of the day. The Eternal Light Flagstaff in Madison Square Park serves as the commencement site for the 11 o'clock wreath laying ceremony and then the parade embarks up Fifth Avenue. According to nycgovparks.org, New York City's Department of Parks & Recreation website, the flagstaff by Victory Arch designer, Thomas Hastings, honors "those victorious forces of the United States Army and Navy who were officially received at this site following the armistice and the conclusion of World War I."
"Veterans from all over New York City gather at the flagstaff's 24th Street entrance," writes the Madison Square Park Conservancy website, madisonsquarepark.org. "At the top of the towering 125-foot-tall metal flagstaff, visitors will see a star-shaped luminaire that is meant to stay forever lit in honor of American soldiers who fell during World War I." And, notes the U.S. Department of Veteran Affairs at va.gov, the day remains as "a celebration to honor America's veterans for their patriotism, love of country, and willingness to serve and sacrifice for the common good."
Header & Thumbnail Photo Credit: U.S. Department of Defense