Flatiron Building with Awnings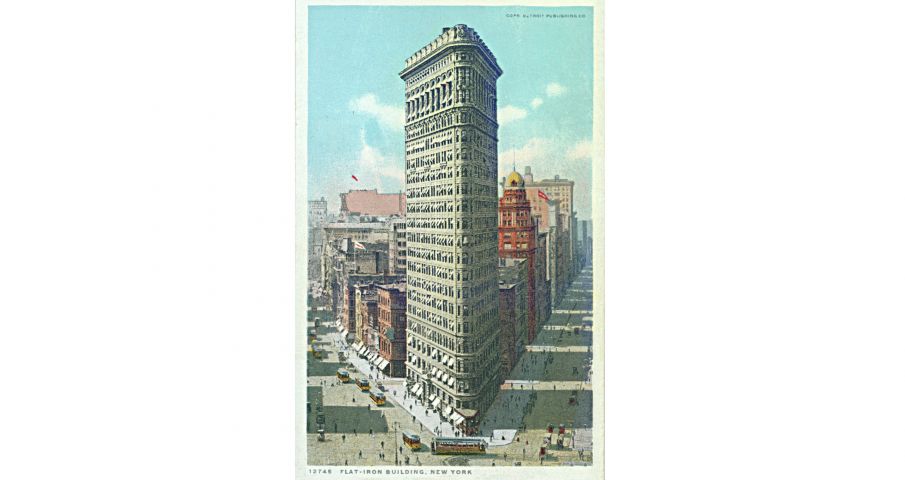 The postcard (pictured above) comes to us from the personal collection of Miriam Berman, a local NYC historian who is one of the tour guides for our weekly historic walking tours (currently suspended due to COVID-19). Miriam shares, "I find postcards so interesting because of their visual appeal and the historic imagery they have captured throughout the decades. By studying the cards carefully they document changes in the history of transportation—traffic patterns, automobile makers—and even document fashion trends throughout the years." Miriam is thrilled to bring some of her favorites to you.
ABOUT THIS POSTCARD (Click here to view a larger image):
The Awning image on the postcard is from 1905. The image is from a photographic image that has been colorized and screened for postcard reproduction. The Detroit Publishing Company published this image and used their 'Phostint' printing method unique to their facilities.
HISTORICAL CONTEXT: ARE THOSE AWNINGS?
When the Flatiron Building opened in 1902, the advent of the air conditioner was not yet part of our lives, although ironically it was invented that same year by Willis Carrier. Carrier developed the device specifically for climate control of a printing company in Brooklyn, NY to keep paper from wrinkling and the ink aligned.
The Flatiron Building and most buildings in the City attempted to keep comfortable during the summer months by outfitting each window with an awning to shield the bright sunlight from infiltrating workspaces.It wasn't until 1931 when the individual air conditioner that sits on window ledges was invented that Flatiron tenants were able to enjoy some well-earned climate control. The building finally placed window units in each office.
Unfortunately, the effect of their installation competed with the delicate terra cotta elements of the building's façade and window surrounds. Over time, however, they eventually began to blend-in visually as they took on some oxidation and appeared to almost become a part of the façade.
When work began in fall 2019 for an interior renovation, which will include both central air and heating, window units were removed for the first time since the early 1930s. This removal revealed the original unobstructed vision of Daniel Burnham's splendid terra cotta detailing.
MORE FROM MIRIAM ON HER COLLECTION:
What sparked her interest in collecting and researching historical postcards?
"My interest in collecting postcards began when I maintained my graphic design studio in the Flatiron Building in the mid-1970s to '80s. A friend invited me to a postcard show which took place in the grand ballroom of an NYC hotel. When I walked in I saw long tables as far as the eye could see upon which stood what appeared to be shoeboxes each filled with postcards with every imaginable subject carefully categorized. I decided to see if there were any Flatiron postcards and low and behold I became an instantaneous collector!"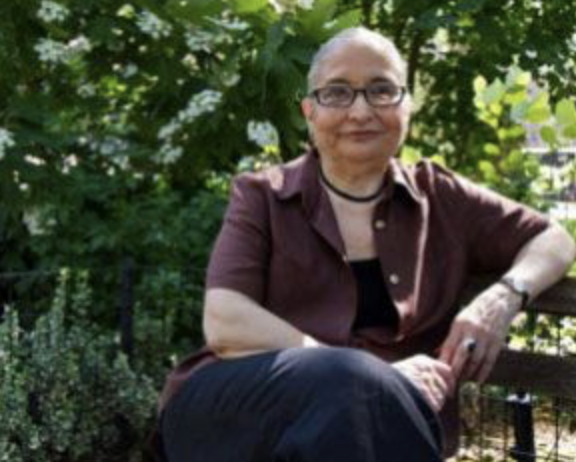 "There is an added bonus to collecting these vintage cards and that is the handwritten messages to friends, family, business associates, etc. found on the back of the cards adjacent to the recipient's address. Some of these personal memos can be very revealing."
"My collection has grown — subject wise — to include the entire city, and well beyond, many of which in some way can be traced back to the Flatiron and its environs. Collecting and researching so many of these images led to eventually writing my book, Madison Square — The Park and Its Celebrated Landmarks — with the Flatiron featured on its cover and of course an entire chapter devoted to the iconic Flatiron Building itself!"