Five of the Oldest Flatiron Businesses Still Open Today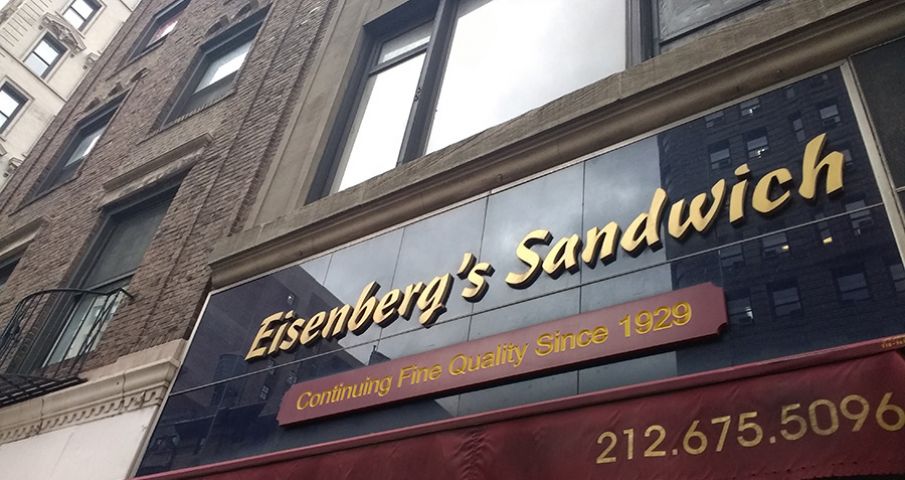 Fresh on the heels of Small Business Saturday, the Flatiron/23rd Street Partnership takes this opportunity to highlight the services of five of the longest-serving businesses in the neighborhood. With the holiday season well under way, now is the perfect time to #LoveYourLocal Flatiron business!
Provident Loan Society of New York – District Debut: 1909
Provident Loan Society is the only nonprofit collateral lender in the United States. They offer cash and loans for both individuals and small businesses up to $100,000. The company's website states they offer lower interest rates, longer repayment periods, and minimal ticket and handling fees versus competitors.
Created, in part, due to the financial crisis of 1893, the Provident Loan Society consisted of a number of business leaders, including J.P. Morgan and Cornelius Vanderbilt II, who set out to help those in need from the unscrupulous practices of predatory lenders. With $100,000 in raised capital, the organization became incorporated in 1894, with Robert W. de Forest serving as its first president.
Their initial headquarters were in the United Charities Building at 105 East 22nd Street, which had been built in 1893 as offices for the Charity Organization Society. By 1907, Provident Loan Society was lending $7 million a year. Two years later, the company opened its main branch on East 25th Street and Park Avenue South, where it remains today. According to The New York Times on March 24, 1994, the interior design of this property, built in 1908, "has the elegant air of a private bank." Provident Loan Society, 346 Park Avenue South, (212) 685-0386
Eisenberg's Sandwich Shop – District Debut: 1929
"Raising New York's Cholesterol Since 1929" is the pitch for delectable, old-school dining at Eisenberg's Sandwich Shop. Foodies can feast on legendary NYC sandwiches such as the LEO (lox, eggs, and onion) and Bubbe's Original chopped liver on a bagel. Eisenberg's is also a favorite for celebrity sitings as the likes of Katie Couric and Ron Howard are among past clientele.
Monus Eisenberg and his son, Elias, opened the shop as one way to feed their family during the Depression era. The shop survived the economic downturn, and two other children, Barnett and Sylvia, later entered the business. The Eisenberg family sold the shop in 1979. Over the years, other owners have included Louie Weisberg and Steve Oh. In 2005, Josh Konecky, an Eisenberg's regular and neighborhood resident, became its current owner.
Eisenberg's present-day locale is the former site of a six-story store and loft building, which featured offices, showrooms, and a bank. The structure was built between 1927 and 1928 following the demolition of two residential brownstones. Eisenberg's Sandwich Shop, 174 Fifth Avenue, (212) 675-5096 
J & M Hardware & Locksmiths – District Debut: 1947
J & M Hardware & Locksmiths marks its 70th anniversary in the neighborhood this year and their storefront signage says it all: "A Real Hardware Store". "We've got most everything you need, and always offer friendly, expert advice and service. Whether it's hardware, a locksmith, or even welding, J&M is here to help you get the job done," states their Facebook page.
J & M carries a large stock of lighting, cleaning, plumbing, and electrical supplies, offers knife and scissor sharpening and a notary public service, as well as paint and paint matching expertise. The store boasts knowledgeable staff and Dan Basovitch, one of the owners, can fix nearly anything.
The initials "J" and "M" stand for Jesse and Mack, brothers who had served in World War II. The siblings opened their store's first location on Broadway in 1947, between 22nd and 23rd Streets. In 1966, a large fire next door at 7 East 22nd Street claimed the lives of 12 members of the FDNY and forced the pair to relocate to 19th Street and Park Avenue South. A commemorative plaque near Broadway and 23rd Street honors those who lost their lives battling the blaze.
Dan's father-in-law bought into the business when Mack died and he eventually brought him in as master locksmith and mechanic. Since 1981, Dan has been an owner and President of J & M.
The store has a relaxed and dog-friendly environment as evidenced by their 'treats any time' policy. Rebus puzzles are a specialty of Neil Schneider, the other owner, who creates a new set each month. J & M Hardware & Locksmiths, 19 East 21st Street, (212) 673-6050
Memories of New York – District Debut: 1986
Memories of New York is a self-described "warm and friendly" souvenir store sure to please both tourists and locals alike. The store only sells officially licensed New York City items from classics such as "I ❤ NY" t-shirts and coffee mugs to hard to find collectibles and figurines like snow globes, handbags, and other pop culture merchandise.
The souvenir shop idea came about when small business owner Alper Tutus was operating a leather goods store in the World Trade Center area. Tutus took his concept and made the move north to Flatiron 31 years ago.
With frontages on Broadway and Fifth Avenue, Memories of New York initially shared the space with Fuji, whose lease expired in 2000. The property is also the former site of a late 19th century residential dwelling built between 1856 and 1857. It was later converted for commercial use by tenants such as the Emigrant Savings Bank in 1919. Memories of New York, 206 Fifth Avenue, (212) 252-0030
N.Y. Cake & Baking Supply – District Debut: 1989
Is there a home baker on your holiday shopping list? N.Y. Cake & Baking Supply features a variety of must-have items and offers instructional classes. "I run the story day-to-day, look for new products, and help customers," says CEO and Founder Lisa Mansour. "I love teaching, and having that one-on-one with my customers."
Mansour learned the business from her mom, who operated the Chocolate Gallery inside her husband's Midtown Manhattan cosmetics store. Upon his retirement in 1989, the Chocolate Gallery moved to 34 West 22nd Street in the Flatiron District. The building was was built between 1898 and 1899 in the neo-Renaissance style.
In 1994, the Chocolate Gallery changed to its present name and moved to a more spacious location on the same block. The new store, 56 West 22nd Street, had once been a private residence constructed in 1851. The building turned commercial at the turn of the 20th century and was home to glass repairers, dressmakers, and the Ye Old Brass Kettle restaurant. N.Y. Cake & Baking Supply, 56 West 22nd Street, (212) 675-2253