Film & Television In The District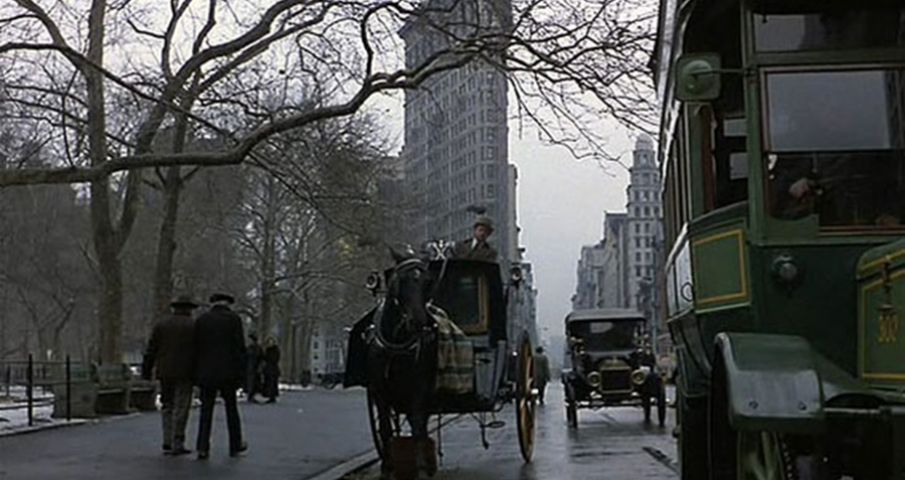 The Flatiron Building, and other areas of the Flatiron District, have been featured in countless film and televsion productions. As we enter the fall television and film season, the Flatiron 23rd Street Partnership looks back at some of the most notable scenes co-starring the district.
One of the most memorable episodes in recent television history was filmed in Flatiron for the Emmy-winning HBO series Sex and the City in 1999. Eleven Madison Park, the three Michelin-starred restaurant located on 24th Street, served as the backdrop where Carrie Bradshaw (Sarah Jessica Parker) received the heartbreaking news from her former boyfriend Mr. Big (Chris North) that he planned to marry another woman.
In 1958, the romantic comedy Bell, Book and Candle, starring Jimmy Stewart and Kim Novak, was partially filmed on the Flatiron Building's rooftop. Reds, the 1981 political drama that starred and won a directing Oscar for Warren Beatty, filmed scenes at the base of the building and north of it along Fifth Avenue.
The popularity of computer-animated films have also embraced the Flatiron Building. In Spider-Man (2002) starring Tobey Maguire, the Flatiron Building served as the offices of the Daily Bugle, where Peter Parker (Maguire) worked as a freelance photographer.
Over the years, the iconic structure and neighborhood have shared supporting roles for multiple television commercials including Match.com as well as the opening credit visuals for Law & Order: SVU.
Most recently, the district was home to Comedy Central's Broad City, executive produced by Amy Poehler. Broad City was created by stars Abbi Jacobson and Ilana Glazer. A recent episode was filmed at the The 40/40 Club where Jacobson and Glazer meet Blake Griffin, the star forward of the Los Angeles Clippers.
Many film and television production companies opt to shoot scenes of New York, in New York, rather than on a Hollywood set. According to the Mayor's Office of Media and Entertainment, film production in New York provides approximately 130,000 jobs and billions of dollars for the City's economy each year.
Scene from Reds, Fifth Avenue at 25th Street. Image via On The Set of New York.