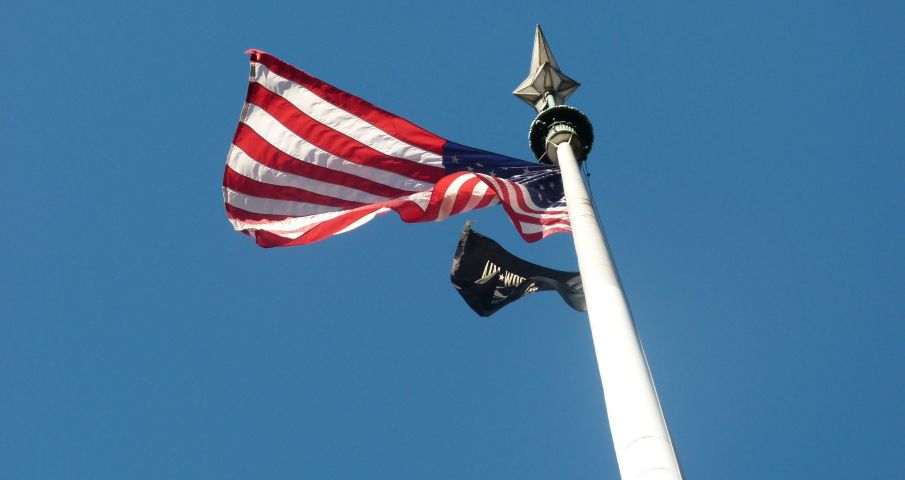 In honor of the June 14th observation of Flag Day, the BID takes a look back at the first illumination of the Eternal Light flagpole in Flatiron's Madison Square Park 90 years ago.
When the star-shaped luminaire atop the Eternal Light flagpole lit the evening sky above Madison Square Park, it marked a momentous memorial for America's military heroes on June 7, 1924. It would commemorate, according to the New York City Department of Parks & Recreation website, "those victorious forces of the United States Army and Navy who were officially received at this site following the armistice and the conclusion of World War I."
For the Flatiron District, the structure had also become a notable destination highlight. Reported The New York Times on August 22, 1926, "The flagpole in the centre of the Fifth Avenue side of the Square gains point when seen from Madison Avenue across Twenty-fourth Street and acquires a dignity and meaning which none of its neighbors in the Square can boast."
Designed by high-profile architect Thomas Hastings, who built New York City's Public Library at Fifth Avenue and 42nd Street, and sculptor Paul Wayland Bartlett, the flagstaff project received a $25,000 commission from department store heir and PGA founder Rodman Wanamaker. The original Oregon pine pole was situated a top a base featuring a Milford pink granite ornamented bronze cap with images of rams heads and garlands. For a number of years, the light was serviced every 28 days, wrote The New York Times on November 14, 1999, and "it was dimmed intentionally in a blackout drill in 1942, then went dark for several days in 1957 because of a defective wire." After falling into disrepair, the memorial was removed in 1973, to be replaced with a steel flagpole in 1976.
In September 2002, the Eternal Light Star received an electrical update with assistance from the Department of Parks & Recreation, Con Edison, and Sentry Electric Corp., according to the Madison Square Park Conservancy website. The implementation of LED-based lighting, reported Electrical Construction & Maintenance magazine on December 9, 2002, would then support the star's "unique and continuous lighting requirements" to honor the individuals who fought for America's freedom.
This year, the Madison Square Park Conservancy is working to relight the Flagstaff to mark the centennial of the outbreak of World War I.
Photo via the Madison Square Park Conservancy.