Electric Signage Debuts in the District 125 Years Ago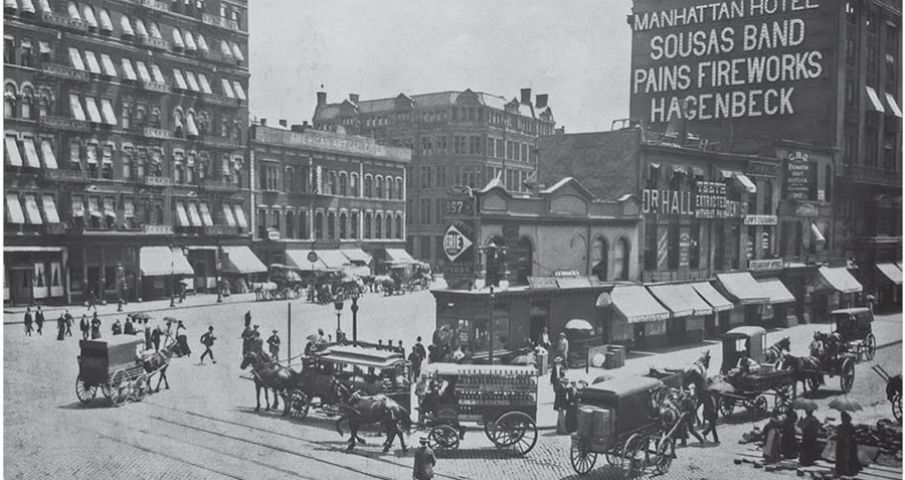 For many Flatiron District businesses during the late 19th century, print was the primary form of advertising. This was the reality for most retailers on the iconic Ladies' Mile, located between 15th Street and 24th Street, along Broadway, Fifth Avenue, and Sixth Avenue. However, in 1892, it would take 1,457 history-making incandescent lightbulbs to showcase an emerging marketing strategy with the first-ever installation of electric signage in the Flatiron District at the intersection of 23rd Street, Broadway, and Fifth Avenue.
The display site would be the Cumberland, a commercial hotel property owned by Amos Eno, a real estate investor and the developer behind 23rd Street's upscale Fifth Avenue Hotel. The first industry to embrace the new technology of "billboards made of light" at this location was the Long Island Railroad, wrote James Traub in The Devil's Playground: A Century of Pleasure and Profit in Times Square.
The sign was designed by native New Yorker Oscar Gude, a leading outdoor ad executive. He would later be credited with creating the phrase "Great White Way" in reference to lit signage that appeared along Broadway, including in Times Square. The LIRR's 1892 ad attracted an audience of area residents and visitors with the slogan: Buy Homes on Long Island Swept By Ocean Breezes. "The sign, located at what was then the absolute center of New York, was a sensation–a brilliant, almost three-dimensional ad leaping out from the drab two-dimensional signs around it," described Traub. It stood 80′ x 60′ with lighting installed by the Edison Electrical Company.
Such advertising caught the eye of condiment king H.J. Heinz, noted William S. Dietrich in Eminent Pittsburghers. While riding a New York City elevated subway line, Heinz recalled how he saw a promo that read "21 styles of shoes" and "jumped off the train at the 28th Street station and began the work of laying out my advertisement plans." Heinz and Gude crafted the idea of a 40-foot green pickle bearing the Heinz name with the message "57 Good Things For the Table."
With 1,200 lightbulbs, the Heinz sign made its premiere in 1900, wrote Quentin R. Skrabec in The Most Significant Events in American Business. "It flashed on a slow cycle, emphasizing the sign; after a short period of complete darkness, a second advertisement appeared."
The visibility of electric signage in the location, however, would fade within two years due to businesses moving to the newly designated commercial hub of Midtown and the arrival of the Flatiron Building.
Image via Graphic Design and Architecture, A 20th Century History by Richard Poulin (pages 44 and 45).