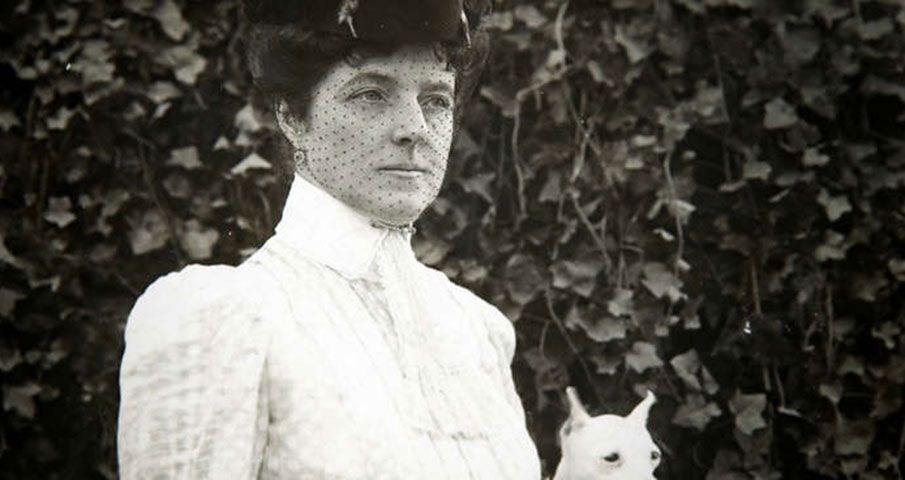 More than two billion global viewers are expected to tune in to the Royal Wedding of Meghan Markle and Prince Harry this Saturday, May 19th at Windsor Castle's St. George's Chapel. The total wedding could carry a $45 million price tag – all paid for by the family of the groom.
Having the monarch pick up the tab for such a lavish wedding has not always been protocol. In the late 19th century, numbers of nouveau riche American families often financed the marriages of their daughters in cash-for-class unions to men of the aristocracy to secure a title in the ranks of royalty.
During this era known as the Gilded Age, more than 200 socialites, nicknamed "Dollar Princesses", exchanged vows with men of nobility, and the bride often had greater assets than the groom. Such was the case of five prominent heiresses with ties to the Flatiron District–Minnie Stevens, Mary Goelet, Consuelo Vanderbilt, Jennie Jerome, and Frances Work. It would be Frances who would lead those of us here in the Flatiron to experience a direct connection to the upcoming royal wedding.
Minnie Stevens
Mary 'Minnie' Stevens was the eldest daughter of Marietta and hotelier Paran Stevens, who owned the Stevens House, one of Flatiron's first luxury residential buildings on 27th Street, between Fifth Avenue and Broadway. When Minnie became a benefactor of her late father's estimated $10 million estate in 1872, she left New York City to live in Europe.
In 1878, Minnie exchanged vows with British Army officer General Sir Arthur Henry Fitzroy Paget. Known as Lady Paget, she later became a matchmaker for American women seeking husbands overseas. Besides arranging introductions, Lady Paget's philanthropic efforts included helping the wounded during the Balkan wars while her husband held diplomatic roles in Ireland and Belgrade.
Mary Goelet
Mary 'May' Goelet's father, Ogden Goelet, was an heir to a number of New York City properties, including the Goelet Building, located at Broadway and 20th Street. In 1903, his daughter, who reportedly had a net worth of $20 million, married Scotsman and military careerist Henry Innes-Ker, 8th Duke of Roxburghe, at Manhattan's Saint Thomas Church.
The newlyweds, known as the Duke and Duchess of Roxburghe, honeymooned at a Goelet family villa in Newport, Rhode Island, and later lived at the Duke's home, Floors Castle, in Scotland, where the pair enjoyed fly fishing. The couple remained married until the Duchess of Roxburghe's death at the age of 58 in 1937.
In response to a belief by some that U.S.-born wives were not treated cordially in the U.K., the mother of the Duke of Roxburghe spoke about the subject before her son's wedding with The New York Times on November 8, 1903. She declared emphatically, "Why of course we welcome them and they are very happy, which I think is shown by the number of American girls who are now with titled husbands in England."
Consuelo Vanderbilt
Consuelo Vanderbilt was a great-granddaughter of railroad tycoon Cornelius Vanderbilt, who had an estimated fortune of more than $100 million. He owned property in Flatiron, including the railway depot at 26th Street and Fourth Avenue, which later became the site of the original Madison Square Garden.
British soldier and politician Charles Spencer-Churchill, 9th Duke of Marlborough, and a first cousin of Winston Churchill, met Consuelo, who's net worth was a reported $20 million, through her matchmaker friend and fellow heiress Minnie Stevens. Consuelo and Charles married at New York City's Saint Thomas Church in 1895.
On the day of the wedding, the press sought to publish nearly every aspect of the event including a glimpse of the bride's lingerie worn under her cream-white satin gown worth $6,720.35. "It is delightful to know that the clasps of Miss Vanderbilt's stocking supporters are of gold," wrote the society magazine Town Topics, "and that her corset-covers and chemises are embroidered with rosebuds in relief."
The groom reportedly received $2.5 million in railroad stock as a pre-nuptial perk from the father of the newly married Duchess of Marlborough. The funds were used to renovate the Duke's then deteriorating home and couple's permanent residence known as Blenheim Palace. The pair became the parents of two boys but the marriage ended in 1921.
Jennie Jerome
Jeanette 'Jennie' Jerome was the middle daughter of Clarissa and Leonard Jerome, a financier known as the "King of Wall Street" and reportedly worth $10 million. His most notable Manhattan property was the Jerome Mansion on 26th Street and Madison Avenue, which featured a 600-seat opera house.
Three days after meeting Lord Randolph Churchill at a ball on the Isle of Wight in 1873, Jennie agreed to marry the young member of Parliament. After walking down the aisle in April 1874, the pair became parents to future Prime Minister Winston Churchill, who was born several months later.
Initially, the groom's parents opposed the marriage, but Jennie's million-dollar dowry convinced her future in-laws. Lady Churchill would become an avid supporter of her husband's lifelong political career in the House of Commons. The marriage, however, ended in 1895 when Lord Churchill reportedly succumbed to syphilis at the age of 45.
Frances Work
This brings us to Frances 'Fanny' Work, who would become the great-grandmother of Diana, Princess of Wales, and thus the great-great grandmother to William and Harry.
The eldest daughter of Frank Work, a New York City stockbroker and business associate of shipping and railroad mogul Cornelius Vanderbilt, Frances Work and her family lived at 13 East 26th Street in the Flatiron District. She met her future husband, James Boothby Burke Roche, who later became 3rd Baron Fermoy, while he was visiting New York City. In 1880, they tied the knot at Manhattan's Christ Church.
According to Miriam Berman, author of Madison Square: The Park and Its Celebrated Landmarks and a Flatiron/23rd Street Partnership walking tour guide, "Frances had been accustomed to a more extravagant lifestyle, and James did not work out to be quite the wealthy gentleman she thought." The couple was granted a divorce in 1891.
James was the son of an Irish baron and held numerous jobs, including ranchman in the West, gold miner in Alaska, and revolutionist in South America. During the marriage, Frances paid off her husband's reported $100,000 gambling debts.
"I am an American to my backbone," Work supposedly said in objection to his daughter's marriage. "Therefore I have only contempt for these helpless, hopeless, lifeless men that cross the ocean to carry off the very flower of our womanhood."
Work even stipulated in his will to not have any part of his estate given to his son-in-law. Upon her father's passing in 1911, Frances, her two siblings, and her twin sons and daughter with James, inherited an estimated $15 million.
So here, a simple royal lineage path from the Flatiron:
Frances Work marries James Boothby Burke Roche, the 3rd Baron Fermoy
Edmund Maurice Burke Roche their eldest son, the 4th Baron Fermoy marries Ruth Sylvia Gill (Gill was a confidant and lady-in-waiting to the late Queen Mother)
Frances Ruth Burke Roche, the daughter of Edmund and Ruth, marries Edward John VIII Spencer, Lord Althorp, who together have five children, including Diana Frances Spencer who marries Prince Charles, in turn making Frances Work the great-grandmother of Diana, Princess of Wales, and the great-great-grandmother to the Princes William and Harry
Perhaps more reason to enjoy and bear witness to the marriage of Megan Markle and Prince Harry as Flatiron continues its unique bond to royalty.
Frances Work – Photo Credit: The Smithsonian