District Building Designers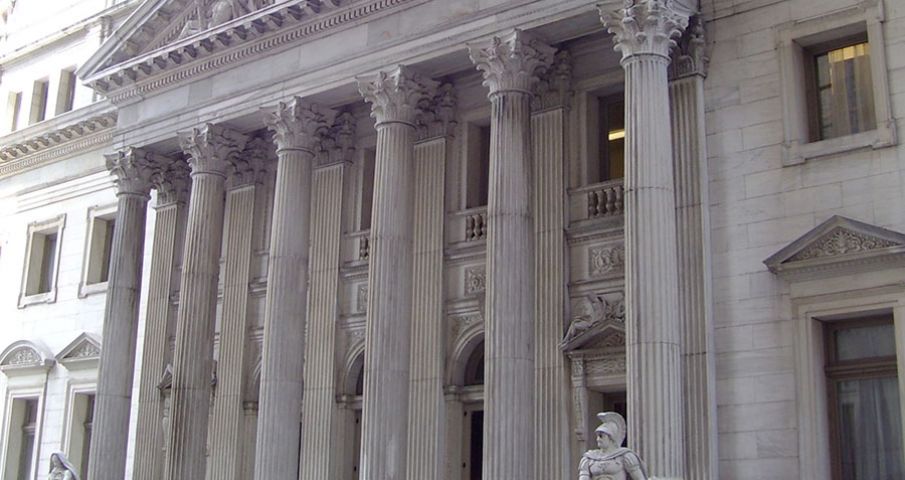 As we commemorate the June 1902 completion of the iconic Flatiron Building, the Flatiron/23rd Street Partnership takes a brief look at a few notable designers who made architectural history in the neighborhood.
Flatiron Building: Daniel Hudson Burnham
At the turn of the 20th century, America's premier architect was Daniel Hudson Burnham, a pioneer designer of skyscrapers and urban planning. Burnham had been born in a two-story limestone house in Henderson, New York in 1846. The Burhham family relocated to Chicago, a city that would have a significant impact on the development of Burnham's career.
With business partner John Wellborn Root, Burnham designed 165 private residences and 75 buildings following the Great Chicago Fire of 1871. But Burnham's most ambitious building effort in the Windy City came when he was named chief of construction and chief consulting architect for the World's Columbian Exposition, more commonly known as the 1893 Chicago World's Fair.
"The fair helped popularize the City Beautiful movement–a trend in urban design which sought to endow American cities with some of the grandeur of European urban centers–of which Burnham was a major proponent," noted the 1989 Ladies' Miles Historic District Designation Report issued by the New York City Landmarks Preservation Commission.
Following the World's Fair, Burnham was commissioned by one of his former contractors, George Fuller, to design a 22-story Beaux-Arts structure to be built at the intersection of Fifth Avenue and Broadway, between 22nd and 23rd Streets, in New York.
The property was popularly known as the Flatiron Building because of its resemblance to a laundress' flat iron. Six years after the building's completion, The Washington Herald asked Burnham to summarize his life achievements. "I haven't done much," he replied in an article published on March 1, 1908. "I have just served on a few commissions." Burnham died in 1912 at the age of 65.
Appellate Division Courthouse: James Brown Lord
New Yorker James Brown Lord was born in 1859. His paternal grandfather was Daniel Lord, founder of the blue-chip law offices of Lord, Day & Lord. His maternal grandfather was James Brown, who created the investment firm known today as Brown Brothers Harriman.
Lord was a graduate of Princeton University and began his career with the architectural firm of William A. Potter. In 1896, Lord, now heading his own practice, received approval of his plans from the Court's Justices to design the Appellate Division Courthouse at 25th Street and Madison Avenue.
He "conceived of the building itself as an expression of the ideals of the law, which he achieved by integrating the architectural, pictorial and sculptural aspects into one monument," notes the website nycourts.gov about the property that officially opened its doors in 1900.
The structure featured "two-story fluted Corinthian columns and repeated pilasters, arched and pointed moldings above the second story windows, a girdling entablature separating the second and third floors, and a low balustrade on the roof, crowned with statues."
The New York Times reported on June 2, 1902 that "the building is said to be the first ever constructed in America in which the architect had the entire control of the sculpture and mural decorations, as well as the construction of the building."
Lord's prolific career as an architect, however, was short-lived. His death at the age of 43 in 1902 was reportedly caused by a combination of an undisclosed illness and stress created by noise from renovations done at a next-door neighbor's home.
Metropolitan Life Insurance Company Tower: N. LeBrun & Sons
Philadelphia native Napoleon LeBrun was born to French immigrants in 1821. His father, Charles, had once served as a U.S ambassador to France during President Thomas Jefferson's administration. After practicing architecture in his hometown, LeBrun moved to New York in the early 1860s. Twenty years later, he expanded his business to include sons Pierre and Michel and changed the firm's name to N. LeBrun & Sons.
"Skyscraper design and construction was in its infancy during most of the firm's early years, but skyscrapers, too, would figure prominently in the firm's repertoire," wrote Joseph J. Korom, Jr. in his book Skyscraper Faces of the Gilded Age.
One such structure was the Metropolitan Life Insurance Company's Clock Tower built in 1909. Located at 5 Madison Avenue, between 23rd and 24th Streets, it became the world's tallest building at 700 feet until 1913 when the new Woolworth Building surpassed it by 92 feet.
The New York Times on May 26, 1996 described the Clock Tower, which was based on the Campanile at the Piazza San Marco in Venice, as "all white Tuckahoe marble, with a giant four-faced clock and a beacon at the top." The clockface features four-foot high numerals.
Priot to the Clock Tower building, N. LeBrun & Sons were commissioned by the FDNY as the official architects of 42 New York City firehouses between 1880 and 1895. LeBrun did not see the Clock Tower make its debut as he died in 1901 at the age of 80, eight years before it was finished by the firm he founded with his sons.
200 Fifth Avenue: Maynicke & Franke
Born in Germany in 1849, Robert Maynicke arrived in the United States when he was an infant. He attended New York City public schools before enrolling in night classes at Cooper Union, where he studied mechanics and mathematics. Julius Franke, Maynicke's business partner and a New Yorker born in 1868, had also attended the area's public schools, studied at École des Beaux-Arts in Paris, and was a graduate of The City College of New York.
In 1895, the pair established their Flatiron District practice, Maynicke & Franke, and would design more than 100 large commercial structures, including 200 Fifth Avenue, a 14-story Neo-Renaissance retail and loft building constructed between 1908 and 1909.
This structure featured "a T-shaped marble-clad arcade with barrel-vaulted sections and richly embellished Neo-Renaissance detailing at the first story," wrote the 1989 Ladies' Miles Historic District Designation Report issued by the New York City Landmarks Preservation Commission, and "a stepped-back terra-cotta-clad central court with skylights of prismatic glass to provide 'inner' offices with ample air and natural light."
In Maynicke's New York Times obituary, the newspaper reported on October 1, 1913 that the architect was "a pioneer in the building of modern loft buildings." Real Estate Record and Builders Guide on October 4, 1913 defined Maynicke as "a man of social habits, quick sympathies and varied intellectual interests."
Franke was an outspoken advocate for commercial real estate development. "As an investment, the office building compares with the best," he wrote in the Real Estate Record and Builders Guide feature It Would Pay to Build Offices Now that was publishedon December 19, 1908. "It is stable and safe and the value and income of an office building fluctuates decidedly less than some popular investments."
Maynicke died in 1913 at the age of 65. Upon his colleague's death, Franke continued working at their firm before retiring in 1926 to pursue landscape painting. He passed away a decade later at the age of 68.
Photo Credit: Wikimedia Commons