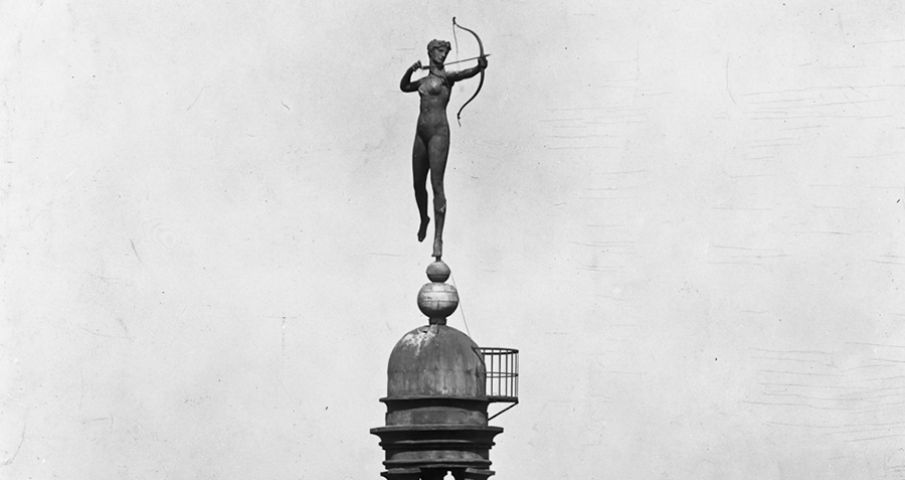 This week, we celebrate the debut of Diana, the statue that stood atop Madison Square Garden from 1893 – 1925 in the Flatiron District.
The 13-foot tall nude sculpture of Diana often attracted gasps and whistles from onlookers. In addition, her "perch was so high that she was the first thing the sun's rays touched at dawn and the last at the fall of night," wrote Burke Wilkinson in his book Uncommon Clay about the Augustus Saint Gaudens weathervane copper statue that made her entrance 120 years ago on November 18th at Madison Square Garden's 26th Street Flatiron location.
Garden architect Stanford White considered his vision of Diana, which depicted the Roman goddess of the moon, a beacon and pinnacle marketing tool for the $3 million, 12,000-seat venue. The sweeping arc lights and incandescent lamps surrounding Diana also alerted those in the District and beyond about ongoing Garden events. Commissioned by his friend White for the project, Saint Gaudens had created an 18-foot version of the statue in 1891, but it proved to be, according to Wilkinson, "out of proportion to the slender summit of the tower" where Diana would stand for the next three decades.
During Diana's tenure at the top, she gained the nickname "Diana the Huntress," as well as a following among some celebrities who regarded her as a lucky charm. Oscar-winning actress Ethel Barrymore reportedly carried a small bronze replica of Diana, while lightweight boxing champ Benny Leonard glanced up at Diana hoping for a win in the arena.
Diana's own good fortune at the Garden, however, ended in 1925 when the property was demolished to make way for the New York Life Insurance Company building. Later that year, a new Garden would open in Midtown Manhattan on Eighth Avenue, between 49th and 50th Streets.
Placed in a Brooklyn storage warehouse and wrapped in burlap, it took several years before Diana would be unveiled again. The Philadelphia Museum of Art persuaded then Diana's legal owner, the New York Life Insurance Company, to sell the statue to the cultural institution, where she has been on display at the top of the museum's Great Stair since 1932.